There has been an alarming rate of accidents involving motorcycles, and the number has come close to automobile accidents happening each year. Motorcycle accidents end up being worse because they leave the victim with severe injuries and even fatalities in some cases. There is limited protection for motorcycle riders compared to car drivers, and this is why a rider has to face more risks than car drivers.
If the negligent actions of another road user have caused the biker to get injured, they can seek compensation for those injuries. This is also the case when a loved one has died been injured or died because of the negligent actions of another person. We have an experienced and dedicated team of Long Island motorcycle accident lawyers at Cellino Law who have handled countless injury cases and will be there to help you in getting the compensation you deserve for your injuries and damages. Call our Long Island injury law firm today at (800) 555-5555 today to get the help you deserve.
What Causes Motorcycle Accidents?
Riders need to know some of the leading causes of motorcycle accidents. When a motorcycle knows about the cases, he/she will be able to be more careful on the road so they don't end up getting injuries because of accidents.
Here are some of the most common things to know lookout for if you want to be safe while on the road.
Blind Spots
Motorcycles are smaller than cars and also two-whiled, which makes them at a disadvantage of slipping when they are in blind spots. When they reach blind spots, other drivers don't notice they are there, and this is why most motorcycle accidents are caused by cars. These accidents are also more common at night because the car drivers have a harder time spotting the motorcycles from their side mirrors. To avoid accidents, it is important for drivers to know about blind spots and paying more attention.
Riders should be careful when driving in blind spots and make sure they are in areas that a car driver can easily notice them.
Drivers Making Left-Hand Turn
When drivers are about to make life-hand turns, they tend to only look for other vehicles and forget about oncoming objects. If a driver fails to see a coming motorcycle and they decide to make the turn, they end up colliding with the rider on the motorcycle. Drivers tend to forget that they are not the only ones using the road, they just think it is them and other drivers. This means they don't pay much attention to other road users like bikers, cyclists, and pedestrians. It is also important for riders to pay more attention to vehicles in front of them and be looking at their signs indicating they want to make the turn.
Lane Splitting
Lane spilling is very risky, but this is being done by many drivers. Lane splitting should not be done on the road because driving close to the other road users can increase the chance of an accident happening because it leaves the driver with less space for maneuvering in case something goes wrong. The other drivers are also caught unaware because they did not expect another car to be that close to theirs. When riding your motorcycle, be sure to pay attention to such drivers and you should also follow laws on splitting – but always remember that is risky and can easily cause an accident.
Speeding
While many people don't speed on purpose, over speeding has been the cause of many accidents in the country. Speeding is going to bring more risk, no matter the type of vehicle you are driving. The risk becomes ten times more when it involved two-wheeled vehicles. Many bikes are powerful and they don't have the same stability that four-wheeled vehicles have. They can easily slide when they are on a wet surface, which makes it hard for riders to make a sharp turn on loose gravel or a rough road.
Open-Door Crashes
These types of crashes are more common in urban settings like cities and towns, and this is when the motorcycle bumps into an open door of a vehicle. Bikers have to pay more attention and be aware of their surroundings, especially when near the side of the street or parking lots. You should always have enough space between you and the cars, and also be more attentive to the cars that have been parked in front. Before opening the doors, drivers have to check out their side mirrors and see whether there are any oncoming objects.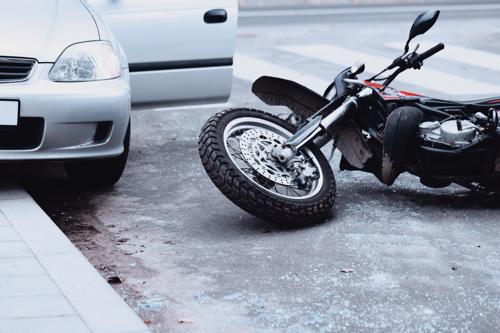 While these issues are some of the most common when it comes to causes of motorbikes accidents, other causes can end up in serious accidents like riding a motorcycle when you are under the influence of alcohol or drugs, failure to signal before turning, and poor road conditions. No matter the cause of the accident, collisions that involve motorbikes end up being more dangerous for all people involved. If you want to ride safely, then make sure you are always practicing road safety every time you ride and do your best to avoid situations that put you at risk.
Common Motorbike Accidents Injuries
The rate of motorbike accidents has seen an increase and this is why it has come close to car accidents, but rider up with more severe injuries. Cars and trucks have safety features like seat belts and airbags (keeping in mind that these vehicles are moving metal cages), and this is why they have more protection compared to a rider. The list of injuries that a motorbike accident victim can sustain is long, but some are more common than others. Below are the five most common injuries that victims get in motorcycle-related accidents.
Superficial Injuries
These injuries consist of minor cuts, lacerations, and bruising. The injuries are common on the hands and the lower parts of the body. While superficial wounds are not that serious, a person will still need to get medical care.
Open Wounds
When the body hits the ground at a force, riders can easily get open wounds on the area of the body that touches the ground, and this is going to depend on factors like how fast they were going before the collision. The skin experiences a lot of friction when the rider is rolling on the concrete or asphalt, and it can end ripping off in some parts of the body. This results in an open wound and rashes that can leave scarring later, and there is also the risk of infection if the wound is not treated.
Strains and Sprains
When there is a collision, the driver is thrown off, and they land hard and awkwardly, which can result in damage to the joints. Riders can easily sprain their fingers, wrists, neck, and knees. When the body hits the ground at such a force, it is forced to land in an unnatural position that stretches the muscles and tendons to their limits.
Contusions
Contusions/bruises are common after an accident and they can happen on any part of the body. Serious contusions are those that involve the head because they can cause traumatic head injuries. Such injuries can result in permanent disability or even death. This is the reason why cyclists and riders are required to wear helmets on their heads when riding in New York. If you have a passenger riding your bike, then make sure they have a helmet too.
Fractures
When involved in a collision, the rider is thrown off their motorcycles, and when they hit the ground, they can break a couple of bones. Broken legs, arms, backs, and ribs are some of the most common cases emergency rooms have to deal with after a motorbike accident. When the bones break, it can cause even further damage to tendons, nerves, and skin.
Riding a motorbike can be one of the most fun things, but it comes with some risks. The above-mentioned injuries are the most common when it comes to motorbike accidents, but it is only a small portion of a very long list of injuries. Riders have to familiarize themselves with the risks and also the different types of injuries that they can get in case they get involved in an accident.
Who Can be Held Responsible for a Motorcycle Accident?
The person to blame is the most common query people have after being involved in a motorbike accident. In most cases, the parties involved will quickly start pointing fingers and accusing the other party. While one of the parties might have sustained injuries and nursing them, they might be at fault to some extent. It is very important to identify the party at fault, especially if one of those involved in the accident is seeking compensation. A professional attorney will be able to help you if you are a victim and interested in filing a claim in Long Island.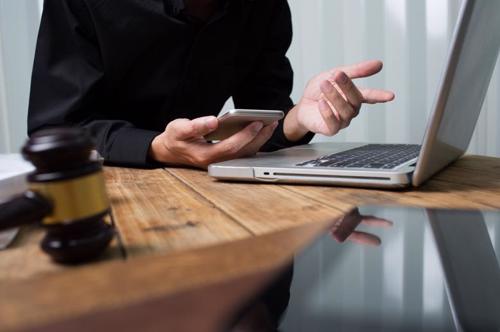 When filing the claim, the attorney is going to use the evidence that was gathered at the scene of the accident, talk to eyewitnesses, and also going through the medical report and the police report. The lawyer is going to have an easier time determining the party responsible for your crash.
Negligence by Motorists
This is when the driver has acted recklessly or carelessly when operating the vehicle. It can involve when the driver of the vehicle did not see the biker, was speeding and caused the accident, or was under the influence when the accident happened, did not yield right of way, or a combination of these. We have a team of experienced attorneys who will investigate these matters and show that the negligence of the other party when operating the vehicle caused the accident.
Manufacturing Errors
A slight or serious manufacturer error on the bike can be the cause of an accident. This can be when there was an incorrect setup, a part malfunctioned, or any other reason.
Unsafe Road Conditions
Road users of New York roads owe the state to take care of the roads and make sure they are in good condition. If there is wear on the road and it is not addressed, the road becomes more dangerous and increases the chance of an accident happening. If the collisions and crashes are attributed to the condition of the road, then the state is going to be held liable. Some hazardous road conditions include unsigned curves and bends, potholes, obstructed traffic lights, overgrown trees, construction refuse, unevenly paved roads, etc. If road users notice any problems with the roads, they should let the authorities know about them so they can be fixed.
Cellino Law knows how serious motorcycle and car accident claims are, and this is why we ensure that our clients are getting the attention they need. When you work with us on your case, we will be assigning lawyers to work on your case who will get started with the process of getting you the desired outcome, no matter the cause of the motorcycle accident, whether it is a manufacturing error, motorist negligence, or unsafe road conditions. After the accident, it is important to take as much information and evidence as possible because it will help in building a strong case, and this is what we advise our clients.
Determining the party at fault is not that simple, but we are usually confident in our findings, and we are fair when it comes to who is to blame for the motorcycle accident.
What Damages Can I Receive From the Insurance Company After a Motorcycle Accident?
Motorcycle accidents can become devastating. If you have suffered injuries after a motorcycle accident then you might have to spend thousands on your medical costs. If you were not the one responsible for the accident that led to the injury, then you should not be spending your money on medical expenses. The insurance provider of the at-fault party should be the one covering your medical costs and compensating you for the damages and injuries you get.
It can be challenging dealing with insurance companies because they will be looking for a way of paying you the least amount possible or discredit your claim. If you want to increase your chance of getting the compensation you deserve, then hire us and let us handle the case for you. We are going to look out for you during these negotiations. Our team of attorneys is going to demand compensation based on the injuries and losses as a result of the accident, as well as future bills. Some of the claims you can pursue include compensation for:
Medical Bills
Treating injuries can be expensive, especially severe injuries. Treating injuries related to the spinal cord or head takes a lot of time, and some can even last for a lifetime. Our Long Island car accident lawyers have decades of combined experience handling motorcycle claims and will help in ensuring that you have been compensated for your medical bills – and this will include both present medical costs and any future costs.
Loss of Wages
Some injuries leave a person unable to work or immobilized for some time. This means they end up losing their income. The attorney working on your claim is going to make sure the insurance provider of the party at fault compensates for the lost wages.
Pain and Suffering
There are stress and anguish that come with motorbike accidents, and this can include physical, emotional, and mental pain and suffering. While no amount of money covers what you have been through, getting compensated for it will help in alleviating some of the sufferings you have to deal with and also cover losses and damages you got from the motorcycle accident.
Property Damage
There is a good chance your bike was damaged during the crash, and this is why you need an attorney who is going to make sure the insurance company takes care of rental fees, repair costs, or any other expenses incurred during the restoration of the bike.
Seeking compensation for your injuries and damages after a motorcycle accident is not something you should be doing alone. Cellino Law will help you with this. Our team of experienced and professional attorneys knows about methods used by insurance companies to avoid paying claims. Our team is fully dedicated to making sure your interests are protected, and you get the compensation you deserve.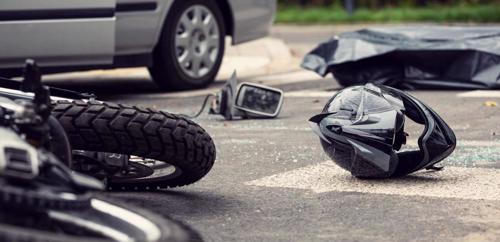 You will feel intimated when you even think about dealing with insurance companies. Where do you even start? This should not stop you from claiming the compensation you deserve. Cellino Law will help you in navigating this process because we are experienced in navigating this field. When you talk to an attorney, you will be able to get a better understanding of the process and the options you have. An attorney will take you more about the policies and laws that have to be followed when pursuing compensation.
What are my Rights as a Motorcyclist in New York?
Laws regarding motorcycles in New York clearly define what is expected from a biker when riding on-road and off-road. Knowing these rules and regulations is important if you are a motorbike rider. Below are some the regulations you should have on your fingertips;
Riding On-Road:
It is illegal to lane split
You must have headlights and should be on when on the road
Helmets that have speakers must have only one earphone
Have the safety helmet at all times
It is a must to have eye protection
A footrest is a must if you carry passengers from time to time
Handlebars and grips need to be on the same level or lower than the shoulders of the rider
It is illegal to have straight pipes on your bike; you can only have mufflers
Riders can ride two abreast on one lane
If the motorbike was manufactured from 1985, turn signals are a must
Riding Off-Road:
No sound limits
After sunset, headlights must be turned on
Eye protection is not a must
How is the Value of a Motorcycle Accident Determined?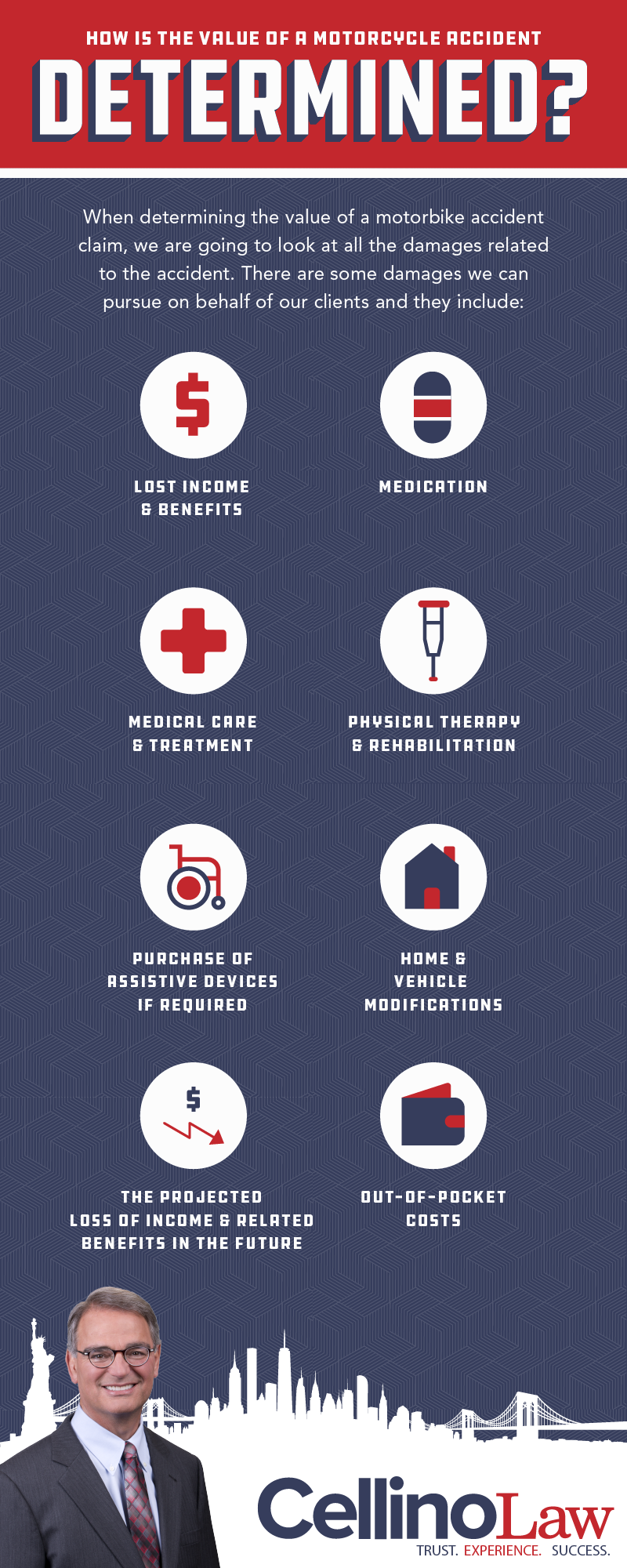 When determining the value of a motorbike accident claim, we are going to look at all the damages related to the accident. There are some damages we can pursue on behalf of our clients and they include;
Physical therapy and rehabilitation
Lost income and benefits
Medications
Medical treatment and care
Home and vehicle modifications
The projected loss of income and related benefits in future
Out-of-pocket costs
Purchase of assistive devices if required
Apart from the above, an accident victim can seek compensation for non-economic damages such as:
Pain and suffering
Emotional distress
Disfigurement
Diminished quality of life
Disability
Cellino Law has the knowledge and resources needed when pursuing compensation for the injuries you have suffered as a result of a motorbike accident in Long Island, New York. Give Cellino Law a call on (800) 555-5555 and you will get a free case evaluation and consultation.
Why Should You Have a Long Island Motorcycle Accident Lawyer Help Your Claim?
Cellino Law has helped many residents of Long Island, New York with their cases over the years, and we know how tough things are when it comes to pursuing a claim while getting treatment for injuries or recovering. If you have been involved in a motorcycle accident, then the best thing you can do is hiring a lawyer with experience in such cases because they will be able to handle it. When our lawyers are handling your case, you will be able to focus on getting better. The other party will most likely have a lawyer by their side, and having yours too is going to even the playing field.
Reaching out to motorbike accident lawyers at Cellino Law is good for you because you are going to know more about your claim and what options you have. Below are some of the reasons why you should have Cellino Law to by your side:
Insurers are going to try their best to discredit and fight your claim. They have a team of agents and attorneys looking for any loopholes they can exploit so they don't pay out much. When they do this, we will be there taking care of your interest and making sure they are held liable, and you get the compensation you deserve.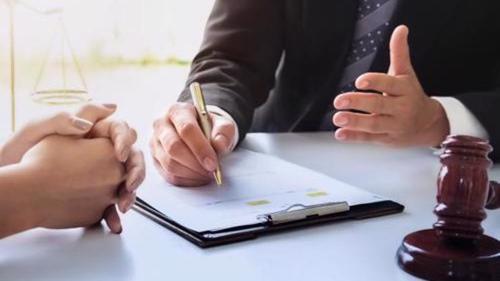 The other parties might look for a way of blaming you for the accident. When representing you, we are going to do everything in ensuring your liability is minimized, and baseless claims are not going to affect your chances of getting the compensation you deserve.
We have a team of investigators in Long Island, NY, who are going to work on the case and determine the parties involved with the accident. The information we gather is going to be important when determining whether there are any other parties to be held liable.
We are going to bring in experts from other fields if needed. They help in investigating the crash and determine the maximum compensation you can get.
No one anticipates being involved in an accident even though accidents are very common. Accidents involving motorcycles are devastating, but getting cash compensation can help you live your life after the accident. This is why our attorneys give it there all when helping victims get the maximum compensation for damages and injuries.
Statute of Limitations in Motorbike Accident Cases in New York
It can take time to recover from injuries sustained after a motorcycle accident. This doesn't mean sitting back and waiting to recover before starting the process of following up with your claims. You need to remember that statute of limitations is there, and this means you are given a time limit for filing a personal injury claim lawsuit. Victims have three years from the day of the accident to file a suit if it was a motorcycle accident. If you do not file the case within this period, then the claim is not going to be valid. You lose your right of pursuing compensation when this time is up.
There are some conditions surrounding the case that influence the time you need to act. When you reach out to an attorney experienced with motorcycle accidents, you will have a better shot at filing the claim on time. Do this as soon as you can.
What if I'm Partly to Blame for My Motorcycle Accident in New York?
Don't panic if you think you carry part of the blame. Just because you carry some of the blame doesn't automatically mean that you were responsible for the crash. If you carry part of the blame, you can recover some compensation for damages and losses. In New York, If both the parties are to blame for the accident, they are going to share the "Fault".
Sharing the blame doesn't mean you cannot pursue a claim. It is only going to affect the amount of money you stand to get in compensation. A degree of blame is going to be assigned in percentages, and the deductions will use them. If your fault is 20%, the compensation you stand to get is going to reduce by 20%.
There is a possibility of such a thing happening during your case, and this makes it very important to have an experienced injury lawyer by your side. The attorney is going to make sure you get the compensation you deserve.
Cellino Law will help in minimizing your level of liability so you can get compensation amounts that will cover lost wages and medical bills. Give our Long Island personal injury lawyer a call on (800) 555-5555 and you will get a non-obligatory case review.
I am so grateful for your expertise, patience, and perseverance which resulted with such a successful settlement regarding my car accident. I also want to let you know how impressed I was with you and your firm and I won't hesitate to recommend you to anyone who needs assistance from an accident. I truly appreciated your care and professionalism. Thank you again for your kindness and support

Lisa

This is to express our gratitude to you and your team in helping us and Stephanie navigate through the legal process following her car accident. We are very satisfied with the outcome and grateful for your hard work and attention to details. We fell confident that with this compensation, Stephanie will be able to move forward with her studies and her life with the ability to care for some of her health needs resulting from the injuries sustained following her car accident. Thank you very much and may God continue to bless your efforts.

Jose & Rose

Thank you for all your help. It has been a long journey. At last, the light at the end of the tunnel. Also, thank Tom for the help and work he put in.

Ron

I can only say great things about my attorney Allan Silverstein. He is professional, he calls back right away, he keeps me informed, and makes me feel comfortable as this entire ordeal is stressful. I have total confidence in his ability to handle whatever comes his way. He is no nonsense and very good at his job. Thank you Allan... he is a true asset to the team!

Mrs Steward

My experience during the time of negotiations was extremely positive. Josh Sandberg handled my lawsuit with the utmost integrity. He returned all my phone calls in a timely manner and answered all my questions. Josh made things less stressful. I would highly recommend Josh and the entire staff at Cellino Law.

Arthur

My wife and I would like to take this opportunity to thank you for a fantastic job as our attorney. We could not have been more pleased with the work you and your team has done on this case. This past four years or so has been such a roller coaster for our family. We are very pleased and grateful with the result. We have made a good choice by choosing you. Thank you.

Dave