What do you do when the insurance provider declines to cover your medical bills or car repair costs? How about damages for lost income due to the accident or injuries sustained in the accident? If you have ever dealt with an auto accident, you understand how crucial it is to have an attorney to answer these questions. An Islip car accident lawyer will help ensure that you are awarded full compensation for your damages.
The lawyers at Cellino Law in Islip will provide you with a free initial consultation session to assess your specific case and initiate the process of claiming compensation. Regardless of how serious or minor the accident is, we will offer you professional legal advice and guide you on the best way forward.
Our team is made up of highly experienced Islip personal injury attorneys who are able to build the ideal defense for you to ensure that your rights are protected. We will be your partner throughout the process and will make sure that you get the maximum compensation amount. Thanks to our extensive understanding of the law, level of skill, and track record, we are the leading personal injury law firm in New York.
How do You Report a Car Accident in New York?
In the event of an accident in New York, a motorist is required by law to report the incident to the relevant authority, particularly when the accident caused an injury or resulted in a fatality. The at-fault driver should be the one to report it first. But it isn't always smart to rely on them to do so.
In case the accident led to property damage, then the at-fault driver should make an accident damage report regardless of whether the other driver is available or not. But an accident damage report can only be filed if the estimated property damages exceed $1,000.
After an accident, a driver is required to file the relevant report and written statement within ten days. However, if there is an injury that prevents the driver from making an accident report, then there are no specific rules in place that stipulate when the report should be made. But legal representatives recommend making the report as soon as possible after the injured party has recovered well enough and is in a good position to do so.
What Information Do I Need to Collect After a Car Accident?
There is particular information that you need to collect while at the accident scene that may be useful to your case later on.
The name, contact details, residential address, license number, and insurance information of all the drivers involved.
The model, year, and registration or license of all the vehicles involved in the accident.
The precise location of the accident
The name, badge number, and precinct of the officers that responded to the accident
How Much Does it Cost to Hire an Auto Accident Attorney?
Our professional team at Cellino Law Firm understands that the various expenses arising from a car accident, such as medical expenses and others, can make paying for legal representation rather difficult. This is why we provide our legal services at no upfront cost. You won't have to pay anything until you are awarded the compensation that you deserve for your personal injuries.
Considering that we work on a contingency basis, we cater to all the costs until you receive your compensation. The contingency fee arrangement assures you that you will be compensated for your personal injuries. Our attorneys will thoroughly assess your case to determine if you have a valid case and what are your chances of success.
What Kind of Compensation Can You Get After an Auto Accident?
Personal injury claims are typically filed due to a loss, which can be monetary or non-monetary in nature. The victims of an auto accident can also be awarded punitive damages in cases where negligence or misconduct by the at-fault driver has been determined.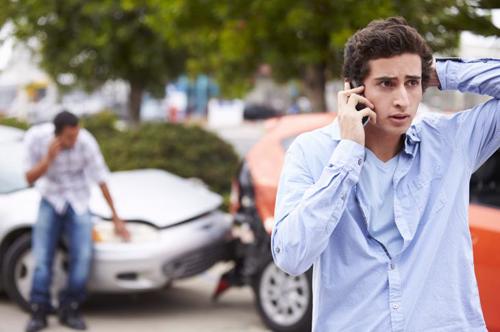 Economic or financial claims offer compensation for expenses and losses suffered due to a car accident, and they can include the following:
Loss of income
Car repairs
Property damage
Current and future medical expenses
On the other hand, non-economic damages are only awarded in cases where there were severe injuries in reference to section 102 of State Insurance Law. Serious injuries can include the following:
Fractured bones
Loss of limbs
The loss of function of a body organ or system
The loss of a baby while in the womb
Disfigurement
Depending on the case, a personal injury lawsuit can also include punitive damages. These types of damages are either economic or non-economic. They are normally in place as a form of punishment due to the negligence or misconduct of the at-fault driver. It is typically calculated as a multiplication of the other compensation that is to be received.
The Statute of Limitations for Car Accidents in New York
Personal injury claims for damages resulting from an auto accident should be filed within a set time window from the date of the accident. Thus, it is crucial to talk to a lawyer near Islip as soon as possible.
Under the state law in New York, claims for damages against the liable party need to be filed within one week from the date of the auto accident. There is a statute of limitations, and it is crucial to meet this deadline in order to secure compensation.
Under the statute of limitations, claims arising from auto accidents should be filed by the victim three years from the date of the accident. But in case the claim is against a government agency, then the aggrieved party should file the claim within 90 days.
Call Cellino Law Today to Schedule a Free Consultation With an Islip Car Accident Lawyer
When it comes to filing personal injury claims, it is always crucial to get started on the process as early as possible. Despite the time window stipulated by the statute of limitations, the earlier you get started, the better. Get in touch with our Islip personal injury firm to learn more about how we can assist you to receive the compensation that you deserve for your injuries, car damage, lost income, pain and suffering, and any other losses that you might have incurred due to the accident.
It was a great pleasure working with you on my lawsuit. You certainly gave 150% of your time and interest in settling my case and for that, I am extremely grateful. Therefore, I want to thank you very much for helping me win my settlement and wish you the very best.

Linda

Thank you for your time, effort, and hard work on my case. I appreciate your expertise and compassion. I never experienced what I went through and I would have been completely lost without you.

Martha

This is to express our gratitude to you and your team in helping us and Stephanie navigate through the legal process following her car accident. We are very satisfied with the outcome and grateful for your hard work and attention to details. We fell confident that with this compensation, Stephanie will be able to move forward with her studies and her life with the ability to care for some of her health needs resulting from the injuries sustained following her car accident. Thank you very much and may God continue to bless your efforts.

Jose & Rose

Tim Cellino handled my case beautifully. He is very knowledgeable and patient with all my questions. He kept in touch with me through out my ordeal. Tim also got a settlement for more than I expected. I highly recommend Tim Cellino!

Jayne

Joe and I just wanted to send you this note thanking you for the professional way you handled our lawsuit. Your kindness was extremely appreciated in a very difficult time. When we found out the people that caused the accident had no insurance, we thought our chances of receiving any settlement was nonexistent. Once we met with you and released you were able to help us our minds were put at ease. Your aggressive manner of handling the case exceeded our expectations. Please feel free to use us as a reference. Thank you so much and best wishes,

Danielle and Joe

Cellino Law and more specifically my attorney, Gregory V. Pajak, Managing Attorney, and as a whole the Cellino Law Firm and its organization. This is by far one of the most professional law firms and attorney I have ever engaged with and retained in my 35 years. The level of professionalism goes beyond words, the care and constant engagement with me as the client was touching. I was never ever just treated as simply a CASE with potentially a significant dollar number attached to my file. I was engaged regularly, Tracey (Ass't) and Greg always made sure to remain constant, as well as consistent in overseeing that my case was handled properly and that it did matter in many ways - ensuring that the end result(s) would be fair and reasonable to my case/injury. The regular follow-up calls were very satisfying, knowing that you're involved in your case matters significantly AND always. One of my main items to recognize Cellino Law and Gregory is that whenever I called, I was able to get through to speak directly to my Lawyer and he would answer any if not all of my questions in a very professional and genuinely caring manner. I always felt cared for and protected legally and more importantly, I was made feel as a human being that was being cared for and always keeping me abreast of all matters connected to the case. There was never a point I felt let down, on the contrary -the level of service was "STELLAR". Greg is the consummate professional, a 'role model', if you will, for what other attorneys should strive to become when dealing with their clients.

Anthony