Slipping and falling can result in mild to severe injuries. These injuries can result in unnecessary medical expenses, loss of wages due to the inability to work, and other losses. You have the right to claim compensation for these losses from the party that is responsible for the slip and fall injury.
A Hamburg slip and fall lawyer can assist you with an injury case in the following ways:
Evaluate your case to determine who is liable and what damages you can claim.
File the personal injury claim with the relevant civil court.
Negotiate a settlement with the liable party, their insurance provider and/or lawyers.
Present your case in a trial.
Ensure that you are awarded a fair settlement for the losses that you have suffered.
You can contact the personal injury lawyers at Cellino Law for free advice regarding filing your injury claim. Call (800) 555-5555 to schedule a free consultation to assess your slip and fall case today.
What Are The Most Common Causes Of Slip and Fall Accidents?
Slip and fall accidents commonly occur as a result of:
Wet floors or surfaces
Uneven ground or floor surfaces
Obstacles that are a tripping hazard
Poorly maintained lots, premises, buildings, or other structures
How Can A Hamburg Slip And Fall Attorney Help Me With My Case?
A slip and fall attorney specializes in personal injury law and has the skill and experience to ensure that you receive the compensation that you deserve for any losses that you have incurred from the accident and the resulting injury. In most cases, your lawyer will recommend settling out of court. There are three reasons for this:
Avoid court costs.
Avoid lengthy legal proceedings and ensure that you receive compensation as soon as possible.
There is no certainty whether a favorable outcome will be achieved in court.
However, should the liable party refuse to settle or the settlement offer be far too little to provide adequate compensation, having a lawyer by your side in court will improve your chances of successfully being awarded a claim in an amount that fairly compensates you for your losses.
What Steps Can Be Taken To Support A Slip And Fall Case?
If you are the victim of a slip and fall accident that occurred in a public place, you may be the best advocate for your case. You should take the following steps after slipping and falling to provide as much support to your personal injury case as possible:
Take photos of the scene of the accident.
Get the names and contact details of any potential witnesses to the accident.
Report the accident to a manager or other person in authority immediately.
Seek medical attention as soon as possible. If the injury is serious, call emergency services or go to your nearest emergency room. If your injuries are mild and not immediately apparent, visit a doctor as soon as you can. Remember that some injuries can take a few days to become noticeable.
Keep all documentation referring to the injury as well as medical bills and proof of other expenses.
Keep a record of time taken off work as a result of the injury and the wages or income that you lost.
All this information is important in presenting a strong personal injury case.
How Can A Slip And Fall Accident Be Proven?
Over and above collecting evidence to prove that the slip and fall occurred, you will also need to prove 2 additional factors:
The owner of the property was aware of or had knowledge of the hazardous condition that caused the accident or was at least reasonably aware of its existence.
You were not aware of the hazardous condition that caused the slip and fall accident.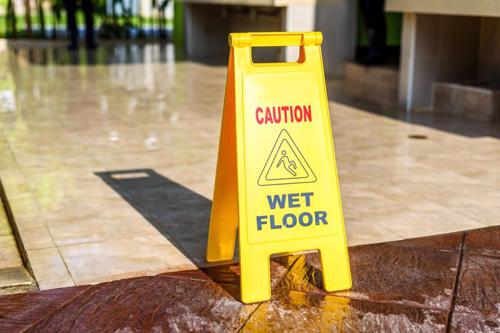 For example, the owner of the property failed to post warning signs of the hazardous condition or you did not see any signs where the hazardous condition existed.
How is Liability Determined In Hamburg, New York, In A Slip And Fall Case?
Liability refers to who is ultimately responsible for the accident and therefore liable to pay for the losses or damages that you may have suffered from the resulting injury. New York is one of the few states that practices 100% comparative negligence in determining liability relative to the fault that each party contributed towards the accident.
This means that the injured party can claim from the liable party no matter what percentage of blame for the accident can be attributed to the liable party. For example, if the liable party is found to be only 20% at fault for causing the accident, the injured party can still claim compensation from them. However, the amount of compensation awarded will reflect the at-fault percentage and be reduced accordingly. Using the example above, the injured party will only receive 20% of their claim.
In order to establish fault and therefore the percentage of liability that can be attributed to each party, the following must be established:
Were you on the premises where the accident occurred for a valid reason?
Would another reasonably cautious person have noticed the hazardous condition or remained unaware?
Did the owner of the property post warning signs of the hazardous condition?
What were you doing when the slip and fall accident occurred? Did your actions contribute in any way to the accident?
What Damages Can You Claim For In A Slip And Injury Case?
There are a number of different damages (losses) that can be included in a slip and fall personal injury claim:
Medical bills and expenses
Loss of income or wages
Loss of future earnings as a result of a disability caused by the injury
Damage to property
Pain and suffering
Mental anguish and/or emotional distress
Loss of consortium which are damages that are incurred by family or loved ones
The loss of the ability to enjoy life
How Much is My Slip and Fall Case Worth?
Every case is unique and the amount that you can claim will vary from case to case. The more severe your injuries, the more expensive your medical care will be and the greater your claim for medical expenses. If you need to take an extended period of time off work to recover from the injury, your claim will also be higher. It is recommended to take your case to a lawyer to find out what you can claim for and in what amount.
What Are the Time Limits To File A Slip And Fall Lawsuit?
The statute of limitations for slip and fall personal injury cases is three years from the date of the accident. This means that you have three years to file a claim for compensation for a slip and fall injury from the date on which the accident occurred.
Review Your Claim With a Hamburg Slip and Fall Lawyer Today
No matter how mild or debilitating your injuries are from a slip and fall accident, you can claim compensation for the losses that you incurred. It is recommended to hire a slip and fall lawyer in Hamburg, New York to help you determine who is liable, what losses can form part of your claim, and how much you can claim for.
Contact Cellino Law to have your slip and fall case assessed free of charge and get started with the process of filing your claim today.
Choosing the right attorney to represent you after an accident can make all the difference. This is no cliche. I recently experienced these words to live by first hand. After a tractor trailer rear ended me at high speed in 2017 I retained Allan Silverstein to handle my case. I quickly realized that bringing a lawsuit rapidly snowballs into a mountain of details that can make or break your results. Documents, case histories, doctor visits, bills, and lots of phone calls all need to be accurately kept track of if a successful outcome it to be attained. To complicate matters I reside in New York and the incident took place in New Jersey. Luckily, Allan was licensed in multiple states. I was fortunate to find Allan to handle this matter from the New York area. Armed with an accurate account of the facts Allan went to work on the difficult job of negotiating with the defending insurance company as well as my no fault carrier in order to obtain the best possible outcome for my set of circumstances. In a lawsuit communication is key and and events can be of a timely nature. Allan never failed to return my calls - usually the same day! He fought skillfully and respectfully to get me the best possible settlement. He is easy to deal with and a likeable down to earth guy. He always listened with compassion and respect to my issues. He guided me with objective understanding as well as a realistic analysis of the merits of my case. When we finally settled Allan got me a fair agreement beyond my expectations and negotiated with my doctors to make sure all my bills were paid. It was a great experience having Allan represent me. Quality work in any aspect of life is hard to find. Quality is what I got with Allan Silverstein. I highly recommend him if you find yourself in need of a personal injury attorney.

Theodore

Thank you for your time, effort, and hard work on my case. I appreciate your expertise and compassion. I never experienced what I went through and I would have been completely lost without you.

Martha

Tim Cellino handled my case beautifully. He is very knowledgeable and patient with all my questions. He kept in touch with me through out my ordeal. Tim also got a settlement for more than I expected. I highly recommend Tim Cellino!

Jayne

My wife and I would like to take this opportunity to thank you for a fantastic job as our attorney. We could not have been more pleased with the work you and your team has done on this case. This past four years or so has been such a roller coaster for our family. We are very pleased and grateful with the result. We have made a good choice by choosing you. Thank you.

Dave

I am so grateful for your expertise, patience, and perseverance which resulted with such a successful settlement regarding my car accident. I also want to let you know how impressed I was with you and your firm and I won't hesitate to recommend you to anyone who needs assistance from an accident. I truly appreciated your care and professionalism. Thank you again for your kindness and support

Lisa

It was a great pleasure working with you on my lawsuit. You certainly gave 150% of your time and interest in settling my case and for that, I am extremely grateful. Therefore, I want to thank you very much for helping me win my settlement and wish you the very best.

Linda