While all injuries can become life-changing in a second, animal bites are some of the most traumatizing. Those who suffer from them feel the brunt of physical pain, mental anguish, and even permanent disfigurement in many cases with horrifying scars. However, most of these injuries are suffered by children who encounter vicious dogs. In almost all of these cases, victims require immediate medical attention for medication or vaccines to prevent life-threatening infections.
If you or a loved one were the victims of a vicious animal attack, it's in your best interest to contact an experienced Garden City dog bite lawyer immediately. The attorneys at the Cellino Law Firm are trained and equipped to help you fight for the compensation that you deserve. We're determined to fight for your rights for any injuries that you suffered during a dog attack.
If you didn't already know, most of these injuries fall under the premises liability law. So if you've been injured in a vicious dog attack, contact a trained attorney within Garden City to determine your options today.
What Should You Do If You Are The Victim Of A Dog Bite In Garden City?
Each moment that passes after your accident is extremely important. While you're taking some time to recuperate from the mental and physical trauma that you've just suffered, it's best to remember that you'll need to perform the following steps after your accident. In most cases, victims can improve their chances of attaining maximum coverage for their injuries.
Call For Help
Dog bites or other injuries sustained during a dog attack can become life-threatening in a moment's notice. So if you've suffered in this way, call 911 immediately. This will ensure that you receive immediate medical attention to prevent infections.
Gather Evidence
Also, you'll need to gather evidence. This just simply means that you'll need to properly identify the owner of the dog and the dog after your accident. If you're in a position to use your smartphone, be sure to take a picture of the dog and its owner.
Get Contact Information From The Owner And Witnesses
It is also advised that you take note of other important information such as addresses and contact names. If there were also witnesses present, it's a good idea to gather information from them as well. However, in the unfortunate case where you cannot properly identify the owner, you'll need to go in for several rabies shots.
Seek Immediate Medical Attention
While all dog bites present the chances of increased infections, getting bitten from a dog you don't know increases the risks even more. After you've gathered all the important information, you'll need to seek immediate medical attention from a doctor. All bites from animals require a doctor to determine if you've suffered from internal injuries. In the case where a dog is responsible, the chances are higher due to their power.
Seeking medical attention is very important and shouldn't be taken lightly. When victims fail to do so, they decrease their chances of being compensated for their injuries. Insurance companies and their clients can easily argue that persons were not seriously injured if they didn't seek medical assistance.
Dog Bite Injuries
All dogs, no matter the size or breed can bite victims and lead them to the following injuries:
Open Wounds
Dog bites don't easily break skin due to the fact that dogs don't have sharp teeth as adults. However, their bite force could be so powerful that their jaws are filled with enough strength to create open wounds on your skin. In the case of larger dogs, they can jump higher and use both claws and teeth to puncture skin leaving a series of open sounds.
Wounds From Teeth And Claws
Some of the most painful wounds suffered are those that come from teeth and claws. Teeth and claws can easily break skin and damage clothing leaving a victim running into serious risks of bleeding.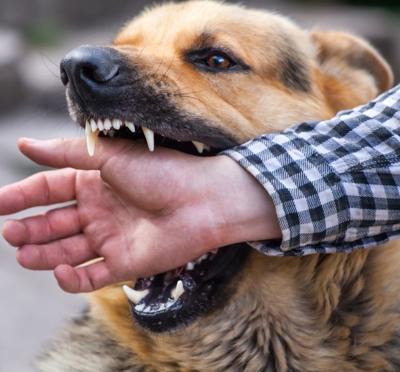 Fractures
Large dog breeds are better at breaking bones. If they attack they can easily break the bones of their victims with the jaws. During an attack, victims have been known to slip and fall while trying to escape resulting in more fractures as they hit the ground.
Brain And Head Injuries
Traumatic Brain Injuries, also known as TBIs, and skull fractures can be the result of powerful dogs. This occurs when a person is either bitten or falls during the scuffle. It can also be easily caused if an external object impacts the head.
This category of injuries leaves persons suffering from life-threatening injuries with mild concussions. So if you've suffered from any head injury during your attack, you should seek immediate medical attention because TBIs have been known to leave damages that last for the rest of a person's life.
Damage To The Face
During an attack, dogs can bite the head or the face. This generally results in injuries to the nose, eyes, ears, and other regions across the face. However, most victims are unfortunate in this instance and they require a series of reconstructive surgeries. This often leaves them being scarred until the end of their lives.
After you've been treated by your family doctor or emergency physician, it's essentially important that you get a medical report with the full details. These tend to include the injuries that you've sustained as even your treatment options. Additionally, long-term issues are also included in the report for your safety.
Your Garden City attorney will use this report to prove that you've suffered a great deal during your recent contact with a dangerous dog.
Dog Bite Statistics
Within the United States alone, the CDC has reported that over 890,000 Americans have suffered from dog attacks each year. What's even more shocking is that almost half of those cases involve children. The CDC has also stated that roughly 27,000 of these victims require immediate reconstructive surgeries on an annual basis.
Research has indicated that the Insurance Information Institute pays roughly $30,000 in claims each year for more dog bite claims. In essence, over 16,000 claims are filed each year by victims with their homeowner insurance policies. When it comes to more serious injuries, persons are compensated with more due to the severity of their injuries.
How Is Liability Determined In Dog Bite Cases?
If you or a loved one has been bitten by a dog and you need medical assistance, the Cellino Law Firm is dedicated to getting you the coverage that you need. Dog owners are very liable for the damages and injuries that their pets cause to others. However, they are not liable if the animal was intentionally provoked by a victim or the victim trespassed on the owner's property.
Within New York, the law indicates that dog owners must pay for the expenses that come as a result of their dogs. Since Cellino Law Firm is located in New York, they adhere to the strictest procedures to ensure that their clients are compensated. This ensures that other animals are also compensated if they were attacked by the defendant's dog.
What Effects Can A Dog Attack Have?
The victims of dog attacks deal with much more trauma than just cuts, lacerations, and bruises. The following are the other damages that person's face after a dog attack:
Permanent Scarring And Physical Disfigurement
Dog bites tend to run very deep and they often leave discolored cosmetic scars and keloids. Children are more at risk of getting bites on their necks and faces. This leaves them disfigured and scarred for the rest of their lives.
Mental And Psychological Effects
Victims of dog attacks tend to become extremely scared after such a traumatic event. This fear that they now develop is known as Cynophobia. Persons suffering from this require in-depth psychological treatment and a momentous amount of therapy to get over their anxiety and fear of dogs. In most instances, these victims develop PTSD.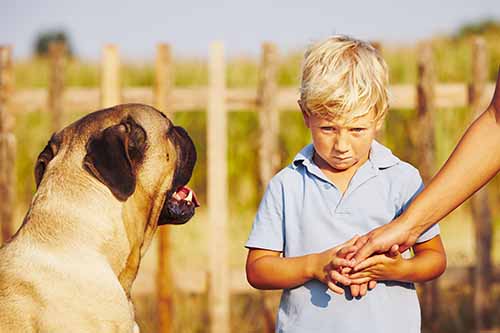 Loss Of Income
More than often enough, victims of dog bites suffer a loss of wages and income because they're not able to work during their recovery period. In some instances, they are forced to work for a reduced salary since they are now permanently disfigured or disabled. However, in order to receive the maximum compensation, they must be able to successfully prove that the dog in question is or was prone to biting people.
This leaves victims fighting to secure their future and prove that the owner was also aware of the attack. Sometimes owners are there and witness attacks first hand, in other cases, they are not and make claims stating that it wasn't their dog. To get through the difficult phase it's best to hire an experienced Garden City liability lawyer. The lawyers at Cellino Law will work on your behalf and conduct a thorough investigation and gather all the details.
The trained lawyers at Cellino Law Firm will look for the following forms of evidence:
Proof that the dog attacked persons in the past
They will gather statements from the neighbors and other eyewitnesses
They will also enforce violations of the Leash Law
Our attorneys will gather an extensive list of evidence to prove that the defendant's dog was dangerous and had a history of being dangerous. This could come in the form where a neighbor can indicate that the dog snarls, growls, and snaps at persons even in the presence of its owner. These forms of evidence prove that the owner is unsuitable to manage the dog.
What Damages Can A Garden City Dog Bite Lawyer Help Me Pursue?
After the court determines that the owner is indeed liable, you'll receive the compensation that you deserve for your injuries. However, other awards can be given such as:
Loss Of Income
In the instance where victims are unable to return to work in the future, the court will award compensation to make up for it.
Pain And Suffering
When injuries are sustained to some of the most sensitive parts of the body, they can cause tremendous suffering and pain. Our attorneys in Garden City will ensure that witnesses come to testify on your behalf against the defendant. While it is never to put a monetary value on suffering and pain, the judge will give consideration to the injuries along with statements that work in your favor to determine a fair amount by the court.
Compensation For Rehab, Reconstructive Surgeries, And Long-Term Care
Dog owners are also liable in some situations to pay for reconstructive surgeries. They're also responsible for rehab costs, medical expenses, for the cost of long-term care if victims are disfigured or disabled during an attack.
What Should You Do If You Own An Aggressive Dog?
If you're the owner of an aggressive dog, it's a great idea to learn about the different laws in your area. They give you a better understanding of how much it will cost if your dog bites or attacks anyone. A Garden City dog bite lawyer can provide you with more information on the matter. It's also a great idea to check out online resources.
The American Academy Of Physicians is a great resource that aids with the prevention and treatment of dog bites. They may even be able to provide you with the guidelines and laws for your state as it pertains to your breed. You'll also be able to find sources online that will give useful information about bite prevention and liability insurance.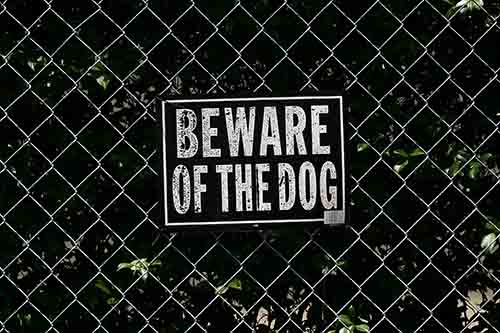 How Many Americans Are Bitten Each Year By Dogs?
According to the CDC, roughly 5 million persons are bitten by dogs yearly. At least 1 in 5 of those are serious or mild.
Are Some Dog Breeds More Dangerous Than Others?
According to a report published by the CDC and the Humane Society in 2000, a 20 year period was used to track fatalities. This was done from 1979 to 1998. The fatalities found classified dogs based on purebreds, crossbreds, and mixed-breeds.
The following are the top 10 deadliest breeds:
Pit Bulls
Rottweilers
German shepherds
Malamutes
St. Bernard's
Dog/wolf hybrids
Siberian huskies
Mixed breeds
Dobermans
Chow Chows
If I Am Bitten By A Dog While Working, Can I File Workers' Compensation?
If you're bitten on the job, you're eligible to file for compensation. Workers' compensation claims can be filed and there's a chance that you'll also be able to file for another claim against the owner of the dog if they aren't your employer.
Can I File A Claim If A Police Dog Bites Me?
From a simple point of view, this mainly depends on how the situation happened. Officers use reasonable force when working and carrying out their duties. This even applies when they arrest someone. If a police dog was used inappropriately, it can be deemed by the court as an unreasonable force.
If you're a victim in this instance, you can contact the Cellino Law Firm and speak to a lawyer in Garden City. This helps to determine if the police in question exercised extreme force. If the ruling goes in your favor, they will be responsible for providing you with compensation for your injuries.
Do I Have A Legal Claim If My Pet Is Injured?
If your beloved pet is injured by someone else's, you are legally able to file a claim. You'll be able to receive the registration cost for a purebred, the cost to license another pet, as well as shots and training. If you had hoped to spend extra on your pet besides regular vet bills, you'll also be able to seek compensation for that.
If you lost your pet, you may be entitled to receive compensation for the suffering and pain that you'll face. Pets add a great deal of value to a person's life and they provide them with companionship. You should fight to get compensated for the pain and mental torture that you're facing.
Punitive damages can also be rewarded in some instances. However, different states tend to have different laws pertaining to dog bites. So be sure to learn about the state laws for your area.
If you or a loved one is seeking compensation, you'll need a qualified attorney that has experience under their belts. The Cellino Law Firm in Garden City is equipped to handle any dog attack or dog bite injury that you're suffering from. Our attorneys are willing to go the extra mile for our clients as we get justice for them.
Contact a Garden City Dog Bite Lawyer
Suffering from a vicious animal attack can leave you with physical and mental trauma. Cellino Law has extensive experience in personal injury cases. If you or a loved one was attacked by a vicious dog, contact us today for a free case evaluation.
Tim Cellino handled my case beautifully. He is very knowledgeable and patient with all my questions. He kept in touch with me through out my ordeal. Tim also got a settlement for more than I expected. I highly recommend Tim Cellino!

Jayne

Cellino Law and more specifically my attorney, Gregory V. Pajak, Managing Attorney, and as a whole the Cellino Law Firm and its organization. This is by far one of the most professional law firms and attorney I have ever engaged with and retained in my 35 years. The level of professionalism goes beyond words, the care and constant engagement with me as the client was touching. I was never ever just treated as simply a CASE with potentially a significant dollar number attached to my file. I was engaged regularly, Tracey (Ass't) and Greg always made sure to remain constant, as well as consistent in overseeing that my case was handled properly and that it did matter in many ways - ensuring that the end result(s) would be fair and reasonable to my case/injury. The regular follow-up calls were very satisfying, knowing that you're involved in your case matters significantly AND always. One of my main items to recognize Cellino Law and Gregory is that whenever I called, I was able to get through to speak directly to my Lawyer and he would answer any if not all of my questions in a very professional and genuinely caring manner. I always felt cared for and protected legally and more importantly, I was made feel as a human being that was being cared for and always keeping me abreast of all matters connected to the case. There was never a point I felt let down, on the contrary -the level of service was "STELLAR". Greg is the consummate professional, a 'role model', if you will, for what other attorneys should strive to become when dealing with their clients.

Anthony

Mark Kochanowicz is from far the best attorney you can have. Mark treats you like a friend more than a client. He truly cares and go the extra mile for you and your case, contacts you to update you in regards to your case and keep you informed at all times. Mark represented me twice and settled my cases for way more than I expected. I highly recommend Mark Kochanowicz because he is just the best on what he does!!! Thank you Mark!!!!

Maria

I just want to let you know that I did receive my settlement check. More importantly, I want to thank you again for all you did for both me and my family. I could not be more pleased with my experience at Cellino Law. From the moment I first spoke with you I felt comfortable - you took a sincere interest in my case, clearly explained the process and effected a quick settlement. From this day forward, when someone asks if I can recommend a good lawyer I will, without hesitation, say "Cellino Law". Thanks again.

Walter

My experience during the time of negotiations was extremely positive. Josh Sandberg handled my lawsuit with the utmost integrity. He returned all my phone calls in a timely manner and answered all my questions. Josh made things less stressful. I would highly recommend Josh and the entire staff at Cellino Law.

Arthur

Thank you for your help in settling the case of my father's accident. I could always count on you to answer my questions honestly and in terms I could understand. If all lawyers at Cellino Law are like you, I understand why they are an A-1 law firm.

Bedner