Any car accident can be devastating, and many victims are left wondering how they will deal with medical bills, car repair costs, and lost wages from time off work. Does the aftermath of your car accident weigh on you, and you don't know where to turn next?
Our Clarkstown car accident lawyers at Cellino Law can help you get the compensation you deserve and allow you to focus on recovering and getting your life back to normal. As one of the best personal injury law firms in New York, we have the resources, knowledge, and experience to assist with your car accident claim. We will properly investigate and pursue your case, all the while taking the time to guide you through each step of your claim.
Call us at (800) 555-5555 to request a free initial case review with one of our seasoned personal injury lawyers.
How Much Does a Clarkstown Car Accident Lawyer Cost?
Understandably, car accident victims are apprehensive about the prospect of incurring hefty legal costs in pursuing a personal injury lawsuit. This is why Cellino Law handles all car accident claims on a contingency fee agreement. which means you don't incur any upfront legal fees and only pay us if we recover compensation for your injuries.
Our no win, no fee approach means you can access experienced legal advice and representation regardless of your financial state. Don't let your financial concerns get in the way of pursuing the compensation you deserve. Let our experienced Clarkstown car accident handle the case for you on a contingency fee basis.
What Should I Do After a Car Accident?
Each year, 30,000+ car accidents in New York result in personal injuries. If you are one of those unfortunate individuals, will you know what steps to take in the aftermath of a car accident? How you react and the things you do after the crash can prevent further injury, reduce costs, and help with the claim process.
If you're involved in a car accident, try to remain calm and follow these steps:
Keep Safety First
Car accident survivors with no severe injuries should get to safety and move others away from immediate danger. So, check on others; if they can't be moved, they should remain in the vehicle with their seatbelts fastened. Your safety and that of others involved should always come first.
Call the Police
Again, safety is a priority, so even if you don't think anyone suffered serious injuries, dial 911. Besides, contacting the police will save you future paperwork if you need to lodge a car accident injury claim.
Exchange Information
Most of the time, law enforcement officers will obtain this information, but you should make sure to obtain the contact information of everyone involved. Try your best to get the names, phone numbers, driver's license no., and addresses of everyone who was involved in the crash or saw it happen.
Record and Document the Scene
The memory of the crash and the events surrounding it and crucial evidence may fade quickly. You have a limited window to preserve evidence that may prove vital to recovering financial compensation for your injuries.
If you can safely do so, take photos with your phone camera. You should:
Take a picture of the crash scene (from every angle and perspective) before the vehicles are moved.
Take pictures of the vehicles, including the damage, their positions, number plates, color, make, and model. Do this both up close and from a wide-angle.
Get photos of any debris at the accident scene, such as metal and glass shards on the road, marks on guardrails, skid marks, and so on.
Capture the surroundings, including nearby buildings, road signs, intersections, and other features.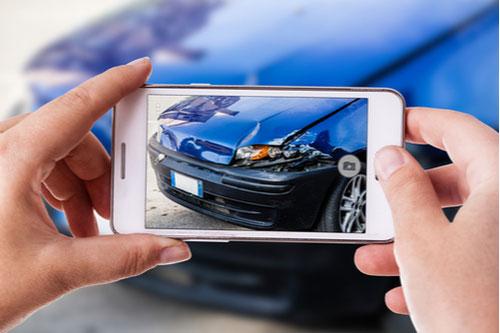 Never Admit Fault
Be polite, help others involved, but don't tell anyone that you are sorry or that you were at fault. Even if you think you were in the wrong, never admit fault!
Seek Medical Attention
You need to make sure that you did not suffer any internal injury or trauma. Even if an EMT tells you that you don't need emergency treatment or gives you the OK to go home, always schedule an appointment with a doctor within 72 hours of the accident.
Some internal injuries may not manifest immediately. It's best to see a physician to manage your treatment after an EMT has discharged you. Besides, seeing a doctor will ensure that your medical records reflect an accurate connection between your injuries and the accident.
Call Your Insurance Company
Many people assume that if they sustain injuries in a car accident in New York, their PIP coverage and health insurance will pay their medical bills. However, for now, your medical bills may be your financial responsibility. For that reason, you'll want to contact your health and auto insurer right away to give them a heads up about your car accident and confirm the limits of your coverage.
Call a Car Accident Lawyer!
Contact a car accident lawyer as soon as possible to make sure you follow the correct procedure to commence your claim, and that your rights stay protected. Our experienced Clarkstown car accident lawyers will protect your legal interests on a 'no win, no fee' basis, which means you don't incur any upfront legal fees and only pay us if we recover compensation for your injuries.
When Should I Get a Lawyer After a Car Accident?
Car accidents take a tremendous toll on everyone involved, both emotionally and financially. If you've survived a car accident, contact a car accident lawyer right away.
Keep in mind that you have no way of knowing whether your insurance company will undervalue your claim or if the other driver will report the accident to his/her insurance company and claim for injuries that weren't apparent at the scene of the crash. So, make sure that your legal interests are looked after from start to end and call a lawyer immediately after your car accident.
Why Do I Need A Lawyer For My Car Accident Claim?
Car accident claims and injury lawsuits in New York involve complex issues that deserve an experienced car accident lawyer's attention. Working with our Clarkstown car accident lawyers can make it less stressful to navigate New York's legal process and negotiate for maximum compensation.
Other ways our lawyers can serve your interest after a car accident include:
Case Preparation
We'll gather and analyze evidence, consult experts such as forensic accident reconstructionists and medical experts.
Settlement Negotiation
We'll negotiate with your insurance company as well as the at-fault party's insurer to obtain fair compensation on your behalf. Please do not make the mistake of facing-off against aggressive defense lawyers and insurance adjusters alone; leave the deal-making to us!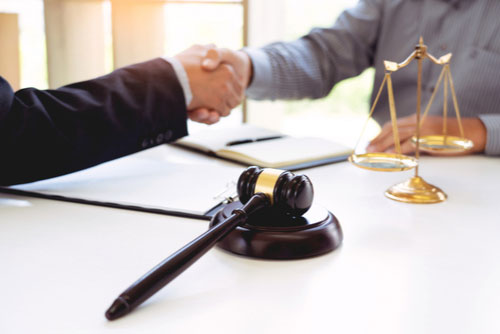 Trial Preparation & Representation
While most car accident cases don't end up in courtrooms, our lawyers understand that the best way to drive the best settlement for you is to prepare your case as if it will go to trial. That way, if negotiations fall through, we can say with confidence, "We'll see you in court," and really mean it.
What Damages Can I Recover In New York For My Car Accident Case?
If you suffered injuries in New York as a result of a car accident due to someone else's negligence, you could recover financial compensation for the following damages:
Economic Damages
These can be tied to an actual monetary estimation of how much the accident cost the plaintiff. They include:
Medical bills, including the estimated cost of future treatment
Property damage
Lost wages, past, and future
Non-economic Damages
These include harder to estimate elements, such as:
Emotional distress
Pain and suffering
Scarring/disfigurement or permanent disability
Loss of enjoyment of life
Punitive Damages
These are not available for every car accident case and depend on the defendant's conduct. Punitive damages are specially designed to punish the individual who hurt the plaintiff for their extreme lack of care.
How Is Fault Determined For Car Accident Cases In New York?
New York uses the no-fault insurance law. Drivers who are hurt in a car accident will typically seek medical and property damage compensation/benefits from their PIP (Personal Injury Protection auto insurance) regardless of fault.
However, if injuries meet particular prerequisites ("serious injuries"), car accident victims can step outside of New York's no-fault law and bring a lawsuit directly against the at-fault driver.
Keep in mind that New York handles injury lawsuits using the pure comparative negligence rule, which means that you can recover compensation even if you were at fault in contributing to the car accident.
For more details on New York's no-fault and pure comparative negligence systems, call us.
How Long Do I Have To File A Car Accident Injury Claim In New York?
Don't delay if you wish to lodge a car accident claim or a liability claim against a negligent driver in New York. New York's statute of limitations gives you just three years from the date of the crash to file.
Contact Cellino Law Today
After a crash, you may feel overwhelmed with the physical, emotional, and financial implications that follow. Couple those concerns with calls from insurance companies, an inability to work or engage in daily activities because of your injuries, and you have a lot to deal with after an accident.
The skilled and compassionate attorneys at Cellino Law can take all legal responsibilities off your plate, allowing you to tend to your health, wellbeing, and family. You can count on our Clarkstown car accident lawyers to represent your interest throughout the claim process. Call us at (800) 555-5555 for a free no-risk review of your case.
Cellino Law is an amazing firm with a great team. I worked with Greg Pajak and his assistant, Tracey Falconer. I cannot express enough how dedicated they are. The personal attention I received was excellent; they were always available to help with questions and concerns and put me at ease in the unknown territory I found myself in. I highly recommend them to anyone needing representation. A huge thank you to them for all they accomplished for me!

Liane

I really just wanted to say thank you so much for taking my case, answering all my questions, and mostly for being very patient with me. I feel that without you and Roza I would not have been able to get anything at all. I hope to never need a lawyer again, but if I do I will definitely want you both working for me. Again thank your for you hard work, time and patience.

Veola

Now that reality has set in, I want to thank you for all your work and assistance in obtaining my settlement for the pelvic mesh. This money will make my life so much easier in the future. Medicare just isn't sufficient. I know that I will have enough to live on. I truly appreciate of your efforts. Thank you!

Loraine

I am so grateful for your expertise, patience, and perseverance which resulted with such a successful settlement regarding my car accident. I also want to let you know how impressed I was with you and your firm and I won't hesitate to recommend you to anyone who needs assistance from an accident. I truly appreciated your care and professionalism. Thank you again for your kindness and support

Lisa

Joe and I just wanted to send you this note thanking you for the professional way you handled our lawsuit. Your kindness was extremely appreciated in a very difficult time. When we found out the people that caused the accident had no insurance, we thought our chances of receiving any settlement was nonexistent. Once we met with you and released you were able to help us our minds were put at ease. Your aggressive manner of handling the case exceeded our expectations. Please feel free to use us as a reference. Thank you so much and best wishes,

Danielle and Joe

Thank you for your help in settling the case of my father's accident. I could always count on you to answer my questions honestly and in terms I could understand. If all lawyers at Cellino Law are like you, I understand why they are an A-1 law firm.

Bedner