Employees who have suffered any injuries or have been affected by illness while in the course of normal work duties can get compensation for any loss or suffering by filing a workers' compensation claim. Workers' compensation claims are covered through an insurance cover meant to help employees get back on their feet as quickly as possible after any workplace incident.
Any minor or debilitating injuries are usually covered by workers' compensation insurance. If you have been involved in a workplace incident and feel that you deserve compensation, our highly adept Brooklyn workers compensation lawyers at Cellino Law can ensure that you get the indemnification you rightly deserve by helping you to prep and submit the required documentation to the appropriate insurance firm or court.
Workers' compensation laws in Brooklyn guarantee that an employee who is injured in the course of their work has a right to get some form of financial relief for their suffering. In return, under a regulation known as "right of limited protection", the aggrieved worker has to agree not to sue their employer for any negligent thing they may have done to cause the incident in question.
As per the laws of the State of New York, employers have an obligation to make provisions for any workers' compensation claims that may be made by employees. The state usually has a formula on how the insurance acquired by employers is to be used to cover for any loss of income, medical bills, and any time that the injured employee takes off work. Simply put, the workers' compensation coverage is meant to indemnify employees in case of any incident as well as reduce compensation lawsuits. However, workers' comp claims can be denied. If this happens to you, you will want to consult with a Brooklyn personal injury lawyer.
What Injuries Does Workers' Compensation In New York Cover?
After sustaining injuries while undertaking normal work duties in Brooklyn, NY, before filing for a workers' compensation claim, it is important that you know which injuries are covered by the workers' compensation laws. In New York, there are very strict laws governing the filing of workers' compensation claims. Keep in mind that getting injured while undertaking normal work duties does not mean that you automatically qualify for compensation from your employer.
For you to qualify for compensation under laws for workers in New York, you must have sustained injuries or been involved in an incident that is covered by the conditions listed below.
Your employer must be obligated by the laws of the state to have workers' compensation insurance.
The incident, injury, or illness in question must have occurred while you were discharging the duties directly assigned to you by your employer.
After being involved in an incident, suffering an illness or injury, you must have informed your employer in writing before 30 days elapse from the occurrence date.
You must have medical records that clearly indicate that your injury, illness or incident occurred at your designated workplace or as a result of conditions at the place you work.
Sadly, employers or their insurers tend to dispute workers' compensation claims even when an incident clearly appears to meet the bar for compensation under state laws. To get the compensation you rightly deserve, you will need to provide robust supporting evidence when filing a claim coupled with the expert testimony of an accredited medical professional supporting your case.
Can I Lose My Job For Filing A Workers' Compensation Claim In Brooklyn?
There are a few unaddressed myths about workers' compensation insurance which discourages many workers who have valid claims from seeking compensation. For starters, many aggrieved workers with valid and strong claims think that filing a claim means that their employer will lose money which makes them susceptible to being fired. Nothing could be farther from the truth.
Under the laws of New York, almost all firms need to have workers' compensation insurance. This means that on making a claim, your compensation will come from the insurance company. This essentially means that filing a workers' compensation claim does not make you susceptible to being fired.
As A Domestic Employee In Brooklyn, Can I File A Workers' Compensation Claim?
Given the busy schedules of many New Yorkers, nannies, babysitters, housekeepers, and gardeners are common in most households. When any of these domestic staff get injured while at work, it is not always easy to differentiate whether the aggrieved worker is covered by workers' compensation laws. This is because it is hard to determine if the owner of the residence is to be classified as an 'employer' or whether the domestic worker is to be classified as a 'contractor'.
If you work as a domestic worker, it is important to keep in mind that a homeowner can hire a worker without acting as a company. At times, a domestic worker can simply be engaged as a 'residential worker' who assists in performing normal duties around the house. However, there are some instances when you may be covered under New York workers' compensation laws as a domestic worker. If you work in a residence where the homeowner has more than one employee, then they are required by law to have a workers' compensation cover.
What Is The Average Amount I Can Get On Filing A Compensation Claim In New York?
The average compensation amount usually varies for each case. On contacting our vastly experienced workers' compensation lawyer at Cellino Law, we will immediately help you evaluate the compensation you deserve after carefully studying all the facts surrounding your case. To evaluate how much you should get, we will look at:
All the medical care and treatment that you have received up to the time you contact us
Any future treatment that you may need such as surgery
Any lost earnings so far as well as any income that you may lose in future because of your injuries
Depending on the severity of your injuries, any disability payoff that needs to be factored into your case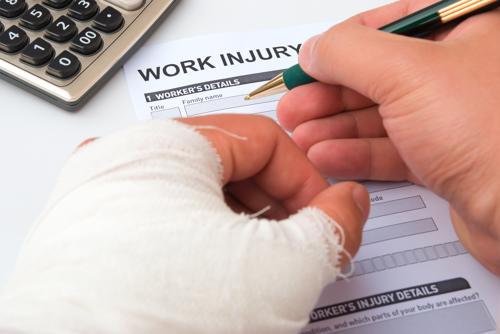 At Cellino Law, what sets us apart from other workers' compensation attorneys is that we have an impeccable and unimpeachable record of recovering millions of dollars in compensation for our clients. One thing we have learned from our many years of handling workers' compensation claims is that each client who approaches us has a unique case. Before filing a claim or starting a lawsuit on behalf of our clients, we ensure that we prepare meticulously with a view of making a fail-proof case to insurance companies or the courts.
Though insurance firms, their adjusters and attorneys also prepare vigorously for any claim case, based on our reputation of leaving no stone unturned to ensure our clients are justly compensated, whenever we represent someone, insurance firms tend to settle our claims justly as quickly as possible.
Our proficiency and strong reputation when it comes to handling workers' compensation claims means that we are respected at the negotiating table. When working with us, you are making the decision of receiving compensation quickly. If you think that you have a workers' compensation claim in Brooklyn affiliate with attorneys in New York. Simply get in touch with our lawyers today to schedule a free no-obligation consultation.
How Soon Should I Return To Work After Filing A Workers' Compensation Claim?
There are people who think that it is okay to take some time away from work after successfully filing a claim and receiving compensation. Ideally, it is best that you return to your place of work as soon as possible. For starters, returning to work quickly usually means more activity which can help shorten the healing process. Additionally, it also means that you will start receiving your full salary again soonest. Remember that even on getting compensated, your compensation will only cover a small part of your salary and you still have future needs to think about.
Even if you sustained severe injuries that mean less responsibility at work and a lower salary, you may become eligible for benefits to cover for your loss in earnings. Further, you may also become eligible for a treatment cover from your employer for the injuries you sustained at the workplace.
What Benefits That You Can Get For A Workers' Compensation Claim In Brooklyn, New York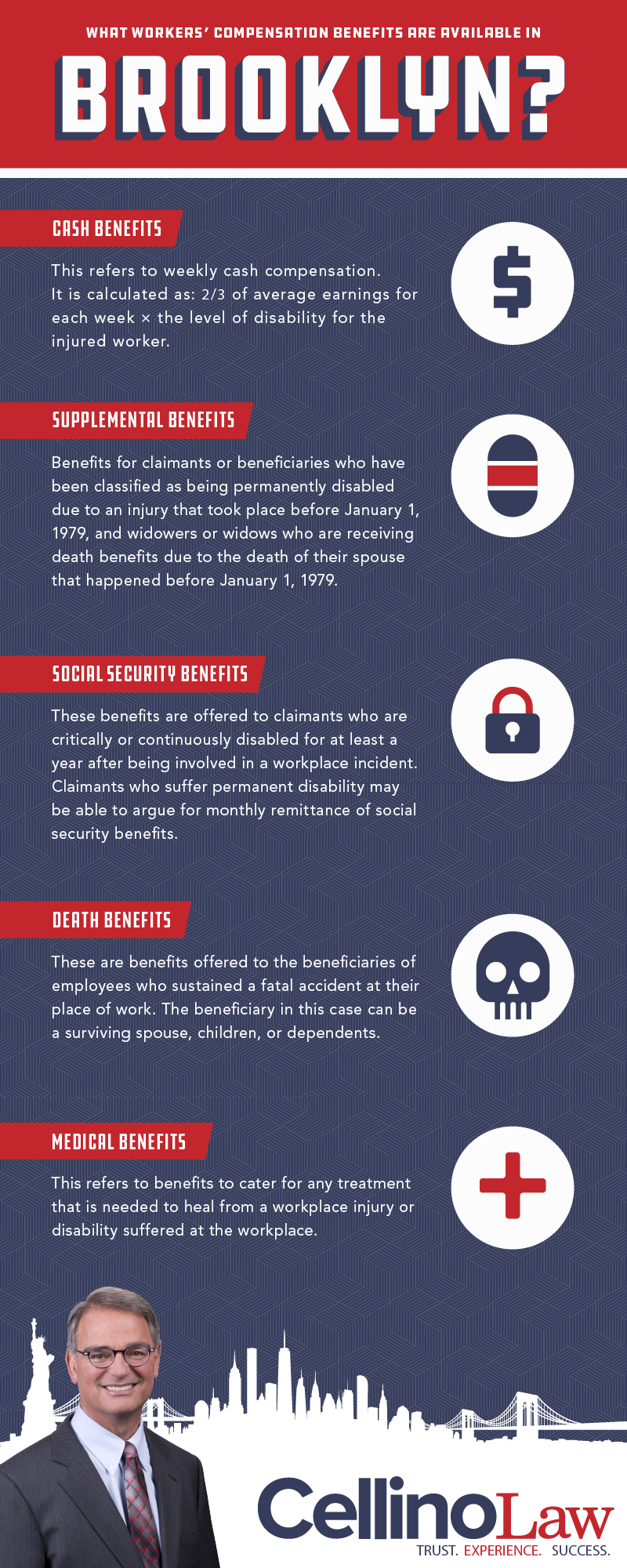 Employees who sustain injuries while at their place of work or an ailment that can be attributed to workplace conditions can get their medical costs covered and receive other financial benefits through their employee's workers' compensation insurance cover.
In the State of New York, compensation claims by aggrieved workers are processed by the New York Workers' Compensation Board. Insurance companies that represent employers also remit weekly cash benefits for their employees and fees to cater for medical care as per the rates provided by the board.
Some of the compensatory benefits that you can receive on filing a claim in New York include:
Cash Benefits
This refers to weekly cash compensation. It is calculated as:
⅔ of average earnings for each week × the level of disability for the injured worker
Supplemental Benefits
These benefits are usually offered to claimants (or their beneficiaries) who sustained permanent disability because of injuries sustained at the workplace before 1st January 1979. Widowers and widows who received death benefits after filing a wrongful death claim for an incident that occurred before 1st January 1979 also receive supplemental benefits.
Medical Benefits
This refers to benefits to cater for any treatment that is needed to heal from a workplace injury or disability suffered at the workplace.
Social Security Benefits
These benefits are offered to claimants who are critically or continuously disabled for at least a year after being involved in a workplace incident. Claimants who suffer permanent disability may be able to argue for monthly remittance of social security benefits.
Death Benefits
These are benefits offered to the beneficiaries of employees who sustained a fatal accident at their place of work. The beneficiary in this case can be a surviving spouse, children, or dependents.
When Should I Contact A Lawyer For a Workers' Comp Claim?
If you are reading this post, it may be that you are suffering from an illness or chronic pain that can be traced back to your place of work. You may also be suffering from an injury or have stressful working conditions.
For any of the scenarios described above, you may be thinking of filing a workers' compensation claim. Perhaps you have already started the process but do not know how to handle the intricate labyrinth of filing a claim properly… Perhaps you have already filed a claim and they have been rejected because of an error… In any case, the hurdles you are facing in getting compensation may be making you wonder if you have a valid claim perhaps because your employer argued that your injuries were caused by a 'pre-existing' condition.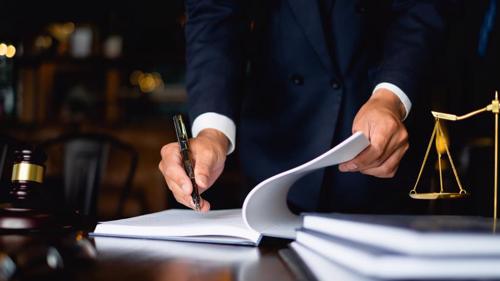 If you are having trouble getting just compensation, do not be discouraged from pursuing what is rightly yours. Many other workers across New York have faced the same hurdles as you in the past but they finally got compensated after contacting our diligent and dedicated lawyers. Just like we helped these clients, we can also assist you. At Cellino Law, our core competency is fighting for people just like you to get fair compensation and justice. We are known as the premier workers' compensation attorneys in New York because we have consistently proven that we get things done for our clients.
What Are Common Injuries Caused At Work?
Whether you are suffering through minor or major workplace-related injuries, filing a workers' compensation claim is the best way you can get the relief you need as you recuperate.
There many types of unprecedented injuries that you can sustain at your place of work. If you are injured while working on duties assigned by your employer, we can help you get compensation for your pain suffering. If you sustain any of the injuries outlined below (or others not in this list), get in touch with our attorneys immediately.
Broken bones
Injuries associated with lifting heavy items
Injuries that can only be treated through surgery
Mesothelioma
Burns
Knee injuries
Chronic pains in certain areas of your body
Burns because of exposure to cement
Loss of sight or vision
Injuries to the shoulders or neck
Injuries while working at a hospital
Injuries that cause repetitive stress
At this point, it is important to note that more than half of workplace injuries reported across New York can be traced back to construction sites. Further, about 30% of all reported injuries usually involve musculoskeletal disorders. Musculoskeletal disorders mostly usually involve injuries to the spine, tendons, ligaments, muscles, and discs. Workers who sustain these injuries mostly work in the transportation, medical, and, manufacturing sectors.
What Is The Difference Between Total Disability And Partial Disability?
On filing a disability claim after an injury at the workplace, it will either be classified as partial or permanent disability. A partial disability refers to when you sustain an injury that makes you unable to perform normal work duties that you would have handled in the past. Permanent disability refers to when you sustain an injury that renders you unable to perform your work duties at all. If your disability claim is classified as partial, you may be required to find work that you can do with your current disability level or accept work offers that you can comfortably perform.
The laws pertaining to workers' compensation can be complex to understand without the guidance of a skilled and experienced attorney. At Cellino Law, our workers' compensation lawyers are committed to helping you navigate the labyrinth that is workers' compensation quickly. To understand how we can help you get your compensation benefits in Brooklyn easily, get in touch with us today.
What Are My Rights When Pursuing A Workers' Compensation Claim?
Remember that if you are injured at your place of work, you have certain rights as an employee that are guaranteed under the Constitution. For example, though if your employer is not required to leave your position at their open while you are recuperating, for certain cadres of workers, the position at the firm still remains protected by the law. This is because, for certain professions, the Medical & Family Leave Act stipulates that the affected employee gets 3 months of unpaid leave if one is diagnosed with a serious ailment or critical injury.
Additionally, when you file a claim against your employer, the law bars them from unceremoniously firing you. Further, should you decide to seek greener pastures elsewhere, your new prospective employer does not have a right to ask if you have ever lodged a compensation claim against any past employer.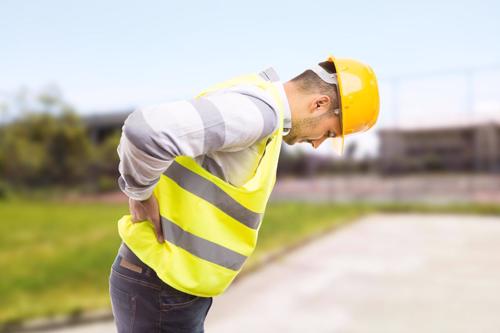 If you sustain any injuries at your place of work, you should ensure that you keep your employer in the loop in regards to your injury. This is to help them plan for how your vacant position will be filled in your absence as well as keep track of your expected date of return.
How Will My Workers' Compensation Claim Be Handled In Brooklyn, New York?
Below, we will discuss how most workers' compensation claims are handled in the state of New York. It is however important to understand that each claim case is unique meaning that the procedure can vary. To understand your rights and the procedure to be followed in your case, you should contact our lawyers. It is only through evaluating your case that we can offer detailed advice on the procedure that you should follow.
Immediately after being involved in a workplace incident, seek medical assistance and at the same time, let your boss or supervisor know what has transpired
Before 30 days elapse from the date of the incident, write to your boss and inform them of what happened
Before 2 years are over from the date of the incident, ensure that you have filled an employee claim (Form C-3) and filed it with the
Workers' Compensation District in your locality through email
After notifying your boss of your injuries, they have a legal obligation to notify the workers' compensation board as well as their insurer before 10 days elapse by filling an employer's report of injuries sustained at the workplace (Form C-2)
Within a period of 2 weeks from the date of receiving the employer's report, their insurance company has an obligation to send you a letter informing you of your legal rights
Within a period of 18 days after getting the report from your employer, their insurance company may start disbursing your claim benefits if it has not been denied within 7 days of being received
If your compensation claim is approved within the workers' compensation framework, your employer's insurance firm will start to disburse your benefits direct to your account fortnightly
If you have not yet fully recuperated from your injuries after 3 months, the insurance company may decide to enroll and cover for your rehabilitation
Get A Free Consultation On Your Claim With Our Brooklyn Workers Compensation Lawyers
Filing a compensation claim can be an unnerving process full of many legal maneuvers. However, to improve your chances of getting the indemnification you rightly deserve, you need to file your claim properly.
To get professional guidance and advice that maximizes your chances of getting maximum compensatory benefits of you are filing a claim, give our Brooklyn injury firm a call today and let our highly adept lawyers stand with you every step of the way.
I am writing to let you know what an outstanding job George Gridelli did for me in my personal injury lawsuit. His professionalism and expertise were evident at our first metting and he and his paralegal Diane D'Andrea took care of me as if I was a friend and not merely a client. They both went above and beyond for me in so many ways that it would be too numerous to list and I am grateful to have had such an exemplary team represent me. When working with George and watching him in court he personified to me what a lawyer is supposed to be - an honest, extremely compentent man who helped guide me through the legal system. I could not have obtained better representation anywhere else at any price. To me that says a lot abut you and your firm's integrity. Thank you again for representing me and for having such stellar individuals working for you! I will continue to recommend your firm.

Carol

I really just wanted to say thank you so much for taking my case, answering all my questions, and mostly for being very patient with me. I feel that without you and Roza I would not have been able to get anything at all. I hope to never need a lawyer again, but if I do I will definitely want you both working for me. Again thank your for you hard work, time and patience.

Veola

Cellino Law is an amazing firm with a great team. I worked with Greg Pajak and his assistant, Tracey Falconer. I cannot express enough how dedicated they are. The personal attention I received was excellent; they were always available to help with questions and concerns and put me at ease in the unknown territory I found myself in. I highly recommend them to anyone needing representation. A huge thank you to them for all they accomplished for me!

Liane

I really appreciated your determination and efforts on handling my case. You have done an outstanding job, and I am very satisfied with the outcome of the settlement. Thank you so so much John.

Amparo

It was a great pleasure working with you on my lawsuit. You certainly gave 150% of your time and interest in settling my case and for that, I am extremely grateful. Therefore, I want to thank you very much for helping me win my settlement and wish you the very best.

Linda

Cellino Law and more specifically my attorney, Gregory V. Pajak, Managing Attorney, and as a whole the Cellino Law Firm and its organization. This is by far one of the most professional law firms and attorney I have ever engaged with and retained in my 35 years. The level of professionalism goes beyond words, the care and constant engagement with me as the client was touching. I was never ever just treated as simply a CASE with potentially a significant dollar number attached to my file. I was engaged regularly, Tracey (Ass't) and Greg always made sure to remain constant, as well as consistent in overseeing that my case was handled properly and that it did matter in many ways - ensuring that the end result(s) would be fair and reasonable to my case/injury. The regular follow-up calls were very satisfying, knowing that you're involved in your case matters significantly AND always. One of my main items to recognize Cellino Law and Gregory is that whenever I called, I was able to get through to speak directly to my Lawyer and he would answer any if not all of my questions in a very professional and genuinely caring manner. I always felt cared for and protected legally and more importantly, I was made feel as a human being that was being cared for and always keeping me abreast of all matters connected to the case. There was never a point I felt let down, on the contrary -the level of service was "STELLAR". Greg is the consummate professional, a 'role model', if you will, for what other attorneys should strive to become when dealing with their clients.

Anthony