When you arrive at our White Plains law offices, you'll be offered a free consultation in which we'll discuss all the aspects of your case as well as the potential outcome. Regardless of the size and scope of the accident, we will always offer you an honest opinion and quality legal advice.
If you have been involved in a car wreck in your life, you know just how important a White Plains car accident lawyer is in the ability to receive the necessary compensation for your damages. One must always anticipate the fact that an insurance carrier will either refuse your claim or fight it. If this should happen, one must consider how they will be able to carry on in life without the necessary means of income as well as possible injuries.
Our team of professional injury lawyers in White Plains has been fighting insurance companies in developing defense strategies in the New York area in terms of protecting your rights as a car accident victim. We'll be with you from the moment your claim is filed to or awarded compensation in a positive outcome. We pride ourselves in a high success rate due to our knowledge of the law and courtroom skills throughout the state of New York.
How to Properly Report a Car Accident in New York
In White Plains, NY, it is not only the responsibility of a driver but the law to report an accident to the proper authorities especially if the accident involves an injury or fatality. Is the responsibility of the driver who was at fault to report the accident first. However, it is always a good measure to report the accident on your own as well.
If there is damage to property, it is the responsibility of the driver at all to also complete an accident damage report. This report is only necessary if your estimated amount of damage exceeds over $1000.
From the time of an accident, the driver will have 10 days to make all appropriate reports and statements. If the driver is incapacitated due to the events of an accident and unable to report the accident, there is no specific timeframe as to when the report should be made. However, to ensure order and stability in your case, it is recommended that a report as soon as the injured party can do so.
How Much Does a White Plains Car Accident Lawyer Cost?
This is due to the fact that our lawyers work on a contingency basis, meaning that all of our costs are covered by us initially. The contingency fee model allows individuals who have been injured in a car accident the ability to recuperate without the need to worry about paying for a lawyer. We'll examine your case and inform you of the likelihood of success.
Our law firm understands how medical and other expenses add up very quickly and a lawyer may seem out of reach financially. We will provide you with honest legal advice and no upfront cost, making it an affordable option for everybody. In fact, there'll be no fee for any service we provide until you receive an award of compensation.
Various Types of Compensation for Personal Injuries Following a Car Accident
The vast majority of personal injury compensation claims must be submitted for a loss. This compensation is commonly split between non-economic and economic categories. In some cases, punitive damages may be available to victims of the car accident where the at-fault driver acted in extreme negligence.
Economic claims that provide monetary reimbursement for various losses and expenses due to an automobile accident can include the following:
Medical Expenses
Property Damage
Current and Potentially Future Earnings
Loss of Income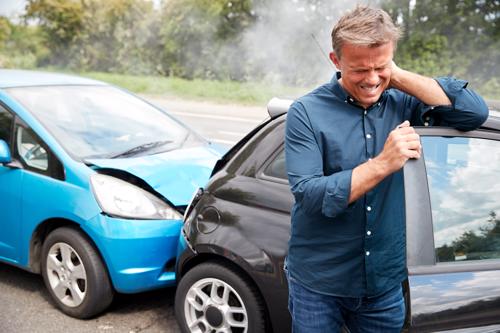 Individuals seeking non-economic losses should be aware that those are only awarded in cases where there were serious injuries as stated in section 5102 of the State Insurance Law. Serious injuries can include:
Bone Fractures
Loss of Bodily Functions and Organs
Limitation of Bodily Functions and Organs
Physical Disfigurement
Loss of Limb
Loss of In Utero Child
As stated, in some situations it is possible to seek out punitive damages in a personal injury lawsuit. These types of damages are considered separately and are typically due to misconduct or negligence of the at-fault driver. The compensation that is awarded from this type of damage is usually multiplied as an aspect of the traditional compensation that would be received.
New York Statute of Limitations for Car Accidents
Almost every state has a specific timeframe that an individual can file a claim for compensation. Likewise, that is true in the state of New York and it is essential to consult with an attorney to ensure your claim is placed in a timely manner.
In New York, victims are expected to place a claim within one week from the time of the vehicle accident. Keep in mind that there is a statute of limitations in place and timing is critical.
New York's statute of limitations allows a claim resulting from a car accident to be filed from the accident victim up to three years from the date of the accident. If the claim is going to be filed against a government agency, the deadline for filing is 90 days.
Essential Information to Get Following an Accident
Following an accident, there is always essential information that should be collected at the scene of the accident.
One of the most important elements of information to collect is the make, model, license, and year of all vehicles involved in an accident.
Likewise, names, addresses, telephone numbers as well as insurance policy information for all individuals from the scene of the accident should be collected.
Collect all information from the officers on the scene including badge numbers and names.
Write down the location of the incident including any streets and landmarks.
Contact a Lawyer for a Free Consultation
Keep in mind that you must file a claim for compensation as soon as possible for the best results. It is best to contact our personal injury firm in White Plains to get a complete rundown of what they can do for you and your case to ensure you get the compensation you need to move on with your life in a timely manner and recuperate all losses from the accident. There is no turning back the hands of time and getting your life back. However, a successful claim to compensation is the major key to moving ahead.
Thank you for your efforts on my behalf. I am very pleased (and surprised) at the amount of the settlement. We will use the funds to help pay down the debt on the truck we had to purchase after ours was totaled. Thank you again.

Linda

My experience during the time of negotiations was extremely positive. Josh Sandberg handled my lawsuit with the utmost integrity. He returned all my phone calls in a timely manner and answered all my questions. Josh made things less stressful. I would highly recommend Josh and the entire staff at Cellino Law.

Arthur

I highly recommend Cellino Law to anyone involved in a car crash. I worked with Michael Lovecchio, and had a wonderful experience given the circumstances. He was very attentive, and got the best possible outcome I could have wanted.

Susan

Thank you for your time, effort, and hard work on my case. I appreciate your expertise and compassion. I never experienced what I went through and I would have been completely lost without you.

Martha

We want to send a big "Thank you" from the both of us. We know you both fought for us and did a great job with our case. You did it in a timely manner and we appreciate it.

Kerrijo & Jerry

I can only say great things about my attorney Allan Silverstein. He is professional, he calls back right away, he keeps me informed, and makes me feel comfortable as this entire ordeal is stressful. I have total confidence in his ability to handle whatever comes his way. He is no nonsense and very good at his job. Thank you Allan... he is a true asset to the team!

Mrs Steward