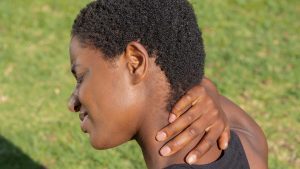 The most common cause of whiplash is a rear-end car crash, and rear-end collisions are nearly always the fault of a negligent driver hitting another vehicle from behind. The actual collision could cause minimal vehicle damage and still result in an unfortunate case of whiplash that could last for months. Personal injury law allows you to recover compensation for your losses through civil court, and you may benefit from speaking with a car accident lawyer about the details of your case.
How Do You Know if You Have Whiplash?
Whiplash is a painful condition caused by force generated by a sudden impact. For example, when a car rear-ends another vehicle, the force will cause the body to move forward and the head to move backward, immediately followed by the opposite motions for each. Those opposing motions can significantly damage the muscles, tendons, discs, and nerves in the neck, often leaving micro-tears in the soft tissues that can take a long time to heal. Sometimes accident victims do not realize they have an injury until a few hours after the incident, but some common symptoms of whiplash include:
Pain and stiffness in the neck, shoulder, or back
Pain and numbness in the arm or hand
Lower back pain
Ringing in the ears
Blurry vision
Dizziness and trouble concentrating
Sleeplessness and fatigue
Irritability
The symptoms are often persistent and can manifest like other conditions, so it is crucial to pinpoint the start of the pain and see a doctor as soon as possible. They can typically diagnose whiplash with a complete medical evaluation, X-rays, MRIs, and a thorough explanation of the circumstances that lead to the injury. When the cause is a rear-end collision or any other personal injury, you have the right to file a claim and recover the related damages.
What Damages Can You Recover Following a Whiplash Accident Injury?
Recovering your losses from a personal injury in New York does not always require a fault-based claim, depending on the severity of your injuries and losses. First, consider whether you meet the qualifications for bypassing the no-fault system to recover damages.
No-Fault Auto Insurance Claims
New York's no-fault auto insurance policy requires all drivers to carry personal injury protection insurance to cover their medical bills, lost wages, and other reasonable and necessary expenses. This policy aims to ensure everyone involved in an accident can pay for the related expenses without worrying about building a solid fault-based claim. However, there are limitations to the system. For example, you cannot recover the non-economic damages often associated with more severe injuries. PIP coverage also caps the amount of recoverable income at $2,000 per month, regardless of your earnings before the accident. Additionally, if you need to hire someone to help with household chores during your recovery, PIP only pays $25 per day for all necessary services.
For some whiplash victims, this is sufficient. However, if you suffered other, more severe injuries, you may qualify for the serious injury threshold that allows you to bypass the PIP step. Serious injuries include:
Broken or fractured bones
Suffering substantial disability for 90 days or more
Significant disfigurement
Limited use of a body organ, member, function, or system
When you can access the fault-based system, you can recover significantly more economic losses and the non-economic losses not available through the no-fault policy.
Economic Losses From an Auto Accident
Economic losses, such as medical bills, are available through PIP insurance. However, with a fault-based claim, you can also recover the following:
All lost wages, including lost earning opportunities or income missed because of lost earning capacity
All necessary replacement services, such as household help, transportation, and childcare
The costs associated with preparing your vehicle or replacing any property damaged beyond repair
Any services needed during recovery, such as household help, childcare, and transportation to medical visits
Proving these losses requires official documentation. You can speed up the process by keeping track of medical records and bills. Collect your pay stubs and recent tax returns to show a change in income, and have a mechanic estimate the cost to repair your vehicle. Your attorney can use this information to argue on your behalf.
Non-Economic Losses From an Auto Accident
The court recognizes losses beyond monetary damages. More severe injuries can negatively impact a person's mental and emotional health. Some common non-economic losses from a car accident include:
Emotional distress
Mental anguish, such as anxiety or depression
Post-traumatic stress disorder
Losing the ability to enjoy your life
Physical pain and suffering caused by the injury
Physical pain and suffering resulting from necessary medical treatments
The value of non-economic losses is generally based on the severity of your injuries. Therefore, more severe injuries would have more substantial non-economic damages.
What Does a Whiplash Accident Lawyer Do?
Whiplash accident lawyers are experts in personal injury law. They help victims by adequately valuing their claims and fighting combative insurance adjusters to ensure their clients receive compensation that reflects their losses. Some ways your lawyer will help build your case include:
Investigating the cause of your injury to you find evidence of negligence or malicious intent committed by the at-fault party
Identifying all the economic and non-economic losses in your case and gathering evidence to prove them
Using the evidence as leverage to negotiate a fast and fair settlement for your losses
Preparing and filing all necessary paperwork for your claim or lawsuit
Guiding you through every step in the legal process to ensure you make choices that will benefit you
Accessing experts in relevant fields, such as accident reconstruction, healthcare, and auto repair, to help strengthen your claim
Interviewing friends, family, and medical professionals for testimonies supporting your non-economic losses
As personal injury experts, whiplash accident lawyers can offer a professional presence and emotional support. They see the suffering tort victims undergo and can provide compassionate understanding. Additionally, their experience means they can recognize the value of your claim better than someone unfamiliar with these cases. With a whiplash accident lawyer representing you, your chances of recovering a larger settlement are higher.
When Should You Contact a Whiplash Accident Lawyer?
You can contact a whiplash accident lawyer immediately after the accident. There is no time too soon to start building your case when you have an injury that can cause long-term, debilitating pain. Suppose you qualify to file a fault-based personal injury claim in New York. In that case, you may need an attorney to investigate your case, gather sufficient evidence to prove your claim, and handle the insurance company to avoid the added stress while you focus on healing. With an attorney on your side, you are better equipped to face combative insurers and the tedious legal legwork.
At Cellino Law, we have decades of experience helping personal injury victims get the compensation necessary to get their lives back on track. We aim to provide courtroom excellence and compassionate understanding as part of our client's experience. Additionally, we understand the financial burden you may face. Therefore, we offer our services at no upfront cost to ensure you have the legal representation you need without adding to your financial losses. Contact Cellino Law at (800) 555-5555 to schedule your risk-free case evaluation. Our phone lines are never closed, and we are always ready to work on your case.
Tim Cellino handled my case beautifully. He is very knowledgeable and patient with all my questions. He kept in touch with me through out my ordeal. Tim also got a settlement for more than I expected. I highly recommend Tim Cellino!

Jayne

Cellino Law is an amazing firm with a great team. I worked with Greg Pajak and his assistant, Tracey Falconer. I cannot express enough how dedicated they are. The personal attention I received was excellent; they were always available to help with questions and concerns and put me at ease in the unknown territory I found myself in. I highly recommend them to anyone needing representation. A huge thank you to them for all they accomplished for me!

Liane

Thank you for your help in settling the case of my father's accident. I could always count on you to answer my questions honestly and in terms I could understand. If all lawyers at Cellino Law are like you, I understand why they are an A-1 law firm.

Bedner

My wife and I would like to take this opportunity to thank you for a fantastic job as our attorney. We could not have been more pleased with the work you and your team has done on this case. This past four years or so has been such a roller coaster for our family. We are very pleased and grateful with the result. We have made a good choice by choosing you. Thank you.

Dave

I highly recommend Cellino Law to anyone involved in a car crash. I worked with Michael Lovecchio, and had a wonderful experience given the circumstances. He was very attentive, and got the best possible outcome I could have wanted.

Susan

It was a great pleasure working with you on my lawsuit. You certainly gave 150% of your time and interest in settling my case and for that, I am extremely grateful. Therefore, I want to thank you very much for helping me win my settlement and wish you the very best.

Linda