Workers' Compensation is a kind of insurance coverage that is in place to help workers recover from either an on-the-job accident or occupational illness. If you ever get injured at work, then this insurance coverage is designed to pay for the damages you incur. In case you sustain a severe injury, then it will cover a long-term disability benefit. A seasoned Mount Vernon workers compensation lawyer at Cellino Law will help you to file your claim properly. They will help you prepare the right documentation to ensure that you get the compensation that you deserve. To get your claim started call our Mount Vernon injury firm at 800-555-5555.
Injuries That Qualify For Workers Compensation In Mount Vernon?
If you have sustained injuries at work, then it is crucial to understand what Workers' Compensation laws in the State of New York cover and what isn't covered. There are strict guidelines surrounding the rules of workers' rights when seeking compensation. Just because you sustained an injury at work, it doesn't necessarily mean that you are eligible to receive compensation or benefits.
To ensure that you are covered under New York's workers' compensation laws, the accident has to fall under any of the following categories outlined below:
The employer had a mandate under New York's State laws to have Workers' Compensation coverage.
The injury or disability that you have suffered was as a result of the job that you do while you were at work and is within the scope of your employment.
You had informed your employer in writing regarding the accident or incident that caused your injury or illness within 30 days from the date of the accident.
Your medical documents clearly show that your injury, illness, or disability was a direct result of an accident or workplace condition.
However, sometimes an employer or the insurance provider of the employer can dispute incidents or accidents that might appear to qualify for Workers' Compensation benefits. If this happens, you will need to have solid support and evidence from a medical specialist to make sure that you receive the compensation that you deserve for the period that you will need it for your recovery.
Can I Be Fired For Filing A Workers' Compensation Claim In New York?
If you have been injured at work, then you have several legal rights that should be protected. For instance, the employer may not be required to keep your job open. Securing this right became possible after the Medical And Family Leave Act was passed. It makes sure that certain types of employees get unpaid leave equal to 12 weeks in value over 12 months in case one has been diagnosed with a severe medical condition.
You cannot be fired for filing a Workers' Compensation claim in Mount Vernon, NY. Additionally, a potential new employer should not ask you to disclose whether you have ever filed a Workers' Compensation case in the past.
It is crucial for you as an employee to keep in constant touch with your employer if you are unable to return to work. Make sure that your employer stays in the know in regards to your current condition and when you are likely to go back to work. Keeping your employer informed will help to ensure that your job remains open.
What Is The Process Of Filing A Workers' Compensation Claim In New York?
Here is a brief overview of the Workers' Compensation claims process in New York State. Keep in mind that there are variations based on your specific situation. Get in touch with our firm to arrange a free consultation session with our professional and experienced compensation lawyers. Here, you will be guided on your best course of action and what you need to know about your legal rights. Having accomplished legal counsel is crucial whenever you are dealing with any legal issue, especially one as complicated as Workers' Compensation claim.
It is vital that you seek medical treatment immediately after being involved in an accident. By documenting your injuries or illnesses, you will be able to prove your case and reveal the true extent of your injuries or illness. You will also be able to prove your current medical expenses and also expected future expenses.
You also need to inform your boss/supervisor about the incident.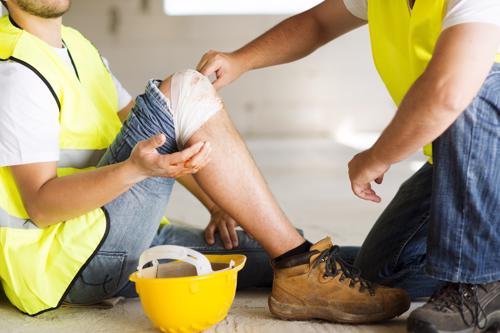 You should notify your employer in writing about what transpired within 30 days from the date of the injury. Failure to do this within the stipulated time-frame can lead to you voiding or nullifying your claim. Next, you should complete and email Form C-2 (Employee Claim) to the local area's Workers' Compensation District Office within two years from the date of the accident.
After you have notified your employer about the incident, they are required to report it to their insurance firm and also to the Board by completing Form C-2 (also referred to as the Employer's Report of Work-Related Illness or Injury) within ten days. The insurance adjuster is then expected to provide you with a written statement that indicates what your rights are under those laws within 14 days of receiving the Employer's Report. Provided that the claim isn't denied or is approved within seven days, then the insurer may begin paying benefits within 18 days of getting the Employer's Report.
Once the Workers Compensation Board has validated your claim, you can start expecting direct payments from the insurer every two weeks. Your doctor or medical specialist is required to send progress reports to the Board every 45 days. In case you are still in recovery after 12 weeks, then the insurer will determine whether you require rehabilitation treatment.
Crucial Things You Need to Know About Workers' Compensation Hearings And Appeals
After a worker files a claim, the employer's Workers' Compensation insurance provider can accept or dispute the claim. They may also challenge segments of the claim filed by the injured worker. You can only receive Workers' Compensation benefits after the insurer or employer agrees that the injury or illness is related to your work and it occurred in the scope of your employment. In case the employer or the insurance company disputes the claim, then you won't receive any benefits until your case has been presented before a Workers' Compensation judge who will make a ruling on which party is right.
Depending on the case, the Workers' Compensation Board will hold the hearing in front of a suitable judge. If the judge rules that your claim is valid, then they will determine the amount of compensation you get and also for how long.
Both parties have the option to appeal within 30 days of the judge making the ruling. If the appeal is granted, a 3 board member panel will review the case. Here, the panel can either:
Revoke the decision made by the judge
Make adjustments to the judge's decision
Return your case to a judge for ongoing developments
In case the panel members can't come to an agreement, then you have the option of applying to have a comprehensive board review. They can either uphold the decision made by the judge, revoke the decision, or make certain changes to the decision.
Appealing a decision made by a Board Panel should be done within a 30-day period. The appeal must be presented to the New York Supreme Court's Third Department of the Appellate Division. The decision by the Appellate Division can be further appealed to the Court of Appeals.
Contact Our Mount Vernon Workers Compensation Lawyers
A professional and skilled Mount Vernon personal injury attorney at Cellino Law will guide you and be with you throughout the entire work injury claims process. We will ensure that you get the compensation that you deserve.
Cellino Law was a great company to work with. From the beginning they came out and met with my uncle and myself and assured us that everything would be taken care of from beginning to end our lawyer state and constant contact with us to make sure that everything would go smoothly and it did. I would definitely recommend anybody to go to Cellino Law for whatever help they need. And specifically please ask for the lawyer that we had Mr. Alan Silverstein. He was amazing and his staff was always attentive. Please go with them for your next law needs.

Eshaunda

Now that reality has set in, I want to thank you for all your work and assistance in obtaining my settlement for the pelvic mesh. This money will make my life so much easier in the future. Medicare just isn't sufficient. I know that I will have enough to live on. I truly appreciate of your efforts. Thank you!

Loraine

I really just wanted to say thank you so much for taking my case, answering all my questions, and mostly for being very patient with me. I feel that without you and Roza I would not have been able to get anything at all. I hope to never need a lawyer again, but if I do I will definitely want you both working for me. Again thank your for you hard work, time and patience.

Veola

Joe and I just wanted to send you this note thanking you for the professional way you handled our lawsuit. Your kindness was extremely appreciated in a very difficult time. When we found out the people that caused the accident had no insurance, we thought our chances of receiving any settlement was nonexistent. Once we met with you and released you were able to help us our minds were put at ease. Your aggressive manner of handling the case exceeded our expectations. Please feel free to use us as a reference. Thank you so much and best wishes,

Danielle and Joe

Cellino Law and more specifically my attorney, Gregory V. Pajak, Managing Attorney, and as a whole the Cellino Law Firm and its organization. This is by far one of the most professional law firms and attorney I have ever engaged with and retained in my 35 years. The level of professionalism goes beyond words, the care and constant engagement with me as the client was touching. I was never ever just treated as simply a CASE with potentially a significant dollar number attached to my file. I was engaged regularly, Tracey (Ass't) and Greg always made sure to remain constant, as well as consistent in overseeing that my case was handled properly and that it did matter in many ways - ensuring that the end result(s) would be fair and reasonable to my case/injury. The regular follow-up calls were very satisfying, knowing that you're involved in your case matters significantly AND always. One of my main items to recognize Cellino Law and Gregory is that whenever I called, I was able to get through to speak directly to my Lawyer and he would answer any if not all of my questions in a very professional and genuinely caring manner. I always felt cared for and protected legally and more importantly, I was made feel as a human being that was being cared for and always keeping me abreast of all matters connected to the case. There was never a point I felt let down, on the contrary -the level of service was "STELLAR". Greg is the consummate professional, a 'role model', if you will, for what other attorneys should strive to become when dealing with their clients.

Anthony

We'd like to thank you for all the assistance and time you spent on our case. Your professionalism and honesty will always be appreciated. The staff was always courteous and we were always impressed with your accountability. Your passion and dedication will never be forgotten, nor will you.

Sarah