Motorcycle accidents have risen at such an alarming rate that they are now nearly equal to the number of auto accidents that happen every year. However, motorcycle accidents tend to result in serious injuries as well as fatalities at a much higher rate. Considering just how little protection motorcyclists have in comparison to automobile drivers, it is safe to say that they face considerable safety risks.
If you are a motorcyclist and have sustained injuries resulting from the negligent actions of another road user, you are entitled to seek reimbursements for the injuries that you suffered. You can count on our Melville motorcycle accident lawyers to help. You should also contact us if your loved one sustained injuries or even died due to the result of another party's negligence.
Cellino Law has a team of experienced and dedicated personal injury attorneys in Melville that are well-versed in dealing with motorcycle accidents and will be committed to ensuring that you receive the maximum possible compensation for the losses and injuries you suffered.
What Are Common Causes of Motorcycle Accidents?
All motorists, particularly motorcyclists, ought to have a proper understanding and know-how of the different factors that can contribute to motorcycle accidents. As a biker, it is important to know how to properly handle yourself when on the road to prevent crashes and collisions. If you wish to stay safe when using the road, you need to know a few things, which are discussed below.
Blind Spots
Motorcycles are 2-wheeled and are considerably smaller compared to automobiles, which is why they are far more likely to find themselves in blind spots. Due to these two factors working against them, motorcycles tend to be unnoticed by the vast majority of drivers and this is one of the key reasons why most motorcycle accidents involve automobiles. Motorcycle accidents often happen in the night when it is difficult for drivers to see the motorcycle on their side-view mirrors.
Due to this reason, drivers need to know about their blind spots and try paying close attention to prevent accidents from happening. Bikers, on the other hand, need to be more mindful and ensure that they always remain in the line of view of other road users to be easily noticed.
Drivers Making Left-Hand Turns
When a driver is making a left-hand turn, he/she typically watches out for and notes the absence of other vehicles and not oncoming objects. It is the reason why most drivers fail to see an oncoming motorcycle when making the turn and thus end up crashing with it.
Unfortunately, most drivers often forget that they aren't the only users of the road, since cyclists, bikers, and pedestrians also use the road. Still, motorcyclists have to keep a watchful eye on the automobiles in front of them and watch out for signals that indicate when a vehicle is about to make a turn.
Lane Splitting
Lane splitting might be risky, but it is still a rather common trend in most states. This driving habit is hazardous because driving close to other motorists increases the chances of an accident happening considering just how little room is left for other road users to maneuver safely. Most drivers are also caught unawares by lane-splitting considering how they were not expecting another vehicle close to them.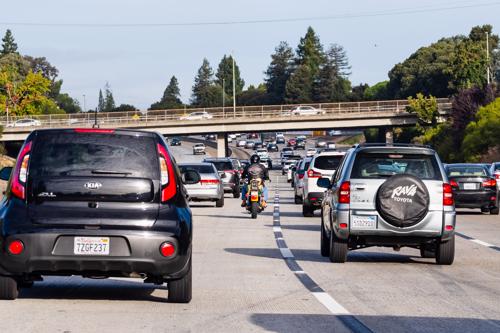 Bikers should thus pay close attention to such drivers and always adhere to the state laws and regulations when splitting lanes. Still, keep in mind that it is a dangerous driving habit that may result in an accident.
Speeding
Most road users don't actually over speed intentionally, but speeding is still the leading cause of accidents on roads, highways, and streets in the United States. Over speeding poses great risks for any vehicle. The perils and severity of injuries that result from speeding accidents increases 10-fold for 2-wheeled vehicles.
While today's motorcycles are built with powerful engines, they still don't provide the stability that 4-wheeled vehicles do and are more susceptible to sliding when cruising on wet surfaces, making a sharp turn, or even speeding on a rough road that has loose gravel.
Open-Door Crashes
In urban areas such as towns and cities, the vast majority of motorcycle accidents are the result of riders bumping into open door vehicles. So, when riding near parking lots or street sides, bikers should be more attentive and aware of what is happening around them.
Bikers should always make sure that they leave enough space between them and other vehicles and make sure that they keep a watchful eye out for parked vehicles in front. Drivers, on the other hand, should ensure that there are no oncoming objects or vehicles before opening their vehicle doors by checking their side-view mirrors.
The aforementioned issues are notoriously known for causing motorcycle accidents, but other circumstances may potentially result in serious motorcycle accidents such as failing to signal before turning, biking under the influence of drugs or alcohol, or even poor road conditions. However, regardless of what caused the accident, crashes involving motorcycles tend to be more catastrophic to all the parties involved. If you are a biker, ensure that you practice proper road safety and do everything possible to avoid scenarios that may pose a danger to your safety and well-being.
How Can You Determine Who is At-Fault For Motorcycle Accidents in New York?
The person/party to take the blame is usually the first question once a collision occurs. In most instances, the parties involved act fast to point out the other as the at-fault party. Even if one of the parties might have sustained an injury, it is within the confines of the reason that they may also be at fault for the accident/incident to a certain extent. It is important to identify the responsible party, particularly if one of them is seeking compensation.
A professional attorney in Melville, NY, can help you ascertain liability prior to filing your claim. To do that, they use evidence gathered from the accident investigation, information from eyewitnesses, police report, as well as your medical report. Having all this information available makes it much easier for them to determine which party is ultimately responsible for the accident.
Motorist Negligence
Motorist negligence is a term referring to the act of a driver's carelessness or recklessness when operating their vehicle. It includes scenarios where the accident was the result of the motorist speeding, failed to see the biker, failed to give right of way, driving while intoxicated, or any combination of these. The driver, under such circumstances, will be deemed responsible for the accident that caused their losses and injuries.
Fortunately, our attorneys at Cellino Law are experienced when it comes to such issues and has a great deal of experience when it comes to investigating such issues and proving the other party's negligence while they were operating their vehicle.
Manufacturing Defects
It is possible that the accident was the result of a minor or serious manufacturing defect in the motorcycle. It can be due to a malfunctioning part, incorrect setup, or various other reasons.
Poor Road Conditions
New York State is required to provide all road users the right to drive on roads that are not only safe but also in a good standing condition. Excessive and unaddressed wear can make the road dangerous and increase the chances of accidents happening. If crashes and collisions are the results of poor road conditions, the state will be held liable, in most cases.
Poor road conditions include construction refuse, unsigned curves, and bends, potholes, unevenly paved roads, overgrown trees, obstructed traffic lights, among other things. Still, road users can make a notification to the relevant authorities if they encounter such poor and unsafe road conditions.
At Cellino Law, we have a good understanding of the severity of motorcycle and auto accidents, which is why we always strive to make sure that our clients' cases receive the proper amount of attention that they deserve.
If you hire our law firm to represent you, we will assign lawyers to your case who will work hard to ensure that you get the right deal regardless of what caused your motorcycle accident i.e. whether it was the result of poor road conditions, motorist negligence, or a manufacturing defect.
We always love encouraging our clients and victims to collect as much information and evidence as possible about the accident since it goes a long way towards helping us build an airtight case. Considering how it is never straightforward to determine the at-fault party, we will do everything possible to ensure that your findings are accurate when it comes to placing the blame.
What Compensation Can I Receive For A Motorcycle Crash?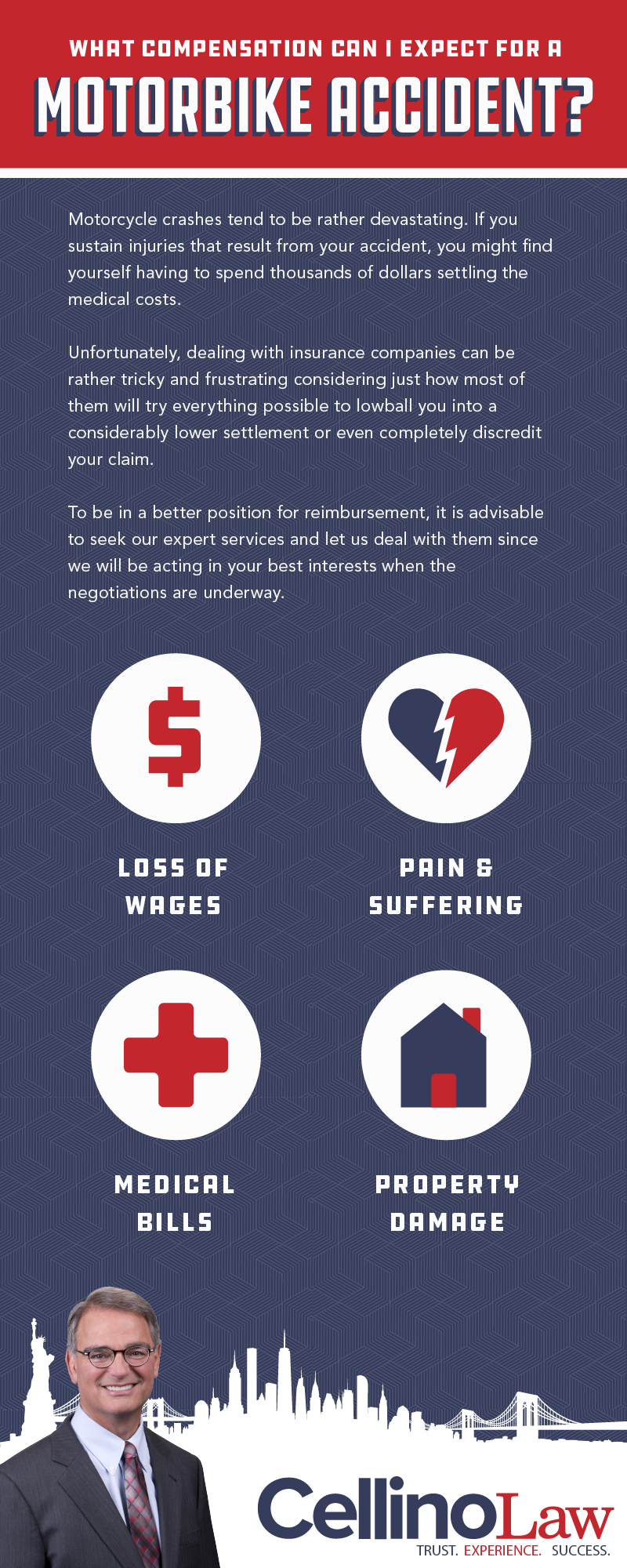 Motorcycle crashes tend to be rather devastating. If you sustain injuries that result from your accident, you might find yourself having to spend thousands of dollars settling the medical costs. If you were not liable for the accident in any way, shape, or form, then the responsible party's insurance provider should be the one to reimburse you for your injuries and losses.
Unfortunately, dealing with insurance companies can be rather tricky and frustrating considering just how most of them will try everything possible to lowball you into a considerably lower settlement or even completely discredit your claim.
To be in a better position for reimbursement, it is advisable to seek our professional services and let us deal with them since we will be acting in your best interests when the negotiations are underway. Our professional team of lawyers can help determine the reimbursement amount to seek based on your injuries and losses as well as both current and future bills.
Here are claims that you can seek reimbursement for:
Medical Bills
The treatment costs may vary depending on the severity of the injuries you sustained. For instance, treating head or spinal cord injuries takes some time, with some injuries actually lasting a lifetime. The team of lawyers at Cellino law can help to ensure that your medical costs are cleared and include both present and future costs.
Loss of Wages
Certain injuries can leave you immobilized and unable to work for an extended period of time. The outcome in such a situation is the inevitable loss of wages. The attorneys assigned to your case will do everything possible to ensure that the other party's insurance company reimburses you for lost income.
Pain and Suffering
The anguish and stress surrounding motorcycle accidents include emotional, physical, and mental pain and suffering. While no amount of cash is enough to cover your experience, the compensation can go a long way towards alleviating some of the pain and suffering because it covers damages and losses incurred due to the accident.
Property Damage
It is highly likely that your motorbike sustained a significant amount of damage due to the accident, which is why our attorneys help in ensuring that the insurance company handles the rental fees, repair costs, as well as any additional expenses that may arise during the restoration of your bike.
Pursuing reimbursement after being involved in a motorcycle accident is a battle that you must never attempt to fight alone. Instead, you should hire us at Cellino Law to help. Our professional and seasoned lawyers know about all the tricks used by insurance companies to avoid paying out claims. We are fully committed to fighting for your best interests and will do everything possible to ensure that you receive the reimbursement you deserve.
Fighting an insurance company to receive your compensation by yourself can leave you feeling intimidated. However, that should not deter you from actually pursuing the compensation that you are rightfully entitled to. At Cellino Law, we are here to help you navigate the murky legal waters. We are experienced in the field of injury law and will help you understand what options are available to you along with what laws and policies you should follow while pursuing compensation.
Why Should I Hire a Melville Motorcycle Accident Lawyer for a Claim?
Hiring a professional to handle your case will leave you with more time to focus on getting better. Having legal representatives by your side looking out for your best interests also helps to level the playing ground when it comes to dealing with insurance providers and their legal teams.
Contact our team of highly experienced motorcycle accident lawyers at Cellino Law today to gain a better understanding of your case and identify the most suitable legal path to take. Here are some of the reasons why you should consider working with us:
Insurance providers will almost always put up a tussle as they attempt to discredit your compensation claim. You can rest assured that they will have a competent legal team working to reduce losses and finding loopholes in your claim. In the thick and thin of all these, you can be sure that we will be right there with you looking out for your best interests and ensuring that they are not only held liable but also that they reimburse you.
It is highly possible that other persons involved in the accident may attempt to place at least some of the blame on you. As your legal counsel, we will try everything possible to ensure that your liability for the accident is minimized and that such baseless claims do not taint your chances of receiving the maximum compensation possible.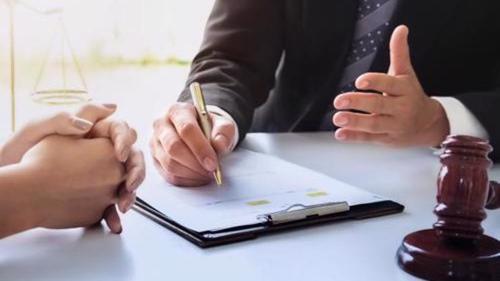 Our attorneys will evaluate the car wreck to determine whether there were other parties or people involved as we drill down to what actually caused the accident. What we gather from the investigations we conduct will help us determine whether or not there are additional parties to seek.
If necessary, we will enlist the services of experts across different fields to help us investigate your accident and ascertain the value of the claim to pursue the maximum possible compensation amount.
While accidents happen frequently, you will almost always never come across motorists that actually plan to get involved in an accident. Motorcycle accidents can be rather devastating, but the compensation disbursed to you can make a real difference in the days following the accident. That's why our attorneys are dedicated to helping accident victims secure compensation for the injuries that sustain so that they can focus their energy on recovery.
What is the Statute of Limitations for Filing Motorcycle Accident Claims in New York?
Fully recovering from a motorcycle accident injury will take some time. While that might be the case, it is not a good idea to wait too long before starting the process of seeking your claim for compensation. It is important to note that the statute of limitations that outlines the maximum amount of time allowed to file your personal injury claim.
The victims of motorcycle accidents in Melville, NY, have up to 3 years from the day of the accident to file a claim. If that period lapses without the victim filing the claim, the compensation claim will be deemed void, which means that you will have waived your right to seek reimbursement for the injuries sustained.
Still, certain incidents surrounding your case have the potential to influence the duration of time you have. To be better placed when it comes to filing a claim, you should consider contacting an attorney that [REDACTED]s in motorcycle accidents immediately for a case evaluation as well as professional counsel.
File Your Motorcycle Accident Claim With Cellino Law Today!
At Cellino Law, we strive to ensure that your liability level is lowered to increase your chances of securing compensation to cover your medical bills and lost wages. Contact our personal injury law firm in Melville for your free non-obligatory case evaluation as well as learn about the options available to you. Call our Melville personal injury firm today at (800) 555-5555.
Now that reality has set in, I want to thank you for all your work and assistance in obtaining my settlement for the pelvic mesh. This money will make my life so much easier in the future. Medicare just isn't sufficient. I know that I will have enough to live on. I truly appreciate of your efforts. Thank you!

Loraine

I highly recommend Cellino Law to anyone involved in a car crash. I worked with Michael Lovecchio, and had a wonderful experience given the circumstances. He was very attentive, and got the best possible outcome I could have wanted.

Susan

Cellino Law is an amazing firm with a great team. I worked with Greg Pajak and his assistant, Tracey Falconer. I cannot express enough how dedicated they are. The personal attention I received was excellent; they were always available to help with questions and concerns and put me at ease in the unknown territory I found myself in. I highly recommend them to anyone needing representation. A huge thank you to them for all they accomplished for me!

Liane

I am writing this letter to say how much I appreciate your services pertaining to my case. Your injury attorney took a hands-on approach and left me fully informed at all times as to where my case was going as well as how much ground we had to cover; leaving the final decisions in my hands but making sure that I knew all of the risks involved in the choices. I have dealt with a few law firms in my life on various different cases and this is the first time that I never had to call and/or track down my lawyer… because of this, I have and will continue to recommend Cellino Law to my friends and associates.

Denise

Cellino Law was a great company to work with. From the beginning they came out and met with my uncle and myself and assured us that everything would be taken care of from beginning to end our lawyer state and constant contact with us to make sure that everything would go smoothly and it did. I would definitely recommend anybody to go to Cellino Law for whatever help they need. And specifically please ask for the lawyer that we had Mr. Alan Silverstein. He was amazing and his staff was always attentive. Please go with them for your next law needs.

Eshaunda

This letter is to thank Ms. Diane D'Andrea, assistant to Mr. George Gridelli, Attny for all the hard work, dedication, and attentiveness she showed during the representation of my case. She was always cheerful and ready to help in whatever way she could. All messages left for Mr. Gridelli were always relayed and Mr. Gridelli always promptly returned our calls. She was a very competent assistant. Cellino Law has proven to be a model of what legal representation should be. Throughout the 6 ½ years of this case, I have heard many horror stories from people with "bad lawyer stories." We consider ourselves to be very lucky to have chosen Cellino Law and will always recommend you to those looking for good, honest representation with a personal touch.

Joseph