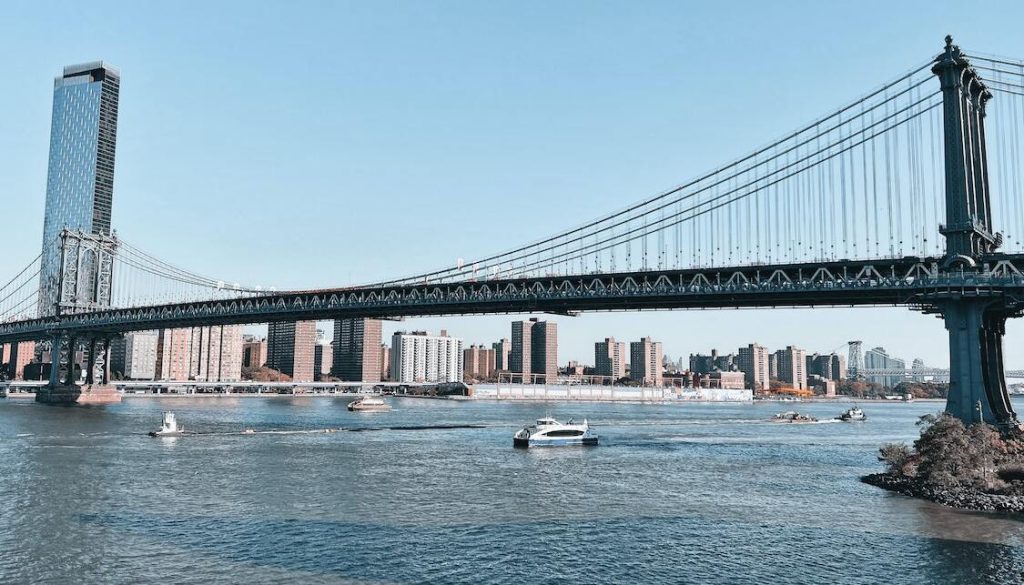 New York City provides residents and visitors access to city life and outdoor fun. From Upper New York Bay, it's an easy trip out to the wide-open waters of the Atlantic, not to mention the Bay itself and the Hudson River (of course), the Long Island Sound and numerous smaller bays and harbors.
Boating is a fun and favorite activity for many. Still, an accident can have severe implications for your life, leading to long-term financial and health impacts ranging from major inconvenience to life-altering. If you sustain injuries in a boating accident around Manhattan, NY, Cellino Law can help you pursue just compensation for your losses.
Boating Accident Statistics Around Manhattan, NY
According to the New York Safe Boating Report, in 2021, there were 4,088 boats registered in New York County, with an additional 15,351 boats registered in the remaining four counties that comprise N.Y.C., for a total of 19,439 out of the 439,508 boats registered in New York State. All but fewer than 10,000 boats were registered as recreational vessels. Statewide, the rate of accident fatalities per registered craft has declined since the 1970s, though there are fluctuations. The fatality rate was higher in 2020 than for any year since 1997.
In 2021, there were 192 accidents in the state, resulting in 118 injuries and 18 fatalities. Around Manhattan, the numbers break down as follows:
Long Island Sound: two accidents, 10 injuries, no fatalities
Atlantic Ocean: one accident and no injuries or fatalities
East River: two accidents, no injuries and one fatality
Sheepshead Bay: one accident, five injuries and no fatalities
Harlem River: one accident, one injury and no fatalities
Hudson River: one accident and no injuries or fatalities
Beach Channel: one accident and no injuries or fatalities
Lower New York Bay: one accident, one injury and no fatalities
In the five N.Y.C. counties, there were a total of 10 boating accidents.
If you include Suffolk County on Long Island, the numbers rise significantly. That same year, there were 52 accidents in the waters around Suffolk County, with 35 injuries and five fatalities. Great South Bay saw the highest number of accidents and injuries, with 19 accidents and 17 injuries. One person died after an accident.
Boating Accident Causes in New York State
Across the state, the number one cause of accidents was collisions involving recreational boats, with 121 accidents. The next closest cause was collisions with an object. There were 27 of those. Rounding out the top five were flooding (17 accidents), striking a submerged object (15 accidents) and ejections from a boat or getting hit by a boat (11 accidents each).
In 27 accidents, the leading factor was vessel operator inattention. Excessive speed played a role in 24 accidents. Hazardous waters and lack of a proper lookout each contributed to 18 boat crashes. An inexperienced operator and weather caused 16 incidents each, while alcohol was a primary factor in 13 accidents.
The vessel type involved in a majority of incidents was a motorboat. 50% of all fatalities were to those using paddlecraft, followed by motor boats with cabins and open motor boats. Boaters over 60 had more crashes than any other age group, but those 21-50 experienced more injuries. Both age groups had four fatalities in 2021.
Injuries Sustained in NY Boating Accidents
The Recreational Boating Reports for 2019, 2020 and 2021 indicate that boaters sustain various injuries from boating accidents. In 2019, the top three reported injuries were lacerations (29), abrasions (24) and broken bones (17). In 2020, there were 24 reports of broken bones, 20 laceration injuries, 17 carbon monoxide poisonings and 16 hypothermia-related injuries. In 2021, broken bones also topped the list with 26 reported incidents, followed by 15 reports of lacerations and 14 each of hypothermia and abrasions. Other possible injury types include:
Amputation
Back injury
Burns
Dislocation
Fracture
Head injury
Internal injuries
Neck or spinal injuries
Sprains and strains
If you sustained any of the above types of injuries in a boating accident around Manhattan, you might be able to receive compensation for economic and non-economic damages. The attorneys at Cellino Law can assist you with understanding your rights, options for recovery and the merits of your case.
Fatal Boat Accident Causes Around Manhattan
Fortunately, relatively few fatal crashes occur in the waters around Manhattan each year, but that is no consolation if you lose a loved one in a boating accident. In 2019-2021, there were 19 fatalities, most of which occurred in Suffolk County.
If one of your immediate family members died in a boating accident due to someone else's negligence, you might be able to file a wrongful death claim. Talk to a Cellino Law personal injury attorney to learn what qualifies as wrongful death and what compensation you might be eligible for.
Relevant State Laws Impacting a Boating Accident Claim
State and city laws governing boating operations can come into play in a boating accident claim.
State Boating Regulations
The state establishes laws for vessel registration, safety certification and equipment requirements, and rules of the nautical road. If another boater violates safety and operational laws, the operator may be liable for the accident.
If, for instance, another operator was traveling too fast for conditions and hit your vessel, the driver would hold at least some responsibility for the accident. However, your role also comes into play. If you attempted to pass a boat in meeting on the starboard instead of the port side, you would also hold liability in the accident.
New York has laws for operating a boat while under the influence of drugs or alcohol. It is illegal to operate a vessel while intoxicated or impaired. The legal limit for alcohol is 0.08%, just as it is when driving a vehicle. There are also rules for overloading vessels or overpowering boats with motors. Violations of these laws could impact the outcome of a boating accident claim. Obtaining as much evidence as possible immediately after an accident can help you or your attorney establish fault.
NYC Boating Regulations
The city's rules generally reinforce the state laws. However, there are additional regulations about which waters boaters can operate in. N.Y.C. also establishes the dates for boating season and hours boats are allowed on the water in city-owned recreation areas.
New York's Comparative Negligence Rule
New York doesn't require boating insurance, so if you were injured in an accident on the water due to someone else's negligence, you might need to file a personal injury claim to obtain damages. Even if you were partially to blame, you could recover some of your losses.
The state follows a pure comparative negligence rule. While you can file a claim, you receive a settlement proportional to your percentage of fault. Thus, if you were 40% at fault, you would be awarded 60% of the total award.
Statute of Limitations
You also need to be aware that there is a deadline for filing a legal claim. In N.Y., the statute of limitations for personal injury cases is three years from the accident.
Legal Assistance for a Manhattan Area Boating Accident
If you sustain injuries in a boating accident around Manhattan, Cellino Law is here to help. We understand the health and financial challenges that can result from water accidents. Your initial consultation is free; we want you to have an opportunity to learn your rights and find out your options. If you choose to hire us, you won't pay anything unless we win your case. Get in touch today for a free consultation.
I highly recommend Cellino Law to anyone involved in a car crash. I worked with Michael Lovecchio, and had a wonderful experience given the circumstances. He was very attentive, and got the best possible outcome I could have wanted.

Susan

My wife and I would like to take this opportunity to thank you for a fantastic job as our attorney. We could not have been more pleased with the work you and your team has done on this case. This past four years or so has been such a roller coaster for our family. We are very pleased and grateful with the result. We have made a good choice by choosing you. Thank you.

Dave

Choosing the right attorney to represent you after an accident can make all the difference. This is no cliche. I recently experienced these words to live by first hand. After a tractor trailer rear ended me at high speed in 2017 I retained Allan Silverstein to handle my case. I quickly realized that bringing a lawsuit rapidly snowballs into a mountain of details that can make or break your results. Documents, case histories, doctor visits, bills, and lots of phone calls all need to be accurately kept track of if a successful outcome it to be attained. To complicate matters I reside in New York and the incident took place in New Jersey. Luckily, Allan was licensed in multiple states. I was fortunate to find Allan to handle this matter from the New York area. Armed with an accurate account of the facts Allan went to work on the difficult job of negotiating with the defending insurance company as well as my no fault carrier in order to obtain the best possible outcome for my set of circumstances. In a lawsuit communication is key and and events can be of a timely nature. Allan never failed to return my calls - usually the same day! He fought skillfully and respectfully to get me the best possible settlement. He is easy to deal with and a likeable down to earth guy. He always listened with compassion and respect to my issues. He guided me with objective understanding as well as a realistic analysis of the merits of my case. When we finally settled Allan got me a fair agreement beyond my expectations and negotiated with my doctors to make sure all my bills were paid. It was a great experience having Allan represent me. Quality work in any aspect of life is hard to find. Quality is what I got with Allan Silverstein. I highly recommend him if you find yourself in need of a personal injury attorney.

Theodore

Thank you for all your help. It has been a long journey. At last, the light at the end of the tunnel. Also, thank Tom for the help and work he put in.

Ron

I just want to let you know that I did receive my settlement check. More importantly, I want to thank you again for all you did for both me and my family. I could not be more pleased with my experience at Cellino Law. From the moment I first spoke with you I felt comfortable - you took a sincere interest in my case, clearly explained the process and effected a quick settlement. From this day forward, when someone asks if I can recommend a good lawyer I will, without hesitation, say "Cellino Law". Thanks again.

Walter

I am writing to let you know what an outstanding job George Gridelli did for me in my personal injury lawsuit. His professionalism and expertise were evident at our first metting and he and his paralegal Diane D'Andrea took care of me as if I was a friend and not merely a client. They both went above and beyond for me in so many ways that it would be too numerous to list and I am grateful to have had such an exemplary team represent me. When working with George and watching him in court he personified to me what a lawyer is supposed to be - an honest, extremely compentent man who helped guide me through the legal system. I could not have obtained better representation anywhere else at any price. To me that says a lot abut you and your firm's integrity. Thank you again for representing me and for having such stellar individuals working for you! I will continue to recommend your firm.

Carol