If you have been hurt on the job or have an occupational illness as a result of your job, you could be eligible for Workers' Compensation. Workers' Compensation insurance was designed to help workers financially when they have been hurt on the job. If you have been seriously hurt, you can apply for long-term disability. Submitting a claim is difficult which is why you need an experienced Long Island Workers Compensation lawyer to help you. The legal team at Cellino Law will prepare and submit your claim and put together the proper documentation so you end up with the compensation you need.
Worker's Compensation laws provide protection to workers. Under the law, workers are entitled to compensation if they have been hurt or injured on the job. It doesn't matter how the worker was injured. Workers are entitled to "right of limited protection", which means they can get compensation but they cannot sue their employer for negligence.
According to the law, New York employers must either self-insure or they must buy insurance. Workers' Compensation uses a complex formula for determining benefits. These payments typically include time off, lost income, and medical care that are the result of the injury that the worker sustained on the job. If you are confused by the workers' compensation claims process or have had a claim denied contact our Long Island personal injury firm to discuss your legal options going forward..
What Type of Injuries Qualify for Workers' Compensation?
Once you have been hurt on the job it is going to be crucial that you know what the Workers' Compensation laws are going to cover in New York State. There are strict rules and guidelines that have been set in place when it comes to pursuing compensation. Getting compensation can be challenging and it isn't always automatic. In some cases, you might not even qualify right away to get compensation when you were injured at work.
Your injuries are going to need to fall into one of the categories listed below to ensure that you are covered under New York Workers' Compensation law:
Your employer must be required by the state of New York to carry Workers' Compensation coverage.
Your injury, disability, or illness must be directly related to the work that you were performing on the job and it must have happened when you were at work.
You must have presented to your employer notice in writing about the accident or incident that caused your illness or injury and the notice must have been given within 30 days of the incident.
You must also ensure that the medical reports clearly state that the illness, injury, or disability was caused by the conditions or the accident that happened at the workplace.
Though your accident or injury might clearly seem like it should be eligible for Workers' Compensation benefits, it can be disputed by your employer and by the insurance company of your employer. This happens fairly often so it is crucial that the evidence you present leaves no room for interpretation. The evidence needs to be supported by medical professionals so you reduce your chances of getting the compensation that you are entitled to for the period that you want it for.
Can Job Security be Affected by a Workers' Compensation Case in Long Island?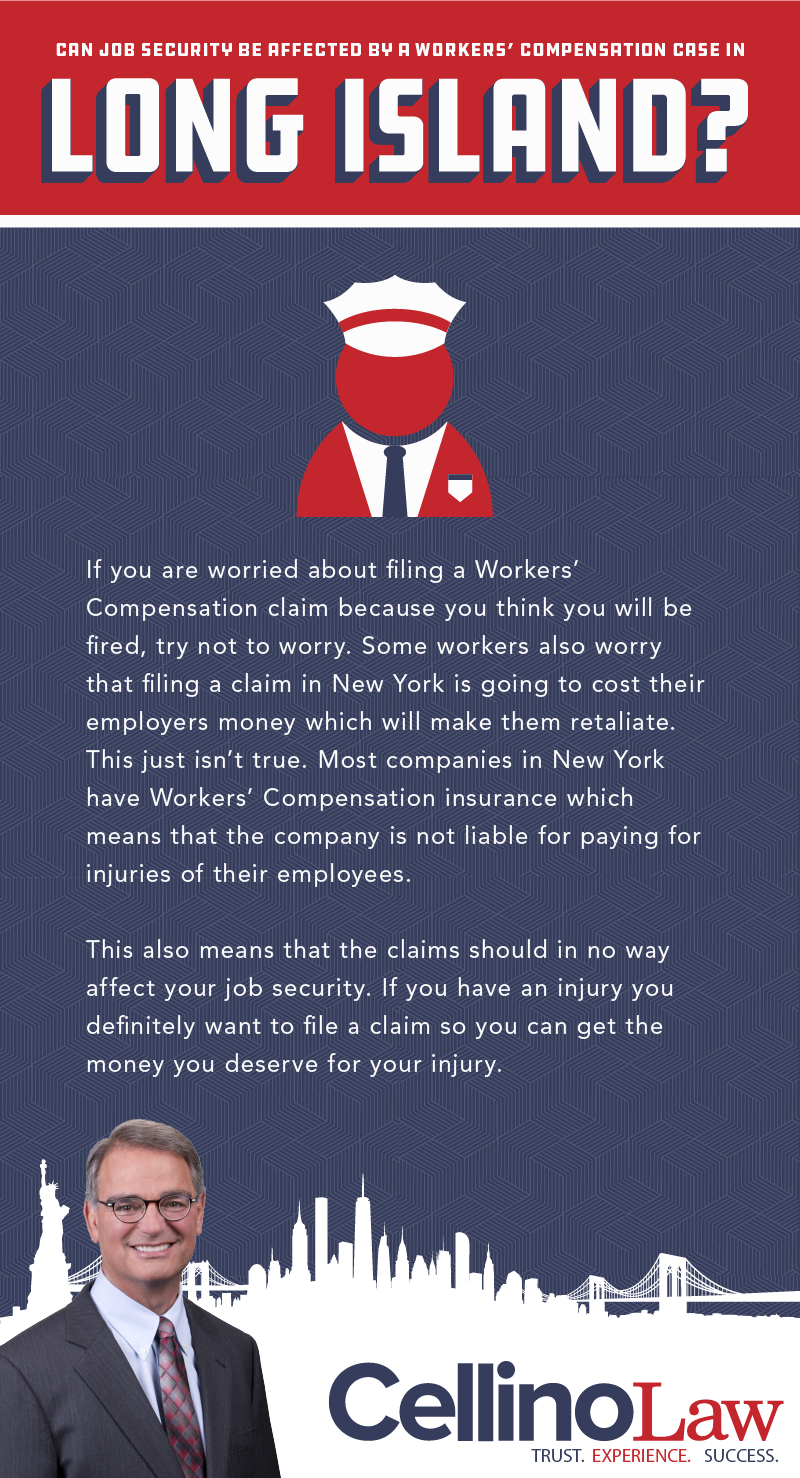 If you are worried about filing a Workers' Compensation claim because you think you will be fired, try not to worry. Some workers also worry that filing a claim in New York is going to cost their employers money which will make them retaliate. This just isn't true. Most companies in New York have Workers' Compensation insurance which means that the company is not liable for paying for injuries of their employees.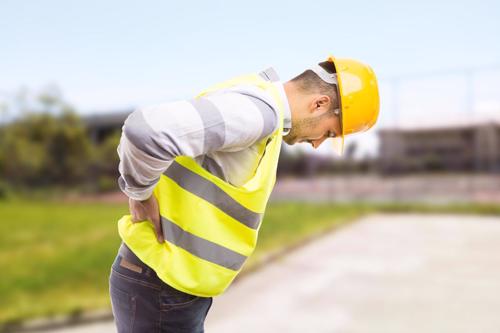 This also means that the claims should in no way affect your job security. If you have an injury you definitely want to file a claim so you can get the money you deserve for your injury.
Can Domestic Workers Receive Workers' Compensation in New York?
Many families in New York hire nannies, gardeners, housekeepers, and babysitters. If a domestic worker gets hurt on the job it isn't always clear about the homeowner being an employer or not an employer. It also isn't clear whether a domestic worker is considered a contractor or not. It isn't a requirement for the homeowner to act as a company when they are hiring employees.
A domestic worker can be considered a resident employee in some cases when they provide services for the household. If a homeowner hires multiple workers to perform jobs at their home then they must take out Workers' Compensation insurance that will cover and protect their workers in case they get hurt while they are working.
What is the Average Compensation Settlement for Workers' Comp?
Our legal team will start by figuring out the proper amount of compensation that you deserve before we reach a settlement. This amount depends on the following things:
The amount of care and medical treatments that you have received until now
All future medical treatments, like surgery or physical therapy
Any wages that you have lost now or will lose in the future
When applicable, any disability payments you are owed
Our experienced team at Cellino Law has recovered millions of dollars on behalf of their clients. We know that each case is unique which is why we fight the insurance companies hard. The insurance company will try to deny or reduce your claim which is why you need an experienced legal team on your side. We usually reach a very favorable settlement before the case even goes to trial. If your case does go to trial we are prepared and we make sure that we have all of the winning evidence and documents so we are ready to win in court.
Thanks to our reputation as challenging opponents in court, most insurance companies would rather settle with us instead of go to trial. We have a strong track record of winning our cases and we work hard for all of our clients. We will ensure that you receive the highest amount of compensation for your case in New York. We offer free consultations so contact us today and find out what your case might potentially be worth it.
What You Need to Know About Returning to Work After an Injury
Workers' Compensation only covers a portion of your income so it is important that you get back to work as soon as you are medically able. Many people assume that they won't have to go back to work for a long time once their claim has been approved. It is important to return to work after your claim has been approved for many reasons. You are likely to recover faster when you return to work. Being active is good for your body and you will start receiving your full salary once you return to work.
If you return to work and can't do your old job and have to take a job that pays less, you could be eligible to start getting a reduced earning benefit that replaces the income that you have lost. You could also receive treatments for your injury once you return back to work if the injury was related to your job.
What Benefits Can I Get Through Workers' Compensation?
Workers' Compensation is insurance that offers medical care and cash benefits to workers who have sustained injuries while they were on the job. Workers' Compensation also covers diseases and occupational illnesses that were a result of your job.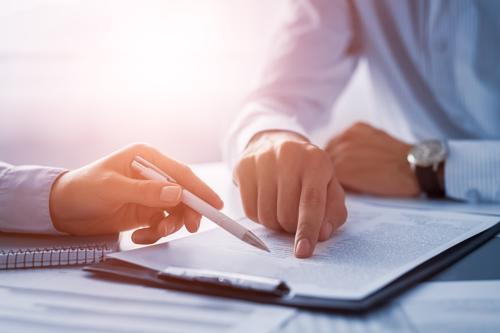 The state agency for Workers' Compensation is called the New York Workers' Compensation Board. The claims are processed here and your employer's insurance provider will pay for a weekly cash benefit and any medical care you need under the direction of the compensation board.
These are the benefits you could be eligible for:
Cash Benefits
The cash benefits are weekly benefits that are 2/3 X your average weekly wages and X % of the worker's disability.
Supplemental Benefits
Supplemental benefits are for claimants and beneficiaries who have been classified as permanently disabled because of an injury that happened before January 1 1979, and any widows or widowers who have received a death benefit due to the death of their spouse that happened before January 1 1979.
Medical Benefits
Medical benefits cover all of the Medicare care for original injuries and illnesses and medical care to heal and recover from injuries and disabilities.
Social Security Benefits
This benefit is for employees that have been critically and continuously disabled for a minimum of 12 months. Permanently disabled employees might qualify for Social Security monthly benefits as well.
Death Benefits
Surviving dependents, minor children, and spouses may be eligible for death benefits for employees that have died due to injuries at work.
What are Common Injuries That Occur in the Workplace?
You are probably reading this post because of an illness or pain that you are experiencing because of an injury or accident that you got on your job, or because you are dealing with an injury or occupational disease that is a result of your job.
You have probably already started the difficult and complicated process of filing your Workers' Compensation claim and you are not sure how to complete the many confusing forms that are required. Maybe you have filed the paperwork and you had your claim denied. Possibly, you have a hearing coming up for an appeal or you aren't sure if you are dealing with a work-related injury at all. Your employer might be telling you that your illness was caused by a preexisting condition.
Countless other New York workers have dealt with the same issues that you are currently facing, so there is no need to become discouraged. Our legal team can help you. We have helped many employees receive the compensation that they deserve when they have been hurt at work. We have the experience you need when it comes to getting our clients the maximum amount of compensation.
Employees can sustain injuries in many ways while they are on the job, no matter what industry they work in. We will help you with all types of work-related injuries, including these injuries:
Broken Bones
Mesothelioma
Knee Injuries
Lifting Injuries
Injuries that result in the need for surgery
Complex Regional Pain Syndrome
Shoulder And Neck Injuries
Burn Injuries
Long-Term Workplace Illnesses
Hearing And Vision Loss
Construction Accident Injuries
Cement Burn
Hospital Workplace Injuries
Repetitive Stress Injuries
Construction accidents account for over 50 percent of all job-related fatalities in New York City. Thirty percent of workplace injuries are musculoskeletal disorders. These disorders affect the spine, tendons, ligaments, and muscles and often happen in the manufacturing, nursing, and transportation industries.
Partial Disability and Total Disability
If you file a claim for a disability benefit, the benefit will either be a partial or total disability benefit. If a person is partially disabled it means that they have lost part of their ability to earn a living. These people have limitations that make it difficult or impossible to perform their job duties, but they could still perform a job that is less difficult or for fewer hours. If an employee receives a total disability benefit they can no longer work at all or earn an income. With a partial disability benefit, the applicant is required to actively search for a job that they are capable of doing and accept any offers that they get.
Trying to figure out the restrictions that come with Workers' Compensation is difficult. This is a lot easier when you have legal representation. Cellino Law makes this process as stress-free as possible for all of our clients. Our attorneys are here to help you with making your claim for benefits. Call us today to find out how our attorneys can help you.
What You Need to Know About Employee Rights
If you have been injured on the job in Long Island, NY, you have rights that you need to protect. One example of this is that your employer might not be required to keep your job open. The Medical And Family Leave Act protects your job and allows certain employees to receive 12 weeks of unpaid leave or 12 months of leave if you have a serious medical issue.
When you make a claim through Workers' Compensation your employer cannot fire you. Any new employer cannot ask if you have ever opened a Workers' Compensation case.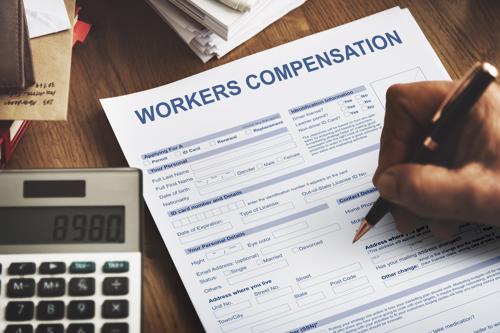 You need to communicate with your employer when you are no longer able to work. Your boss needs to know what your status is and they also need to know when you can go back to work. This ensures that your employer keeps your position open and also knows when you will be returning back to work.
What Should I do After a Workplace Injury?
Below is an overview of the Workers' Compensation claims process in New York. This process can vary depending on your situation. Contact our practice to set up a consultation with our experienced and professional compensation lawyers. You will find out about your legal rights and the different legal options that will help you get the compensation you need for your claim.
Right after your accident go to the hospital for medical care and also tell your boss what has happened and why you are seeking medical care.
You must give your employer notification about the accident in writing within 30 days of being injured about the accident that has happened to you.
Complete a Form C-3 (Employee Claim) and email it to your local Workers' Compensation district. This must be done within 2 years of the injury or accident.
Your employer must report the accident to the Board and to their insurance company. They do this by filling out a Form C-2 (Employer's Report of Work-Related Illness or Injury) within 10 days of being notified of the accident or injury.
The insurance adjuster must issue a statement to you in writing that informs you about your rights under the law within 14 days of receiving the Employer's Report.
The insurance company should start paying benefits within 18 days of receiving the Employer's Report as long as the claim was not approved or denied within 7 days.
When your claim has been approved through Workers Compensation you should start to receive payments every two weeks from the insurance company
Your doctor has to send progress reports to the Board every 45 days.
The insurance provider will determine if it is essential that you receive rehabilitation treatments if you are still recovering after 12 weeks.
Contact Our Long Island Workers Compensation Lawyers for a Free Consultation
Filing a Workers' Compensation claim is stressful, but if you want to receive the benefits you need and deserve you will have to file a claim.
Our experienced and compassionate Long Island personal injury lawyers will guide you through the difficult and complex Workers' Compensation claims process. We will ensure that you receive the highest amount of benefits that you are entitled to under the law. Contact Cellino Law today and speak with one of our attorneys.
It was a great pleasure working with you on my lawsuit. You certainly gave 150% of your time and interest in settling my case and for that, I am extremely grateful. Therefore, I want to thank you very much for helping me win my settlement and wish you the very best.

Linda

My wife and I would like to take this opportunity to thank you for a fantastic job as our attorney. We could not have been more pleased with the work you and your team has done on this case. This past four years or so has been such a roller coaster for our family. We are very pleased and grateful with the result. We have made a good choice by choosing you. Thank you.

Dave

Cellino Law is an amazing firm with a great team. I worked with Greg Pajak and his assistant, Tracey Falconer. I cannot express enough how dedicated they are. The personal attention I received was excellent; they were always available to help with questions and concerns and put me at ease in the unknown territory I found myself in. I highly recommend them to anyone needing representation. A huge thank you to them for all they accomplished for me!

Liane

I highly recommend Cellino Law to anyone involved in a car crash. I worked with Michael Lovecchio, and had a wonderful experience given the circumstances. He was very attentive, and got the best possible outcome I could have wanted.

Susan

Thank you for your efforts on my behalf. I am very pleased (and surprised) at the amount of the settlement. We will use the funds to help pay down the debt on the truck we had to purchase after ours was totaled. Thank you again.

Linda

Choosing the right attorney to represent you after an accident can make all the difference. This is no cliche. I recently experienced these words to live by first hand. After a tractor trailer rear ended me at high speed in 2017 I retained Allan Silverstein to handle my case. I quickly realized that bringing a lawsuit rapidly snowballs into a mountain of details that can make or break your results. Documents, case histories, doctor visits, bills, and lots of phone calls all need to be accurately kept track of if a successful outcome it to be attained. To complicate matters I reside in New York and the incident took place in New Jersey. Luckily, Allan was licensed in multiple states. I was fortunate to find Allan to handle this matter from the New York area. Armed with an accurate account of the facts Allan went to work on the difficult job of negotiating with the defending insurance company as well as my no fault carrier in order to obtain the best possible outcome for my set of circumstances. In a lawsuit communication is key and and events can be of a timely nature. Allan never failed to return my calls - usually the same day! He fought skillfully and respectfully to get me the best possible settlement. He is easy to deal with and a likeable down to earth guy. He always listened with compassion and respect to my issues. He guided me with objective understanding as well as a realistic analysis of the merits of my case. When we finally settled Allan got me a fair agreement beyond my expectations and negotiated with my doctors to make sure all my bills were paid. It was a great experience having Allan represent me. Quality work in any aspect of life is hard to find. Quality is what I got with Allan Silverstein. I highly recommend him if you find yourself in need of a personal injury attorney.

Theodore