Falls are one of the leading causes of serious injuries or even death throughout the United States and Greece, New York is not an exception. If you have been injured in a slip and fall accident, it is highly likely that you are dealing with a painful injury that's expensive in many different ways.
Fortunately, the Greece slip and fall lawyers at Cellino Law can help you pursue the compensation you deserve to cater for various costs associated with the injury. Contact us via (800) 555-5555 or using the online form provided for your free initial consultation with a personal injury lawyer.
What Are the Most Common Causes of Slip and Fall Accidents?
Slip and fall accidents injure hundreds if not thousands of residents of Greece and New York at large every year. What causes these accidents to occur? In most cases, one or more of the factors below is to blame:
Raised flooring
Poorly lit walkways
Obstructed pathways
Wet floors
Crumbling stairs
Unsafe ladders
Loose electrical cords
Slippery or uneven surfaces
How Can a Greece, New York Slip and Fall Attorney Help with My Case?
If you fall on someone else's property in Greece, New York, you may be able to hold the property owner responsible for the injuries you sustain. Hiring the experienced lawyers at Cellino Law to handle your case will make all the difference.
We will do the following to help with your case:
Stand up to insurance providers on your behalf and ensure that your claim is taken seriously
Investigate the fall to determine the cause and responsible party or parties
Seek compensation from the at-fault party or parties
What Steps Can Be Taken to Help a Slip and Fall Case?
If you slip and fall in a public place, you can be your best advocate by doing the following to strengthen your case:
Take all the photos you can at the time that show what caused the fall, such as cracked flooring, spilled liquids, as well as those showing your injuries.
Report the incident to a manager. Just like you should document your injuries, you also need to prove that you had a slip and fall. Making an incident report is the best way to do that.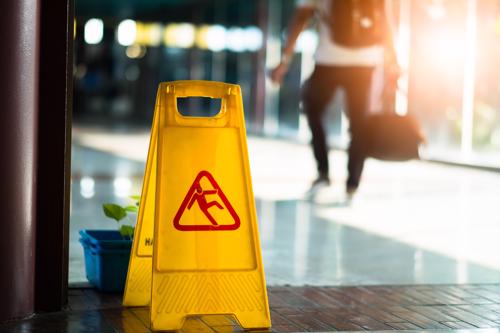 Takedown the names and numbers of witnesses who will be critical to showing how the accident occurred and may have pictures that may prove helpful if you were too injured to take them.
If you need medical attention, get it immediately since it will show the link between the accident and your injuries, which you will be required to do if you file a compensation claim.
If possible, see whether the problem can be addressed immediately.
How Can a Slip and Fall Accident be Proved?
To obtain compensation in your Greece, New York slip and fall accident, you will need to prove that:
A hazardous condition existed on the property.
The property owner knew of the hazardous condition or should have reasonably been aware of it before the fall.
The property owner had enough time to remedy the defect before your accident but failed to do so.
The property owner failed to fix the hazardous condition thus leading to your accident.
The experienced legal team at Cellino Law can help you prove all these elements and ensure that you receive the compensation you deserve.
How Is Liability Determined in a Greece, New York Slip and Fall Case?
New York has a "pure comparative negligence rule", which regulates the amount of compensation victims can recover from the property owner of the premises where they fell, based on the victim's negligence at the time of the accident.
Property owners often defend slip and fall lawsuits filed against them by claiming that the victim was at the very least partly responsible for their injuries. This cuts down on the amount they will owe victims or perhaps even excuse them from all charges completely.
So, you shouldn't be surprised if you are asked the following questions during the process of filing your claim:
Did you have good reason to be on the premises at the time of the accident?
Would a reasonable person in the same situation have noticed and avoided the dangerous condition?
Did the property owner give a warning of the hazardous condition that resulted in your slip and fall?
Were you engaging in activities that might have contributed to your slip and fall?
You might not know how to properly defend yourself under the comparative negligence rule or even know how to answer these and other questions, which is why you need the attorneys at Cellino Law representing you.
How Much is My Slip and Fall Case Worth?
The worth of your slip and fall case will be based on the monetary damages and an additional amount that's based on injury severity to account for your pain and suffering. The best way to know how much your slip and fall case is worth is to speak to our team of experienced lawyers at Cellino Law.
What Are the Time Limits for Filing a Slip and Fall Lawsuit?
In New York, the statute of limitations for premises liability and personal injury claims is 3 years. That means that if you or a loved one suffers a slip and fall injury in Greece, New York, you will have to file a lawsuit against the at-fault party before the third anniversary of the accident. If you don't file the lawsuit within this period, you risk losing your right to do it and get the justice and compensation you deserve.
Schedule a Free Consultation With Our Greece Slip and Fall Lawyers
If you or a loved one was injured in a slip and fall accident in Greece, New York, don't hesitate to get in touch with the legal team at Cellino Law. Our attorneys can help you with the considerations discussed here and many others involved in filing this type of lawsuit in New York.
Your main focus following your slip and fall accident should be on your recovery. So, allow us to handle the legal claim while you recover. Contact us today via (800) 555-5555 or using the online form provided to get started with your free, no-obligation case evaluation with a seasoned Cellino Law lawyer.
Thank you for your help in settling the case of my father's accident. I could always count on you to answer my questions honestly and in terms I could understand. If all lawyers at Cellino Law are like you, I understand why they are an A-1 law firm.

Bedner

Cellino Law is an amazing firm with a great team. I worked with Greg Pajak and his assistant, Tracey Falconer. I cannot express enough how dedicated they are. The personal attention I received was excellent; they were always available to help with questions and concerns and put me at ease in the unknown territory I found myself in. I highly recommend them to anyone needing representation. A huge thank you to them for all they accomplished for me!

Liane

Cellino Law and more specifically my attorney, Gregory V. Pajak, Managing Attorney, and as a whole the Cellino Law Firm and its organization. This is by far one of the most professional law firms and attorney I have ever engaged with and retained in my 35 years. The level of professionalism goes beyond words, the care and constant engagement with me as the client was touching. I was never ever just treated as simply a CASE with potentially a significant dollar number attached to my file. I was engaged regularly, Tracey (Ass't) and Greg always made sure to remain constant, as well as consistent in overseeing that my case was handled properly and that it did matter in many ways - ensuring that the end result(s) would be fair and reasonable to my case/injury. The regular follow-up calls were very satisfying, knowing that you're involved in your case matters significantly AND always. One of my main items to recognize Cellino Law and Gregory is that whenever I called, I was able to get through to speak directly to my Lawyer and he would answer any if not all of my questions in a very professional and genuinely caring manner. I always felt cared for and protected legally and more importantly, I was made feel as a human being that was being cared for and always keeping me abreast of all matters connected to the case. There was never a point I felt let down, on the contrary -the level of service was "STELLAR". Greg is the consummate professional, a 'role model', if you will, for what other attorneys should strive to become when dealing with their clients.

Anthony

Joe and I just wanted to send you this note thanking you for the professional way you handled our lawsuit. Your kindness was extremely appreciated in a very difficult time. When we found out the people that caused the accident had no insurance, we thought our chances of receiving any settlement was nonexistent. Once we met with you and released you were able to help us our minds were put at ease. Your aggressive manner of handling the case exceeded our expectations. Please feel free to use us as a reference. Thank you so much and best wishes,

Danielle and Joe

I just want to let you know that I did receive my settlement check. More importantly, I want to thank you again for all you did for both me and my family. I could not be more pleased with my experience at Cellino Law. From the moment I first spoke with you I felt comfortable - you took a sincere interest in my case, clearly explained the process and effected a quick settlement. From this day forward, when someone asks if I can recommend a good lawyer I will, without hesitation, say "Cellino Law". Thanks again.

Walter

I am writing to let you know what an outstanding job George Gridelli did for me in my personal injury lawsuit. His professionalism and expertise were evident at our first metting and he and his paralegal Diane D'Andrea took care of me as if I was a friend and not merely a client. They both went above and beyond for me in so many ways that it would be too numerous to list and I am grateful to have had such an exemplary team represent me. When working with George and watching him in court he personified to me what a lawyer is supposed to be - an honest, extremely compentent man who helped guide me through the legal system. I could not have obtained better representation anywhere else at any price. To me that says a lot abut you and your firm's integrity. Thank you again for representing me and for having such stellar individuals working for you! I will continue to recommend your firm.

Carol