Getting hurt due to the nature of work that you do, or just being injured accidentally, is sometimes inevitable. As such, companies have come up with compensation insurance, aimed at ensuring employees of an organization after they are injured or suffer occupational illness while working. If you sustain any form of injury or illness due to the nature of your job, your worker's compensation insurance will be activated. Hiring an experienced personal injury lawyer from Cellino Law will help a great deal in getting your rightful compensation.
After submitting a claim to gain compensation, the process that follows can be quite complicated. Your insurance provider may also find ways to avoid paying the compensation sum or even pay an amount that is insufficient to cater for all your losses. With the expertise of our lawyers, however, we will help you with the documentation process, filling all necessary information, and make sure you do it on time for deserved compensation.
Employers provide worker's compensation benefits as required by law, but sometimes people may choose to self-insure themselves based on the New York State Laws. To determine the compensation amount, an intricate formula is used by the New York State law. It takes into account all medical expenses, loss of income, time off work, and any medical reasons that led to an employee's injury. Worker's Compensation not only protects the worker but his or her family too.
When work injury benefits are denied, which is very common, most people sought to file a lawsuit. In this event, a Flushing workers' compensation lawyer at Cellino Law will walk with you and bring the skills to the table for you to win the case in court. We ensure that you get what you deserve.
Qualifying Injuries For Workers' Compensation In Flushing, New York
Though New York State Workers Compensation benefits seek to protect workers who are injured on the job, they are exceedingly complex and have strict guidelines. This subverts many who would like to seek compensation. Additionally, no matter how bad your injury is, it does not mean that you qualify for compensation benefits automatically. That said, you first have to make sure that you are covered by compensation benefits and that the situation qualifies in the following categories:
The employer company must be mandated by New York law to have Workers Compensation coverage.
You must have incurred the disability, illness, or injury while on duty and it has to be related to your job.
The employer should have been given written notice about the accident that led to the illness disability or injury within a month of its occurrence.
Medical reports from a qualified physician must show a direct relationship between accidents and injury, illness, or disability.
Different Types Of Benefits You Can Get Through Workers' Compensation
Workers' compensation provides cash or medical benefits to workers injured or suffering from an illness due to their occupations. Claims are processed by The Worker's Compensation Board of New York. After this, beneficiaries are paid by the same board their employer's weekly cash benefits and medical care. Current Worker's Compensation benefits include:
Social Security Benefits
Supplemental Benefits
Cash benefits
Medical Benefits
Is It Possible To Be Fired If You File Workers' Comp Claims In New York
You cannot be fired for filing a worker's compensation claim, but naturally, your employer will want to replace you. As such, there are specific personal rights that should be protected. Your employer, though may not keep your job open, should still give up to 12 weeks of unpaid leave through the family medical leave act or up to a year of unpaid leave as a result of serious or critical medical conditions. With that in mind, employers cannot fire anyone for filing for a worker's compensation, and no new employer is allowed to enquire on the same when taking up a new job.
If you are not able to work, make sure that you maintain regular communication with your employer. They should understand what you are going through, why you cannot go to work, and when you can resume work. This way, you can secure your position after recuperating.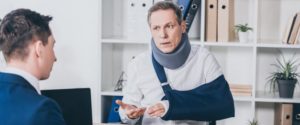 How To File A Workers' Compensation Claim In New York
After an injury, the first thing to do is see a medical professional. This will safeguard your health and ensure that pain is managed. You also need to let your supervisor know, to avoid compilations later. Following this, you need to give your employer a written notification about the accident within 30 days. Two years from the time of the accident, you should also file the Employee Claim form and send it to the Worker's Compensation main office located in your area.
After the notification, the employer then has to report the incident to their insurance company within 10 days, using Form C-2. Following this, the insurance provider then reverts with some type of statement within 14 days, acknowledging the incident and stating the rights of the injured so that they can know them. From here, a maximum of 18 days should be taken after which the insurance company starts paying the benefits to the victim, not unless it was denied within 7 days of filing it.
After approval, payment is given every couple of weeks. After every 45 days, which is one & a half months, you are supposed to send progress reports on your health, as stated by the doctor, as well as information regarding benefits to the Board. If you are still recovering after 12 weeks have passed, the insurance provider must consider the idea of rehabilitation treatment.
What You Should Know About Workers' Compensation Hearings And Appeals
After filing a claim, there are three possible outcomes. First, the employer may accept the claim. Second, they may contest it and finally, they may contest a portion of it and accept the other. The insurance company and employer must have agreed on the injuries sustained by a victim. As such, any disagreements, differences, and disputes over the claims be they be from the insurance provider or employer will revoke any benefits from being paid.
In such a situation, the only way to get your benefits is to present your case before a judge to make the ultimate decision for Worker's Compensation. If the judge determines that your claim is valid, they decide the amount that you will receive regularly as compensation and decide the duration you will be paid as well. An employer or employee can appeal a judge's decision up to 30days after his/her decision. If the appeal is granted, a board of 3 members forms a panel that reviews the case. The panel can:
Modify the judge's decision
Rescind what the judge decided to do
Restore your case as related to ongoing developments with that particular judge
If the panel cannot reach a decision, then a victim may apply for a comprehensive board review which will either rescind, change, or confirm the judge's decision. If you would like to appeal this decision, you should do it within 30 days. The appeal is then presented to the third department of the Appellate Division of New York State Supreme Court for a decision to be made. If you are again dissatisfied, you can appeal, after which the case proceeds to the Court of Appeals for a final decision.
Contact a Flushing Workers' Compensation Lawyer
It is indeed an intricate process, but with the right lawyer by your side, the process can be less stressful, something you need more than ever, after being involved in an injurious accident or illness. Contact a Flushing workers' compensation lawyer at Cellino Law today!
This letter is to thank Ms. Diane D'Andrea, assistant to Mr. George Gridelli, Attny for all the hard work, dedication, and attentiveness she showed during the representation of my case. She was always cheerful and ready to help in whatever way she could. All messages left for Mr. Gridelli were always relayed and Mr. Gridelli always promptly returned our calls. She was a very competent assistant. Cellino Law has proven to be a model of what legal representation should be. Throughout the 6 ½ years of this case, I have heard many horror stories from people with "bad lawyer stories." We consider ourselves to be very lucky to have chosen Cellino Law and will always recommend you to those looking for good, honest representation with a personal touch.

Joseph

Cellino Law is an amazing firm with a great team. I worked with Greg Pajak and his assistant, Tracey Falconer. I cannot express enough how dedicated they are. The personal attention I received was excellent; they were always available to help with questions and concerns and put me at ease in the unknown territory I found myself in. I highly recommend them to anyone needing representation. A huge thank you to them for all they accomplished for me!

Liane

I want to thank your law firm for settling my lawsuit where others failed. You treated me with the utmost respect and care, because of your law firm the dream of owning my own home finally came true. For the first time in a long time, we're living out our dream home. Thank you a million times over. Thank you for making my dream come true.

Marcy

Choosing the right attorney to represent you after an accident can make all the difference. This is no cliche. I recently experienced these words to live by first hand. After a tractor trailer rear ended me at high speed in 2017 I retained Allan Silverstein to handle my case. I quickly realized that bringing a lawsuit rapidly snowballs into a mountain of details that can make or break your results. Documents, case histories, doctor visits, bills, and lots of phone calls all need to be accurately kept track of if a successful outcome it to be attained. To complicate matters I reside in New York and the incident took place in New Jersey. Luckily, Allan was licensed in multiple states. I was fortunate to find Allan to handle this matter from the New York area. Armed with an accurate account of the facts Allan went to work on the difficult job of negotiating with the defending insurance company as well as my no fault carrier in order to obtain the best possible outcome for my set of circumstances. In a lawsuit communication is key and and events can be of a timely nature. Allan never failed to return my calls - usually the same day! He fought skillfully and respectfully to get me the best possible settlement. He is easy to deal with and a likeable down to earth guy. He always listened with compassion and respect to my issues. He guided me with objective understanding as well as a realistic analysis of the merits of my case. When we finally settled Allan got me a fair agreement beyond my expectations and negotiated with my doctors to make sure all my bills were paid. It was a great experience having Allan represent me. Quality work in any aspect of life is hard to find. Quality is what I got with Allan Silverstein. I highly recommend him if you find yourself in need of a personal injury attorney.

Theodore

Tim Cellino handled my case beautifully. He is very knowledgeable and patient with all my questions. He kept in touch with me through out my ordeal. Tim also got a settlement for more than I expected. I highly recommend Tim Cellino!

Jayne

We want to send a big "Thank you" from the both of us. We know you both fought for us and did a great job with our case. You did it in a timely manner and we appreciate it.

Kerrijo & Jerry