Slip and fall cases can present a challenge, even if you have plenty of evidence supporting your case. You may be asked to jump through several hoops before you receive the compensation you are owed. That's why you'll want to make sure you have ample time to recover from your accident. It's also why you'll want the support of a Flushing slip and fall lawyer. If you have an accomplished personal injury attorney working for you, you're far more likely to receive the maximum compensation under the law.
Our law firm has extensive experience in personal injury law, which is why we're more than capable of handling your case. We'll make sure that the evidence we gather can't be refuted. We'll back it up with testimony from both witnesses and experts from various fields. We will contact the property owners and their insurance providers and handle all negotiations. Since we'll make sure we have plenty of evidence before we start negotiations, we'll have more leverage, and that means it's more likely that you'll receive a large settlement. If you're not satisfied with the settlement you are being offered, we can escalate the case and take things to court so that you can receive the money you are owed.
If I've Been Injured In A Slip and Fall Accident, What Should I Do?
According to reports, approximately a million people in the United States seek emergency treatment for slip and fall injuries each year. As is the case with most types of accidents, injuries may be minor or severe. Injuries could include minor bruising, cuts, concussions, broken bones, or even spinal cord damage. Serious slip and fall accidents could lead to fatality. If you've been involved in an accident of this nature, you have legal rights. Don't know what your next step should be? Here's what you should be doing after your accident:
Report Your Accident As Soon As You Can
Seek Medical Care For Your Injuries
Collect Contact Information From Witnesses
Stay Quiet And Don't Share Details Of Your Accident
Capture Photos and/or Videos at the Scene
Reach out to a Lawyer
If I've Been Involved in a Slip and Fall in Flushing, Who Is Liable?
Homeowners and other property owners are legally responsible to ensure that their property is safe for guests and other visitors. If the owner of a property does not take steps to correct safety issues, they could be held liable if someone slips and falls because of these issues. How often a property needs to be inspected varies based on the reason that guests are visiting the property. As an example, if guests were at a property for business reasons, the owner must inspect the property and take steps to fix any safety hazards.
If you're a friend visiting, however, the homeowner doesn't have the same obligation to check for safety hazards. If the property owner is aware of safety hazards, they are obligated to warn guests ahead of time. If a property owner knew there were safety concerns, and if the guests were invited over, they could be considered liable. We'll talk to witnesses to get a better picture of what happened during your accident.
Landlords and government agencies may also be responsible for injuries that take place on their properties. In any slip and fall case, it's essential to determine who holds responsibility for the accident. In New York state, you are entitled to receive compensation from all responsible parties. Cellino Law's legal team has extensive experience with slip and fall cases. We will work to investigate your accident and what caused it. We'll determine the responsible party or parties.
Calculating The Value of a Slip and Fall Claim
No two slip and fall claims are exactly alike. It's important to look at the circumstances of the case when determining a claim's value. Still, our experienced team will help you to calculate a fair potential settlement. Our estimate usually looks at these factors:
Loss of current wages and wages in the future because of your injuries
Current medical bills and expenses in the future
Pain and suffering you've experienced as a result of your injury
Punitive damages in cases involving recklessness or negligence
Compensation related to the nature of your injuries and their severity
Cellino Law will work to secure the largest possible settlement for you. We may even work with life care planners and economists to get a clearer picture of what your claim is worth. Because we'll have evidence to support your claim, it will be easier for us to collect the money that you need.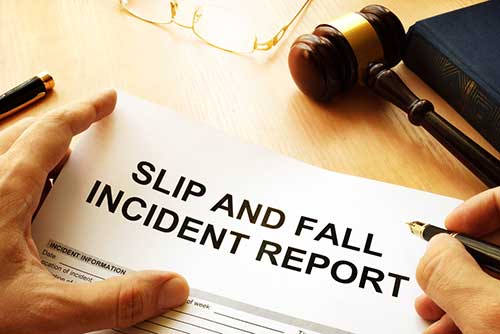 The Most Common Injuries Related to Slip and Fall Accidents
It's not unusual for a slip and fall to cause an injury. These injuries can be minor, but they can also be severe or even fatal. A variety of factors can affect how serious an injury is, as the age of the victim and the circumstances of the accident. Injuries that are frequently caused by slip and falls include:
Bones Breaking
Bruising and Cuts
Trauma to the Brain
Damages to the Nerves and Spine
Dislocated Shoulder and Muscle Strain
Knee Damage
Sprained Ankles or Wrists
The Statute of Limitations on Slip and Fall Claims
If you've been in an accident, you should contact a Flushing slip and fall lawyer as soon as you can. The limit for filing your claim begins the day your accident occurs. You will need to file your accident in the time limit specified by the statute of limitations. If you wait too long, you may lose your chance to receive compensation. In New York State, there is a limit of three years for filing a slip and fall claim.
It's worth noting that the statute of limitations will vary based on the nature of your vase. As an example, if you are seeking compensation from a municipality or a government agency, you will have 90 days to file your claim. The total statute of limitations is a year and 90 days. This time can pass quickly, especially if you're recovering from an injury, which is why contacting a Flushing slip and fall lawyer early on could save you a lot of hassle.
Don't Hesitate to Contact A Slip and Fall Attorney In Flushing!
If you work with the team at Cellino Law, you'll benefit from years of experience. We've handled many Flushing personal injury cases, which is why we'll be able to gather plenty of evidence and build an excellent case for you. We'll work with professionals and talk to witnesses before negotiation starts, which means we'll have plenty of leverage against property owners and insurance providers. We'll make sure we win the right settlement for you. If you're not happy with the settlement that you are offered, we can represent your case in court. No matter what, you can count on us to work hard for you. Contact our team today.
This letter is to thank Ms. Diane D'Andrea, assistant to Mr. George Gridelli, Attny for all the hard work, dedication, and attentiveness she showed during the representation of my case. She was always cheerful and ready to help in whatever way she could. All messages left for Mr. Gridelli were always relayed and Mr. Gridelli always promptly returned our calls. She was a very competent assistant. Cellino Law has proven to be a model of what legal representation should be. Throughout the 6 ½ years of this case, I have heard many horror stories from people with "bad lawyer stories." We consider ourselves to be very lucky to have chosen Cellino Law and will always recommend you to those looking for good, honest representation with a personal touch.

Joseph

I highly recommend Cellino Law to anyone involved in a car crash. I worked with Michael Lovecchio, and had a wonderful experience given the circumstances. He was very attentive, and got the best possible outcome I could have wanted.

Susan

Mark Kochanowicz is from far the best attorney you can have. Mark treats you like a friend more than a client. He truly cares and go the extra mile for you and your case, contacts you to update you in regards to your case and keep you informed at all times. Mark represented me twice and settled my cases for way more than I expected. I highly recommend Mark Kochanowicz because he is just the best on what he does!!! Thank you Mark!!!!

Maria

We'd like to thank you for all the assistance and time you spent on our case. Your professionalism and honesty will always be appreciated. The staff was always courteous and we were always impressed with your accountability. Your passion and dedication will never be forgotten, nor will you.

Sarah

Thank you for all your help. It has been a long journey. At last, the light at the end of the tunnel. Also, thank Tom for the help and work he put in.

Ron

My experience during the time of negotiations was extremely positive. Josh Sandberg handled my lawsuit with the utmost integrity. He returned all my phone calls in a timely manner and answered all my questions. Josh made things less stressful. I would highly recommend Josh and the entire staff at Cellino Law.

Arthur