It's crucial to have the representation of a qualified attorney if you've been involved in a car accident. Working with the right Flushing car accident lawyer can ensure that you're properly compensated for damages related to the accident. There's a lot that could go wrong in the aftermath of a car accident. Insurance companies could dispute your claim or refuse to cover the cost of car repairs or medical bills. You may lose wages because of the accident, which is something you deserve to be compensated for.
When you work with Cellino Law, you'll have the support of experienced Flushing personal injury attorneys. We provide free consultations to any interested clients, whether the accident is serious or less severe. During this meeting, you'll have the chance to ask questions, and we'll provide an in-depth evaluation of your case.
We have extensive experience, allowing us to ensure that car accident victims have their rights protected. You can count on us to build a strong case for you. We'll provide you support throughout your case and will fight to win you the compensation that you deserve. We're extremely familiar with New York state personal injury law, and we will put our expertise to work for you. We have a high success rate and have secured large settlements for many of our clients.
About Reporting Auto Accidents In New York State
The law states that drivers involved in a New York car accident should report that accident as quickly as possible. Fast reporting is crucial, particularly if there are serious injuries or death involved. The driver that caused the accident is responsible for filing a report. With that said, you should take matters into your own hands and report the accident yourself.
If an accident led to property damage, the driver at fault needs to file a report, even if the owner of the property is not at the scene of an accident. Keep in mind that it's only necessary to file a report if the estimated cost of the damages is more than $1,000.
Drivers should submit both a written statement and a report within ten days of an accident. In some cases, injuries may keep a driver from filing a report within this time. The law doesn't clearly state what should be done in this situation. Our legal team suggests that accident victims file a report as soon as they are able to.
Collecting Information After An Accident
In order to make a successful claim, you need evidence. That's why it's important to collect some information after an accident, such as:
The contact information of all drivers involved, as well as their name, address, driver's license number, and insurance information
Information about all vehicles, including registration, make, model, and year
Information about responding officers, such as precinct numbers, badge numbers, and names
Where the accident took place
The Cost Of Hiring A Car Accident Attorney
Many of the people involved in car accidents are reluctant to hire a lawyer because of the potential costs. Being involved in a car accident can be expensive, and people often assume they can't afford legal representation. If this is how you feel, you'll be pleased to know that there are no upfront costs to our clients. You won't have to pay any fees until after we've recovered compensation for you.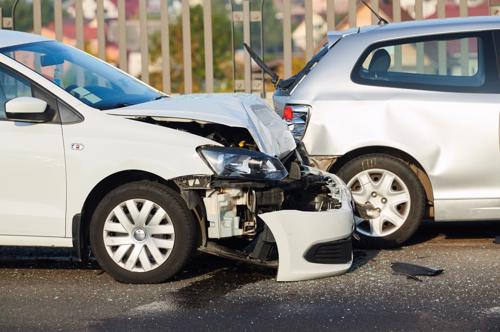 Our attorneys work on a contingency fee basis. After we win a settlement for our clients, we take a percentage of that settlement. You can rest easy knowing that we'll fight hard to get you the compensation you deserve, and you won't have to pay anything out of pocket. Before we take on a case, we look at its merits. We have extensive experience and can tell if a case is likely to be successful.
If You've Been In An Accident, What Can You Be Compensated For?
Loss is key when it comes to personal injury claims. This includes losses that are financial or losses that aren't directly related to finances. The victims of accidents may also be able to seek punitive damages if the driver at fault showed misconduct or another type of negligent behavior.
Financial claims are designed to reimburse victims for costs or losses that are related to the accident, such as:
Vehicle and property damage
Losing income
Medical costs include present and estimated expenses in the future
Future income loss
It is only possible to award non-financial damages if a case involves serious injuries. This is specified under New York insurance laws. Examples of severe injuries are:
Being physically disfigured
Losing a pregnancy
Fracturing a bone
A system in the body no longer functioning properly
Losing function in a part of the body
Losing a limb
Sometimes, it may be possible to include punitive damages when filing a personal injury lawsuit. Punitive damages are designed to punish the driver at fault for negligent behavior or another type of misconduct. You can expect this to increase the total damages awarded to the victim.
The Statute of Limitations For New York Auto Accidents
When filing a claim, it is necessary to do so within a specified window of time. You can't afford to wait to talk to a car accident lawyer about your accident near Flushing, NY. If you wait too long, you may not have the option of recovering damages.
New York law states that claims filed by victims seeking damages should be made within a week of the accident. Missing that deadline will make it harder to receive compensation in a timely manner. It can take a long time for a claim to be processed, which is why fast action is so important.
According to the statute of limitations, victims have up to three years to file a car accident claim. The exception to this is if the claim is being made against a government agency. In these situations, claims must be made within 90 days.
Reach Out To A Flushing Car Accident Lawyer At Cellino Law For A Free Consultation
As we've mentioned, you'll want to act quickly if you want your claim to be successful. That's why you shouldn't hesitate. Contact our Flushing personal injury firm so that we can discuss your case with you. If you've been in a Flushing car accident, we can help you recover damages for injuries, property damage, lost wages, and any other losses that are related to your accident in some way.
Now that reality has set in, I want to thank you for all your work and assistance in obtaining my settlement for the pelvic mesh. This money will make my life so much easier in the future. Medicare just isn't sufficient. I know that I will have enough to live on. I truly appreciate of your efforts. Thank you!

Loraine

We'd like to thank you for all the assistance and time you spent on our case. Your professionalism and honesty will always be appreciated. The staff was always courteous and we were always impressed with your accountability. Your passion and dedication will never be forgotten, nor will you.

Sarah

I want to thank your law firm for settling my lawsuit where others failed. You treated me with the utmost respect and care, because of your law firm the dream of owning my own home finally came true. For the first time in a long time, we're living out our dream home. Thank you a million times over. Thank you for making my dream come true.

Marcy

Joe and I just wanted to send you this note thanking you for the professional way you handled our lawsuit. Your kindness was extremely appreciated in a very difficult time. When we found out the people that caused the accident had no insurance, we thought our chances of receiving any settlement was nonexistent. Once we met with you and released you were able to help us our minds were put at ease. Your aggressive manner of handling the case exceeded our expectations. Please feel free to use us as a reference. Thank you so much and best wishes,

Danielle and Joe

Cellino Law was a great company to work with. From the beginning they came out and met with my uncle and myself and assured us that everything would be taken care of from beginning to end our lawyer state and constant contact with us to make sure that everything would go smoothly and it did. I would definitely recommend anybody to go to Cellino Law for whatever help they need. And specifically please ask for the lawyer that we had Mr. Alan Silverstein. He was amazing and his staff was always attentive. Please go with them for your next law needs.

Eshaunda

Cellino Law is an amazing firm with a great team. I worked with Greg Pajak and his assistant, Tracey Falconer. I cannot express enough how dedicated they are. The personal attention I received was excellent; they were always available to help with questions and concerns and put me at ease in the unknown territory I found myself in. I highly recommend them to anyone needing representation. A huge thank you to them for all they accomplished for me!

Liane