Worker's Compensation is the type of insurance that has been created to help workers who have sustained an injury on the job or have an occupational illness. Worker's Compensation insurance will get activated in case you sustain injuries at your workplace. However, you may need the services of a Cheektowaga Workers Compensation lawyer in order to submit your claim correctly as the process can get pretty complex. Here at Cellino Law, our team of experienced lawyers will help you prepare documents the right way and make sure all the necessary information is submitted on time to allow you to get the compensation you deserve.
The law mandates employers to provide Workers Compensation benefits to employees. These benefits are also available for self-insured as per the laws in New York State. The calculation for compensation is done as per a set formula in New York State. This compensation calculation accounts for medical expenses, income loss, and the medical reasons for injury to the worker as well as time off.
This insurance has been created to protect the worker and their family. It also helps in avoiding the need to take the case to trial. However, the benefits that should be offered to workers are often denied. In such cases, our team of Cheektowaga personal injury lawyers will work hard to help you get the compensation you deserve.
Workers Compensation in Cheektowaga New York – Qualifying Injuries
If you have suffered an injury while on the job, it is important for you to know that the New York State Workers Compensation law protects you. However, there are strict guidelines that need to be followed as many rules are simply there to potentially subvert the compensation claims of injury victims. You are not going to automatically qualify for compensation or benefits in case you suffer an injury while at work.
It is up to you to ensure that you are covered under the necessary laws in New York. In order to qualify, the accident leading to your injury should fall in one of these categories:
Your employer should be required to maintain workers' compensation coverage in the state of New York.
Your injury must have happened when you are working and the illness, disability or injury should be related to the job you have been performing.
You need to notify your employer in writing about the accident or incident that caused the injury or illness within a period of 30 days of the accident.
You also need to get medical reports clearly stating that the disability, injury, or illness you have sustained is directly related to the work accident leading to your injury and workplace conditions.
Workers Compensation Benefits Available In New York
The worker who gets injured on the job and suffers from an illness, disease, or other injuries should get the necessary cash and medical benefits as per the law.
The processing of these claims in the State of New York is done at the Workers Compensation Board of New York. The New York-based compensation board also directs the payment of weekly medical care and cash benefits.
The Workers Compensation benefits typically comprise of death benefits, social security benefits, medical benefits, supplemental benefits as well as cash benefits.
I File a Workers Compensation Claim in New York Can I Be Fired?
You have certain rights that are designed to protect you, especially in cases where you have suffered an injury while working. It is not necessary for your employer to keep your position open. In such cases, the job can be secured with the help of the Family Medical Leave Act. This act allows employees to take up to 12 weeks of unpaid leave. In case of critical medical problems, unpaid leave can be extended up to a year.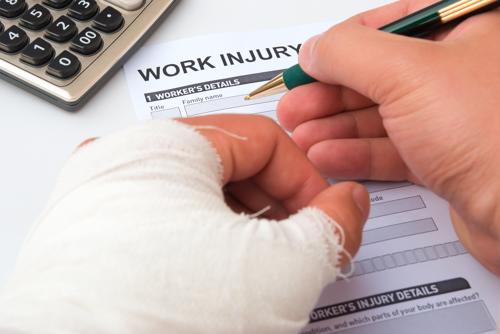 Your employer does not have a right to fire you because you filed a Workers Compensation claim. You should also know that any employer does not have the right to ask you whether you have ever filed a Workers Compensation claim.
If you are unable to come to work, you should constantly remain in touch with your company. Your supervisor should be aware of your status and you should also keep them posted about the date when you expect to come back to work. By maintaining consistent communication with your employer, you can ensure that your job is there when you get back to work.
Workers Compensation – How to File a Claim in New York?
If you have an accident, you should immediately go to the doctor. You should also let your supervisor know about what has happened. Written notice should be given by you to your employer within a period of 30 days of the accident detailing the accident. In order to apply for compensation, an employee claim form needs to be filed by you within a period of 2 years from the accident or injury date. You will then need to send this to the main office of Workers Compensation in your location.
After your employer has been notified, it is their responsibility to communicate the incident to the insurance company they use. This information should be provided in Form C–2 within a period of 10 days. The insurance adjuster is required to issue a written statement to you detailing your rights within a period of 14 days of the receipt of the employer's report. The insurance company should start paying the benefits to you within 18 days unless they have denied the claim within 7 days of your filing date.
Once your Workers Compensation claim has been approved, you will start getting paid every couple of weeks. You also need to ensure that your doctor sends regular progress reports to the board, once every 45 days. If you haven't completely recovered within 12 weeks, the insurance company needs to look at the possibility of offering rehabilitation treatment to you.
Should I Have A Cheektowaga Workers Compensation Lawyer For An Appeal?
Once you file a Workers Compensation claim, there are 2 possibilities. Employers can accept your claim or contest it. They also have the right to contest only a portion of your claim. You will get paid through Workers Compensation claim only once your employer or their insurance company have agreed on the injury or illness you have sustained while working. If the insurance company or your employer contests your compensation claim, you won't get paid any benefits. In such a situation, you will need to take your case to a law judge for Worker's Compensation. The judge will then make the decision.
The Workers Compensation Board may require a hearing of the case in front of the judge. If it is determined by the judge that your claim is valid, they will also pass an order regarding the amount as well as the duration for which you will get the compensation.
The decision given by the judge can be appealed by either party within a period of 30 days of the judgment. If the appeal is granted, a 3 member panel will be formed for review of the case. The rights of this panel include:
Modification of the judge's order
Completely rescinding the judge's order
Restoration of the case as per the ongoing developments with that judge
If no agreement is reached among the panel members, you have the ability to apply for a comprehensive board review. In this review, the decision made by the judge can be confirmed, changed, or completely rescinded.
You get 30 days to appeal the decision given by the board. You need to present this appeal to the New York State Supreme Court Appellate Division, the Third Department. However, the Appellate Division's decision can also be appealed to the Court of Appeals.
This letter is to thank Ms. Diane D'Andrea, assistant to Mr. George Gridelli, Attny for all the hard work, dedication, and attentiveness she showed during the representation of my case. She was always cheerful and ready to help in whatever way she could. All messages left for Mr. Gridelli were always relayed and Mr. Gridelli always promptly returned our calls. She was a very competent assistant. Cellino Law has proven to be a model of what legal representation should be. Throughout the 6 ½ years of this case, I have heard many horror stories from people with "bad lawyer stories." We consider ourselves to be very lucky to have chosen Cellino Law and will always recommend you to those looking for good, honest representation with a personal touch.

Joseph

Now that reality has set in, I want to thank you for all your work and assistance in obtaining my settlement for the pelvic mesh. This money will make my life so much easier in the future. Medicare just isn't sufficient. I know that I will have enough to live on. I truly appreciate of your efforts. Thank you!

Loraine

I am writing to let you know what an outstanding job George Gridelli did for me in my personal injury lawsuit. His professionalism and expertise were evident at our first metting and he and his paralegal Diane D'Andrea took care of me as if I was a friend and not merely a client. They both went above and beyond for me in so many ways that it would be too numerous to list and I am grateful to have had such an exemplary team represent me. When working with George and watching him in court he personified to me what a lawyer is supposed to be - an honest, extremely compentent man who helped guide me through the legal system. I could not have obtained better representation anywhere else at any price. To me that says a lot abut you and your firm's integrity. Thank you again for representing me and for having such stellar individuals working for you! I will continue to recommend your firm.

Carol

We'd like to thank you for all the assistance and time you spent on our case. Your professionalism and honesty will always be appreciated. The staff was always courteous and we were always impressed with your accountability. Your passion and dedication will never be forgotten, nor will you.

Sarah

My experience during the time of negotiations was extremely positive. Josh Sandberg handled my lawsuit with the utmost integrity. He returned all my phone calls in a timely manner and answered all my questions. Josh made things less stressful. I would highly recommend Josh and the entire staff at Cellino Law.

Arthur

I really appreciated your determination and efforts on handling my case. You have done an outstanding job, and I am very satisfied with the outcome of the settlement. Thank you so so much John.

Amparo