There are a wide variety of challenges with slip and fall cases. Even if the amount of evidence is in your favor that you are owed compensation, there will still be challenges in your way. Regardless, it is essential that you take the time you need to fully recover from the incident, with this in mind, you should have an experienced Brookhaven slip and fall lawyer by your side. When you work with an attorney, you greatly enhance the opportunity of getting maximum compensation.
Our team of professional personal injury lawyers in Brookhaven will work diligently to collect the evidence that is needed to build a strong case. For the course of our investigation will gather irrefutable evidence as well as the testimony of witnesses and nationals Once this is all collected, we have a strategic meeting with the property owner or insurance company to negotiate your case.
Having this amount of strong evidence in hand during the negotiation process helps to increase our leverage as well as settling for the maximum amount. The property owner or insurance company comes back with an offer that is unsatisfactory and will follow through by taking the case to trial in order to get you what you deserve.
What To Do After Being Injured In A Slip And Fall Accident
It is estimated that over 1 million people throughout the United States will visit the emergency room for assistance on fall-related injuries Like many other accidents, injuries are typically minor with simple bruises and cuts. However, there is also the likelihood of individuals suffering serious injuries among the likes of broken hips and bones, head injuries, spinal cord damage, and concussions.
There is also the possibility that these types of accidents can become fatal. It is within your right to take legal action following an accident. If you are confused and unsure what actions you need to take, use the following guide:
Seek Out Medical Attention
Report The Accident To The Authorities As Soon As Possible
Never Share Explicit Details Of The Accident
Collect Witness Contact Information
Collect Photographs And Videos Of The Area And Accident If Possible
Call An Attorney For Advice
Who Exactly Is Liable For Injury In A Brookhaven Slip And Fall Accident?
It is the responsibility of the property owner to keep their property safe and maintained for guests and visitors. If a property owner does not maintain or correct safety issues, they may be held liable for any injuries that are suffered to an individual from a fall. Regular inspections of the property should be done to ensure a safe environment for all guests located on the property.
Keep in mind, this is slightly different in a residential area where it is typically not expected for your neighbors to inspect their property on a regular basis. However, it is within reason that they explain and notify guests of any potential safety hazards on their property. The property owner can be held liable for injuries by not informing guests of possible hazards throughout the property.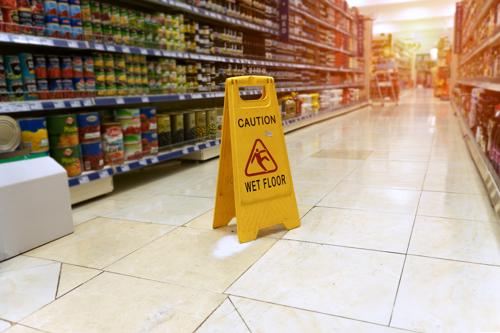 Aside from business and residential property owners, government facilities and landlords can be held liable for an injury. With this in mind, it is very important to understand who the responsible party is due to the accident. In Brookhaven, NY, laws state that individuals receive proper compensation from the party that is responsible for the accident.
The lawyers working at Cellino Law are fully experienced and knowledgeable in the area of investigating the full set of circumstances that led to your unfortunate accident as well as identifying the correct individual or party that should be held responsible for the accident as well as the root cause of the accident.
How To Determine The Value Of A Slip And Fall Accident
No two slip and fall accidents are the same and each one comes with a unique set of circumstances. The average value of your case will depend upon specific facts and circumstances that led up to the accident. Our team of legal consultants will walk you through the process to help you arrive at an estimate that is fair and will include several of the following items:
Past and Future Medical Expenses
Lost Wages As Well As Lost Future Wages
Punitive Damages
Pain and Suffering Compensation
Compensation Due To the Extent and Nature of Personal Injuries
Our experienced team of lawyers will work with you to ensure you get the maximum compensation you deserve. Additionally, we may obtain a life care planner as well as an economist to help solidify financial factors that will be placed upon your compensation claim.
Common Slip And Fall Accident Injuries
As we already mentioned, typical slip and fall accidents will result in an injury. While many of these injuries are minor, some can be severe and life-threatening. In fact, countless people lose their lives on a yearly basis due to these types of injuries. The severity of the injury is multiplied by a number of factors including the environment, age of the individual as well as how the victim fell. Some of the more common injuries that can result from a slip and fall accident will include:
Cuts and Bruises
Broken Bones
Nerve and Spinal Damage
Brain Trauma
Damage Knees
Shoulder Dislocation and Muscle Strain
Sprained Ankle Or Wrist
The Statute Of Limitations On A Slip And Fall Injury Case
It is absolutely essential to get in touch with an attorney following a fall accident. You do not want to make the mistake of losing your opportunity to file in a claim due to the statute of limitations. A statute of limitations basically defines how long an individual has to file a claim.
The statute of limitations will begin on the day of the accident. If a claim is not filed within this timeframe, the courts will not hear your case regardless of the situation. In the state of New York, individuals have three years from the time of the accident to file a claim for a slip and fall accident case.
Also keep in mind, that the statute of limitations within the state varies dependent upon the specific type of case. For example, if you're filing a claim against a government agency, your claim must be filed within 90 days following the accident. In these types of cases, the statute of limitations is limited to one year and 90 days. While it sounds like a long time, it can go by rather quickly.
Call An Experienced Brookhaven Slip and Fall Lawyer
The team of lawyers residing at Cellino Law is dedicated to gathering the evidence and testimony as needed to help build a strong case for you. We work diligently from the time you walk in our office till the time you receive your compensation to ensure you are treated fairly by the property owners and insurance companies. By gathering plenty of evidence and expert testimony, we leverage your case as high as possible for success.
We'll never simply settle until you are satisfied with the amount of compensation you receive, and if that means taking your case to trial, we will do so. Call our Brookhaven injury firm today at (800) 555-5555.
Choosing the right attorney to represent you after an accident can make all the difference. This is no cliche. I recently experienced these words to live by first hand. After a tractor trailer rear ended me at high speed in 2017 I retained Allan Silverstein to handle my case. I quickly realized that bringing a lawsuit rapidly snowballs into a mountain of details that can make or break your results. Documents, case histories, doctor visits, bills, and lots of phone calls all need to be accurately kept track of if a successful outcome it to be attained. To complicate matters I reside in New York and the incident took place in New Jersey. Luckily, Allan was licensed in multiple states. I was fortunate to find Allan to handle this matter from the New York area. Armed with an accurate account of the facts Allan went to work on the difficult job of negotiating with the defending insurance company as well as my no fault carrier in order to obtain the best possible outcome for my set of circumstances. In a lawsuit communication is key and and events can be of a timely nature. Allan never failed to return my calls - usually the same day! He fought skillfully and respectfully to get me the best possible settlement. He is easy to deal with and a likeable down to earth guy. He always listened with compassion and respect to my issues. He guided me with objective understanding as well as a realistic analysis of the merits of my case. When we finally settled Allan got me a fair agreement beyond my expectations and negotiated with my doctors to make sure all my bills were paid. It was a great experience having Allan represent me. Quality work in any aspect of life is hard to find. Quality is what I got with Allan Silverstein. I highly recommend him if you find yourself in need of a personal injury attorney.

Theodore

I want to thank your law firm for settling my lawsuit where others failed. You treated me with the utmost respect and care, because of your law firm the dream of owning my own home finally came true. For the first time in a long time, we're living out our dream home. Thank you a million times over. Thank you for making my dream come true.

Marcy

Thank you for your time, effort, and hard work on my case. I appreciate your expertise and compassion. I never experienced what I went through and I would have been completely lost without you.

Martha

Now that reality has set in, I want to thank you for all your work and assistance in obtaining my settlement for the pelvic mesh. This money will make my life so much easier in the future. Medicare just isn't sufficient. I know that I will have enough to live on. I truly appreciate of your efforts. Thank you!

Loraine

My experience during the time of negotiations was extremely positive. Josh Sandberg handled my lawsuit with the utmost integrity. He returned all my phone calls in a timely manner and answered all my questions. Josh made things less stressful. I would highly recommend Josh and the entire staff at Cellino Law.

Arthur

Tim Cellino handled my case beautifully. He is very knowledgeable and patient with all my questions. He kept in touch with me through out my ordeal. Tim also got a settlement for more than I expected. I highly recommend Tim Cellino!

Jayne