Employment is excellent as it comes with an income that helps you sustain yourself. The goal is to work, be resourceful and get that paycheck at the end of the month. While everyone's wish is that this process goes on smoothly, the occurrence of harmful and unfortunate situations dulls it. While in the line of duty, you might suffer an injury or illness. Many employees just dig deep into their own pockets to solve the issue, oblivious to the employer's liability.
If you or your loved one go through such an experience, your best option is getting an Amherst workers' compensation lawyer. At Cellino Law we have decades of experience handling these claims. We understand the losses that you have incurred and will ensure you get the desired compensation. Call our personal injury attorneys at (800) 555-5555 to get your claim started.
What Should I Do If I Get Hurt On The Job?
Accidents happen when you least expect them. Some employers try to shield their staff from such mishappenings while others don't focus much on it. If you get hurt while working, the first step you should make is informing your boss. Tell them immediately and then head to the doctors. Some of the injuries could be minor, while others are significant. You will never know the extent until you go through a medical examination.
The doctor will guide you on what to do depending on your situation. Follow the directions duly. Request for a written record of the injury, results, and recommendations you will get. It should be comprehensive, including the tests, medications, reviews, and any costs incurred. You will require the data for the lawsuit. Take photos of the injury if it is visible. If you can't do it, have someone record it all through, then save the video. Once you have finished, follow through with the lawsuit.
Our lawyers are well versed in the legal procedures and will help you. They understand how to tackle issues relating to the trial. With them, you are in safe hands. Lastly, go home and recuperate. Follow the doctor's instructions and take medication without fail.
Why Should I Hire An Amherst Workers Compensation Lawyer?
Although the idea might not make sense, hiring our compensation lawyers is quite beneficial. The lack of substantial evidence is the principal reason why such lawsuits fail to hold water in a court of law. Working with us means you will get the following services. They will aid in building a strong case against your employer. The long term result is justice.
Litigating your case before a judge.
Investigating the happenings that led to your injury. Checking with the employers and coworkers to ascertain your claims.
Collecting evidence from all the platforms, including work and medical institutions.
Preparing briefs, findings, and pleadings on your behalf.
Answering any questions that you might have and preparing you for the worker's compensation procedure.
Negotiating on your behalf in case of out of court settlements.
How Much Does It Cost To Hire An Amherst Workers Compensation Attorney?
The main reason why workers suffer in silence is a fear of paying legal fees. Well, with Cellino law, you can have peace of mind. Our law firm works on a contingency fee basis. We will not ask you to pay any fees upfront. The obligation only comes once we win the case for you. We understand the tedious process, thus avoiding putting more pressure on our clients.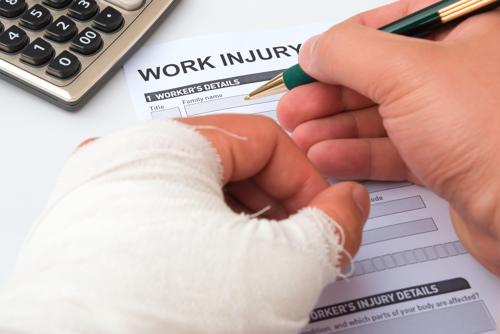 What Should I Do If My Workers Compensation Claim Gets Denied?
Many times workers face a denial when pursuing a compensation lawsuit. What do you do in such a case, surrender and go home? Not the best decision. If this happens to you, gather all the relevant documentation relating to the matter. Have everything right, and call us. The situation can only change if you act quickly. The law is quite strict on time allocation for such cases. Once you get denied, we will appeal as per the guidelines. The occurrence of such circumstances varies depending on your case. However, with us, you have an assurance of getting back on track.
Can I be fired For Claiming A Workers Comp Claim?
Employers are never enthusiastic about a worker's compensation lawsuit. It is because the cases spiral their insurance rates or damage their reputation. Such concerns scare workers from proceeding with the course. The lack of certainty on job protection will force you to hold back. You suffer the risk of protecting the employer's image at the expense of breaking your bank. There is some good news, though. You will not lose your job when you embark on this journey. The law protects workers from retaliation when they file this claim.
Is There A Time Limit To File A Workers Comp Claim In Amherst?
Applying for a worker's compensation claim is a free process. However, three is a time restriction. The residents of Amherst, New York, have up to three years to file a claim. Failure to comply with these timings results in a lack of legal assistance. No judge will attend to your case. Some injuries require time for you to connect the dots. Once you find a link between your issue and employment, contact us immediately.
Can An Independent Contractor File A Workers Comp Claim?
Unfortunately, independent contractors are not eligible candidates for workers' compensation claims. They cannot receive the benefits as the case only favors employees. Contractors do not work under supervision. They control how and when the job gets done. Although they offer services, they are still in charge hence not considered as employees.
Reach Out To Our Amherst Workers Compensation Lawyers
Disability or injury arising from work set up doesn't have to be the end of your life. The losses you incur can either be physical or psychological. Either way, costs will arise, and you have to service them for your betterment. If this happens to you, do not go through the dreadful period alone. We are here to make the situation better. We will take your case and handle it as if it were ours. Our expertise makes us the best in the region. Together, we can rise above all the pain and financial losses and restore the dignity you had lost.
This letter is to thank Ms. Diane D'Andrea, assistant to Mr. George Gridelli, Attny for all the hard work, dedication, and attentiveness she showed during the representation of my case. She was always cheerful and ready to help in whatever way she could. All messages left for Mr. Gridelli were always relayed and Mr. Gridelli always promptly returned our calls. She was a very competent assistant. Cellino Law has proven to be a model of what legal representation should be. Throughout the 6 ½ years of this case, I have heard many horror stories from people with "bad lawyer stories." We consider ourselves to be very lucky to have chosen Cellino Law and will always recommend you to those looking for good, honest representation with a personal touch.

Joseph

Thank you for your help in settling the case of my father's accident. I could always count on you to answer my questions honestly and in terms I could understand. If all lawyers at Cellino Law are like you, I understand why they are an A-1 law firm.

Bedner

Thank you for your time, effort, and hard work on my case. I appreciate your expertise and compassion. I never experienced what I went through and I would have been completely lost without you.

Martha

We'd like to thank you for all the assistance and time you spent on our case. Your professionalism and honesty will always be appreciated. The staff was always courteous and we were always impressed with your accountability. Your passion and dedication will never be forgotten, nor will you.

Sarah

It was a great pleasure working with you on my lawsuit. You certainly gave 150% of your time and interest in settling my case and for that, I am extremely grateful. Therefore, I want to thank you very much for helping me win my settlement and wish you the very best.

Linda

Joe and I just wanted to send you this note thanking you for the professional way you handled our lawsuit. Your kindness was extremely appreciated in a very difficult time. When we found out the people that caused the accident had no insurance, we thought our chances of receiving any settlement was nonexistent. Once we met with you and released you were able to help us our minds were put at ease. Your aggressive manner of handling the case exceeded our expectations. Please feel free to use us as a reference. Thank you so much and best wishes,

Danielle and Joe