According to the Retail Compendium Law, all public areas and businesses shall be adequately maintained for safe usage. This includes shopping malls, workplaces, parking areas, walkways, commercial premises, and private homes. Any negligent behavior, that leads to an injury, may be subject to liability.
There are many liability laws that apply to these situations. It's important to note, however, that the injured party must show the burden of proof when seeking compensation. An Amherst slip and fall lawyer can help you with this. Give Cellino Law a call at (800) 555-5555 to schedule a free consultation with our injury attorneys to learn how we can help.
What are the Most Common Causes of Slip and Fall Accidents?
There are many reasons that a person may slip and fall. Here are the most common causes of a fall in a public place of business:
Cracked, uneven, or missing flooring.
Dislodged pavement or sidewalks.
Wet or slippery floors.
Lack of proper signage.
Missing handrails or wobbly handrails.
Faulty lighting impairing vision.
Obstacles that are in the way creating a trip hazard.
Items stacked too high or falling on top of you.
How Can an Amherst Slip and Fall Lawyer Help Me With My Case?
A slip and fall attorney can help you by representing you in a court of law. If you've been injured in a slip and fall situation in Amherst, New York, you deserve fair compensation. Our attorneys have the necessary experience in proving liability, negotiating settlements, and court representation that you need to recover fair compensation for your injuries.
What Steps Can Be Taken to Help a Slip and Fall Case?
If you slip and fall in a public place, you can be your best advocate. Let a manager or someone in charge know that you've fallen and injured yourself. Get medical assistance if required (consider an ambulance if necessary). Write up a brief incident report for your own records.
Take all the photos you can at the time. The more photos you can show, the more likely you are to be able to prove what happened and why. Take your photos from several different angles.
Report the incident to a manager. If you don't report the incident, the courts aren't as likely to believe that it happened. Also, by reporting the incident, you may be helping someone else to avoid injury. If the store or company doesn't know of a hazard, they can't fix it.
Take down the names and numbers of witnesses. Always get the names and numbers of any witnesses. Everyone sees things differently so having more witnesses will help your case in court.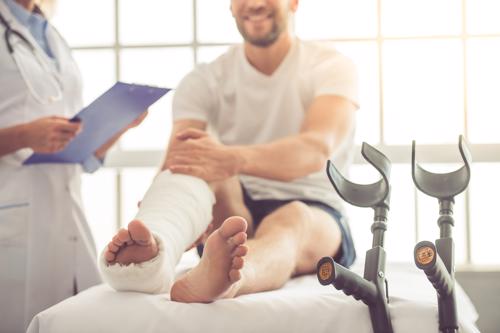 If you need medical attention, get it immediately. If you're able to get up and walk away, go straight to the emergency room and tell people you're going to the emergency room.
If you can see if the problem is addressed right away. If you're able to go back to the place of the accident, note whether or not they've corrected the problem.
Don't sign anything without first having your lawyer read over it to make sure that you're not signing away any potential compensation that you may deserve.
How Can a Slip and Fall Accident be Proven?
There are several ways to prove a slip and fall accident. Always take pictures of the area where you fell or were injured.
The property owner had knowledge of the hazardous condition or should have reasonably known about its existence yet no corrective actions were taken to ensure the safety of consumers.
The injured victim was not aware of the dangerous condition. If there wasn't any warning and you couldn't see the potential for danger in time to avoid it.
How is Liability Determined in an Amherst New York Slip and Fall Case?
In the State of New York, the statute of limitations for a Slip and Fall case is three years from the time of the accident.
What is Comparative Negligence?
In a comparative negligence situation, each party may be assigned a portion of the fault. Example: Person A is at fault by 70 percent while Person B is at fault by 30 percent. In such a situation, the judge will use a spin down theory and each person will be awarded compensation accordingly by the percentage at which they aren't at fault.
During the procedure of filing your slip and fall accident injury claim, you may be asked such questions like:
Why were you on the property or premises where the accident happened? Do you have a logical reason to be there?
Would a cautious person have noticed the situation and been able to avoid the danger?
Were you distracted in any way?
Did the owners of the property have any signage or warning signs in regards to the potential danger?
Were you engaging in any activities that contributed to your slip and fall injury?
How Much is My Slip and Fall Case Worth?
Each Slip and Fall case is based upon the individual situation. There are many factors that need to be considered. Your compensation will include pain and suffering, medical bills, loss of wages, any rehabilitation costs, future impact on your wages, and more.
What Are the Time Limits for Filing a Slip and Fall Lawsuit?
In the State of New York, the statute of limitations for a Slip and Fall accident is three years from the date of the accident.
If you've been injured in a Slip and Fall accident, seek medical attention immediately. Get the names and numbers of any witnesses to the accident. Get any copies of police or store reports that may have been filed. Notify someone in charge of the accident. Contact an Amherst Slip and Fall Lawyer immediately to be fairly represented in a court of law. Never admit fault or discuss the case with anyone unless your attorney has approved the discussion. Never sign anything without your attorney first reviewing it.
You deserve fair representation, and at Cellino Law we'll see to it that you're fairly represented in a court of law and receive the compensation that you deserve. Give us a call today at (800) 555-5555 and let us help you with your Slip and Fall accident.
I really appreciated your determination and efforts on handling my case. You have done an outstanding job, and I am very satisfied with the outcome of the settlement. Thank you so so much John.

Amparo

I am so grateful for your expertise, patience, and perseverance which resulted with such a successful settlement regarding my car accident. I also want to let you know how impressed I was with you and your firm and I won't hesitate to recommend you to anyone who needs assistance from an accident. I truly appreciated your care and professionalism. Thank you again for your kindness and support

Lisa

Thank you for all your help. It has been a long journey. At last, the light at the end of the tunnel. Also, thank Tom for the help and work he put in.

Ron

I want to thank your law firm for settling my lawsuit where others failed. You treated me with the utmost respect and care, because of your law firm the dream of owning my own home finally came true. For the first time in a long time, we're living out our dream home. Thank you a million times over. Thank you for making my dream come true.

Marcy

Thank you for your efforts on my behalf. I am very pleased (and surprised) at the amount of the settlement. We will use the funds to help pay down the debt on the truck we had to purchase after ours was totaled. Thank you again.

Linda

I am writing this letter to say how much I appreciate your services pertaining to my case. Your injury attorney took a hands-on approach and left me fully informed at all times as to where my case was going as well as how much ground we had to cover; leaving the final decisions in my hands but making sure that I knew all of the risks involved in the choices. I have dealt with a few law firms in my life on various different cases and this is the first time that I never had to call and/or track down my lawyer… because of this, I have and will continue to recommend Cellino Law to my friends and associates.

Denise