Suffering an injury can be very disorienting. You may be confused and unable to think clearly about what you should do. It's important to follow the proper steps to ensure that you get proper legal representation and medical care. Don't leave your situation to fate, know what to do if you're involved in some sort of a personal injury accident. Call the North Hempstead personal injury lawyer at Cellino Law at (800) 555-5555 to schedule a free consultation to learn your legal options.
What Should I Do After an Injury?
Taking these steps after being injured in an accident can help when you file a claim:
Get Medical Treatment
Get medical attention immediately. Either go in an ambulance or have a friend drive you to the hospital emergency room immediately. Note all of your injuries, even if you think that they are minor at the time.
Document the Scene
Today, most of us have cell phones with camera capability. Use your cell phone (or camera if you have it with you) to take pictures or videos of the scene of the accident. Try to take pictures from a few different angles and make sure to get all of the vehicles involved in a car accident in the pictures.
Get Witness Contact Information
Everyone sees things differently. Ask witnesses for their version of the story. If a police report is made make sure to get copies of the report and the information from any witnesses. If there is no police report it's still important to get the names and information from any witnesses at the scene of the personal injury.
Report the Incident
After an injury, report the incident to the police. The police will come to the scene and write up a report and ticket anyone who is at fault. There will be an investigation as well. Keep copies of all reports. If you're at work, write up an incident report and make sure to notify the proper supervisor of the incident.
Never Admit Fault
Never admit that an accident is your fault. Even if you think the accident was your fault, it may not have been your fault. If you admit fault, you may lose your case. Leave the determination of who is at fault up to the courts.
Call a Personal Injury Lawyer
The sooner you call your lawyer, the sooner you can get proper representation in a court of law. It's also important to know that there are statutes of limitations on many cases. Call your lawyer as soon as possible to get the representation that you deserve.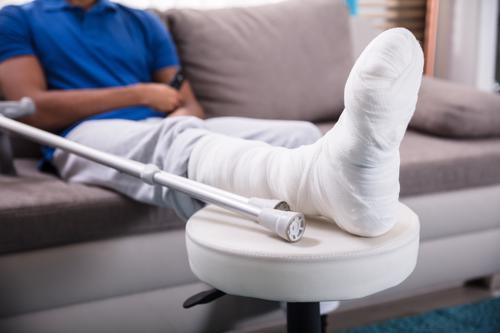 Why do I Need a Lawyer?
Our attorneys can help your injury claim through their experience in:
Preparing a Case and Filing a Lawsuit
A lawyer can fairly represent you in a court of law. They know what paperwork needs to be done and how it needs to be filed and presented in the court of law.
Settlement Negotiation
You deserve fair representation in a court of law. A lawyer will seek the best possible settlement for you in court. They will seek out fair compensation for your medical bills, pain and suffering, loss of wages, and any repairs that may be required for your home or vehicle depending on the particular situation.
Trial Preparation And Fair Legal Representation
A personal injury lawyer has the know-how to prepare for a trial and give you fair legal representation. You won't be alone when you go to court.
What Type of Damages Can I Recover?
Every state is different. In the state of New York, you can be reimbursed for your pain and suffering, loss of wages, medical bills, reduced future earnings, rehabilitation costs, and more such as Economic hardship, Non-Economic, and Punitive damages.
How is Liability Determined?
A full investigation of the situation will be done. All of the information that you can collect at the scene, plus your police report or incident report will be factored into the determination. Your lawyer will demonstrate who is liable, and why. Any CCTV footage will be used as well. The result of the accident will also be considered (medical bills, loss of limbs, loss of life, etc.).
All damages will be factored into the determination of who is liable and the courts will have all of this information presented at the hearing. In the State of New York, "comparative negligence" is also a contributing factor. This means that even if you are at fault, you will still be able to receive some form of compensation. There will be a deduction of your portion of the responsibility for comparative negligence.
How Much Time Do I Have to File a Personal Injury Claim in New York?
In the State of New York, the usual statute of limitation for a personal injury claim is 3 years. If you don't file your claim within that time frame you likely won't get any form of compensation. Keep in mind that the sooner you file, the more likely you are to receive compensation. The information will also be fresher in the minds of any witnesses if you file immediately.
How Much Will a North Hempstead Personal Injury Lawyer Cost?
Our personal injury lawyers work on a contingency fee. This means that you won't pay until you receive compensation. At this point, your lawyer will be paid a percentage of your final settlement.
Contact Cellino Law For a Free Consultation
Hiring a lawyer for a North Hempstead personal injury case can give you great peace of mind. You'll be fairly represented in a court of law and in most cases, you'll receive more compensation than if you didn't have representation. Never admit guilt to anyone. Don't talk about the accident to anyone in regards to who is at fault. Never sign anything other than the police report at the scene of the accident.
The other party's attorney will be eager for you to sign, don't do it without your lawyers okay. Give us a call today and let us show you how we can help you in your North Hempstead Personal Injury Case.